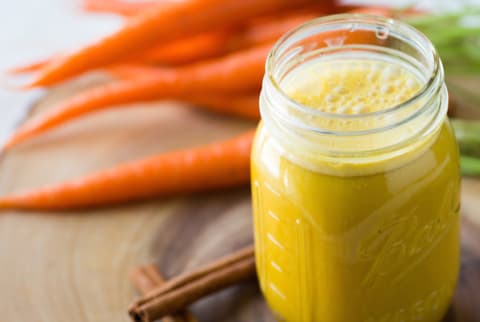 October 16, 2014
This drink combines an amazing blend of spices, smooth carrot juice, thick coconut meat, and sweet bananas to take you on a cleansing, nourishing journey. The carrot-cinnamon smoothie is rich in beta-carotene, vitamin A, good fatty acids, anti-inflammatory properties, and potassium. It also tastes amazingly rich.
4 carrots, juice
2 ripe bananas
1 cup coconut water
3 dates, pitted
1 cup coconut meat
1⁄2 teaspoon clove powder
1 teaspoon cinnamon powder
1⁄2 cup cashews, soaked
1. Run the carrots through a juicer. Four carrots should make between 4 and 6 ounces of juice, depending on their size.
2. Add the juice and other ingredients to a high-speed blender. Blend until smooth and creamy.

Smriti Kirubanandan
Smriti Kirubanandan is a certified raw vegan chef and nutrition consultant. Apart from being an Engineer and Marketing geek during the day, she loves practicing her plant-based culinary skills by hosting workshops and classes in Los Angeles and India. She believes, eating natural and staying fit is the best gift you can give yourself. She is also the founder of Foods Alive — a raw vegan dessert and nutrition consulting company, and will be launching her first book, "Foods Alive" this year.