Yes, Collagen Is The Secret To Stronger Workouts. Here's How Much You Should Be Taking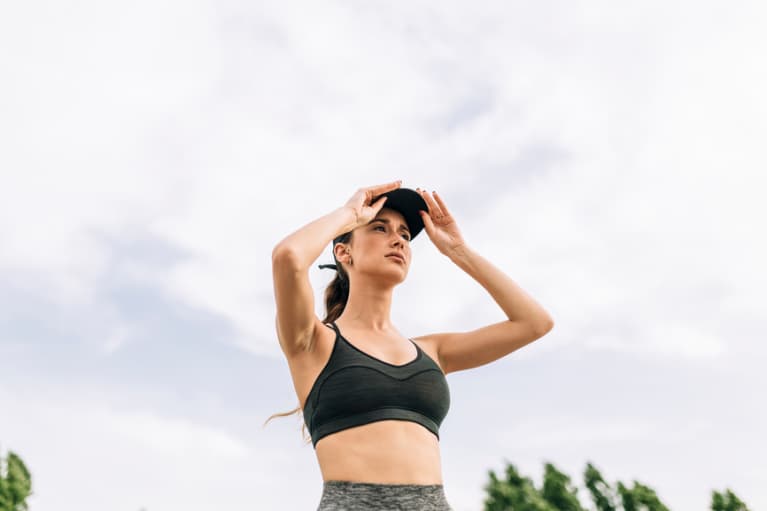 The health world can't stop talking about collagen. Wellness bloggers and Instagram stars like Jordan Younger, Rachel Mansfield, and Lee Tilghman keep packets on hand to add to their morning smoothies in hopes of strengthening their hair, skin, and nails, and keeping their gut health on track.
We know it has beauty and gut-healing benefits, but when mbg's Sarah Koenig mentioned that since taking collagen, her knees are less creaky during spin class, we got to wondering: Could collagen be beneficial for workouts too?
To find out just how legitimate this theory is, we went straight to the experts. Here's what you should know about the relationship between collagen and exercise.
First of all, what is collagen?
Collagen is a gelatinous substance found in the connective tissues—our bones, skin, ligaments, and tendons. Collagen is packed with beneficial amino acids and is a complete protein, which is why people often rave about its benefits when it comes to strengthening skin, hair, and nails.
Collagen is also an amazing way to restore gut health. "For the same reasons collagen helps repair and grow muscle tissue, it serves as an excellent nutrient source for rebuilding the rapidly dividing cells that line the interior of the gut," says Dr. Vincent Pedre, medical director of Pedre Integrative Health. "Collagen is even used to treat leaky gut syndrome."
While vegetarian collagen does exist, many people get their collagen through bone broth, organic chicken, grass-fed beef, and wild-caught fish. While collagen naturally occurs in our bodies throughout our lifetime, both topical and oral collagen supplements are thought to support the body's natural production.
Here's how it can help your workouts.
Whether your muscles are feeling tired and achy or you simply need a little boost, both Dr. Pedre and functional medicine expert and mbg class instructor Dr. William Cole recommend giving collagen a try. "[Collagen] helps build stronger muscles and inhibits your body from breaking down muscle after exercise. Think of it as food medicine for your muscles, joints, and ligaments," explains Dr. Cole.
Dr. Pedre cited a study published in the British Journal of Medicine, in which men averaging age 72 supplemented resistance training with collagen peptides over a 12-week period. "The men who supplemented their workouts saw a greater improvement in their fat-free mass, muscle strength, and fat loss. Given their age, this is quite remarkable! Consistently supplementing with collagen can make your workouts stronger at any age."
Dr. Cole points out that collagen can also improve your yoga practice. "For yoga, you need strong muscles and ligaments," he says. "The building blocks to your musculoskeletal system are found in collagen-rich foods. While other protein sources like rice, whey, pea, and egg can leave many people feeling bloated and inflamed, quality collagen protein is extremely well-tolerated and highly usable by your body."
How much collagen should you be taking to improve your workouts?
Now that you know how collagen can help you get fitter, how much should you actually be taking? Dr. Pedre recommends having 15 grams of collagen peptides within 30 minutes of finishing a workout. "Personally, I find that eating solid protein after a workout, which could serve the same purpose, makes me nauseous. So, a liquid alternative is a welcome substitute," he says.
If you don't have access to peptides immediately post-workout, Dr. Cole suggests having one to three scoops per day of quality collagen, whether that means blending it into your morning smoothie, cooking it into homemade bars, or mixing it into hot chocolate. You can also get your collagen fix through a warming cup of bone broth!
Want to learn more about the benefits of collagen? Find out exactly how it can help your skin, and find out what happened when our food editor took collagen every day for four weeks.