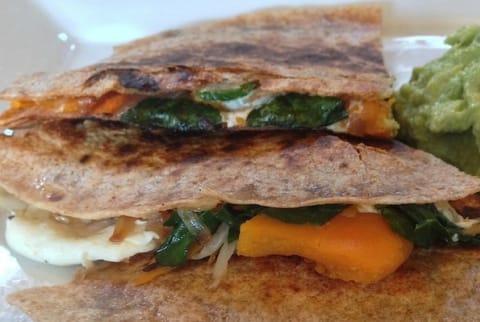 October 30, 2013
There's no such thing as having too many easy dishes you can quickly put on the dinner table on busy weeknights. Trouble is, fast and easy often translates to unhealthy, and we don't want that. This dish is not only fast, easy and delicious, but it has a powerhouse of health benefits.
Butternut squash, a winter squash favorite for many because it tastes so good, is also rich in vitamins A, B, C, fiber and nutrients.
Advertisement
This ad is displayed using third party content and we do not control its accessibility features.
Add a bit of kale, onions, turmeric, chia seeds, and the avocado side, and you've got a superfood recipe that's great for you. But you'll forget all that when you take a bite, because it tastes so amazing.
The key to making this a convenient go-to dish is to roast the squash ahead of time. One squash will be enough for several meals that can be used in these quesadillas, as well as salads and sides. You get a big bang for your buck and peace of mind knowing you and your family are eating so well.
Ingredients (per quesadilla):
8 slices butternut squash, roasted (see below)
4 slices fresh mozzarella (or favorite cheese or substitute)
2 whole wheat organic flour tortilla
Handful of fresh kale (stems removed or arugula is great too)
1/4 onion, thinly sliced
Sprinkle of turmeric
Sprinkle of chia seeds
1 tablespoon olive oil
Seasoned with sea salt and pepper
To roast squash:
Preheat oven to 400 degrees Fahrenheit.
Cut the squash in half; remove seeds and fibers, and cut into 1/4" inch slices. There's no need to remove the skin because depending on your uses, it's thin and soft after roasting so it can be eaten. Toss with some extra virgin olive oil, place on a baking tray and cook in the preheated oven for about 15-20 minutes, or until pieces are easily pierced with a fork. For the quesadilla, I removed the skin after it was roasted. It comes off easily.
To caramelize the onions:
Add onions to a small sauté pan over low heat and cook slowly until softened and golden (about 10 minutes or so).
For the quesadilla:
Layer all the ingredients on top of one tortilla and season. Cover with the other. In the meantime, heat a flat-bottomed skillet or flat-top grill over medium-low heat. Add the oil and heat for a few moments. Add the quesadilla and cook for about 2 minutes on each side, or until golden and the cheese is melted. It helps the cheese melt if you cover the pan. Cut and serve with the avocado cream.
For the avocado "cream" side:
Mash a ripe avocado and add 2 tablespoon of Greek yogurt, or use cashew cream (soak 1 cup cashews in just enough cold water to cover, let sit for at least 30 minutes and then pulverize in a food processor until it resembles cream. Add a bit more water if too thick and a pinch of sea salt).
Advertisement
This ad is displayed using third party content and we do not control its accessibility features.
Silvia Bianco
Live a vibrant, connected, physically and spiritually nourished life.
As a native Italian, connection is in my DNA. As a holistic professional chef, good nutrition and great taste go together.
We've sacrificed cooking for convenience and lost the sacredness of sharing a lovingly prepared meal. I'm on a mission to change that.
For 20 years, I've taught thousands of people (regardless of their dietary choices or restrictions) how to cook whatever they want to learn using simple, fresh, everyday ingredients along with practical, easy techniques.
Now I've gathered the tools and inspiration for you to make cooking simple and meeting at the table a meaningful and memorable experience. Get them by
SUBSCRIBING to chefsilvia.com and LIKE my FB page to get my latest divine, Mediterranean inspired recipes and cooking tips. Subscribe to Miracles & the Chef for some Sacred Sustenance - based on the teaching of ACIM.