A Blue Zone–Inspired Crispy Chickpea Bowl Recipe, From An RD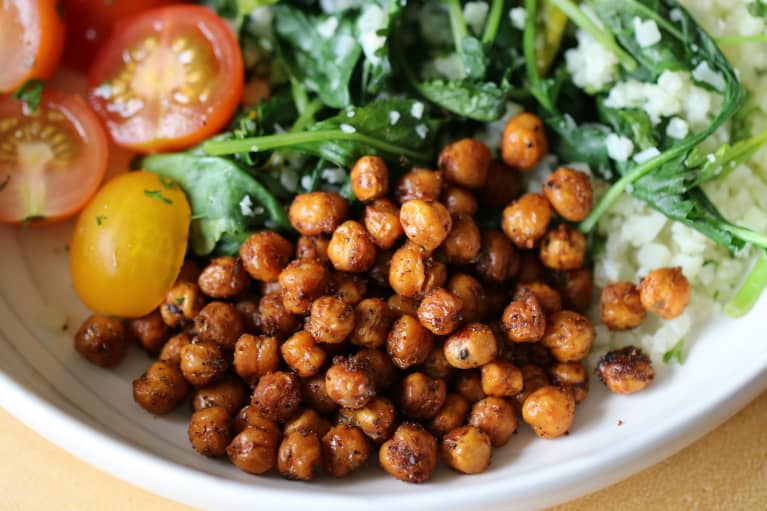 There's nothing quite like a satisfying bowl of chickpeas for a perfectly nutritious plant-based treat. With an impressive amount of gut-friendly fiber, protein, carbs, vitamins, and minerals per cup—it's no wonder Blue Zones founder Dan Buettner pinpointed these "simple peasant foods" as a key ingredient for longevity.
It's also the reason registered dietitian and mindbodygreen collective member Jess Cording, M.S., R.D., CDN, INHC, shares, "One of my favorite plant-based meals is a crispy chickpea bowl."
Her go-to recipe features plenty of spices, a variety of nutrient-packed veggies, and, of course, chickpeas. "It provides a good balance of protein, fat, and complex carbohydrates, and it's packed with flavor," she says. "It also comes together very quickly. You can make it lacto-vegetarian or vegan, depending on the garnishes you use. Plus, it happens to be gluten-free."
With an exquisite mix of texture, taste, and zest, this chickpea-powered recipe is not only aesthetically alluring but is filled with ample good-for-you ingredients.
1 15-oz. can of chickpeas, rinsed and dried
1 tablespoon plus 1 teaspoon olive oil
½ teaspoon each paprika, cumin, turmeric, and garlic
Sea salt to taste
A few grinds of black pepper
2 cups baby kale, baby spinach, or other greens
1 cup sliced tomatoes
2 cups cooked riced cauliflower
½ cup chopped fresh parsley (optional)
1 tablespoon lemon juice
Garnishes: babaganoush, hummus, tzatziki, feta cheese
Preheat oven to 400°F.
Rinse and dry chickpeas and toss with 1 tablespoon olive oil and spices.
Spread the chickpeas on a baking sheet and roast at 400°F for 20 to 30 minutes until crispy. Shake a few times to prevent sticking and burning. Set aside.
In a large skillet, heat the remaining olive oil. Add greens and tomatoes. Cook until the greens are slightly wilted. Fold in the cauliflower rice and parsley and heat until warmed through. Take off heat and squeeze in lemon juice. Season with salt and pepper to taste. Set aside.
Divide the cauliflower rice mixture between two bowls. Top each bowl with crispy chickpeas and garnish with babaganoush, hummus, tzatziki, and/or feta.