mbg Food Contributor
By Alexandra Shytsman
mbg Food Contributor
Alexandra Shytsman is a Brooklyn-based recipe developer, writer, educator, food stylist and photographer. She received her bachelor's in english literature and women's and gender studies from CUNY Hunter College and also studied at the Natural Gourmet Institute for Health and Culinary Arts.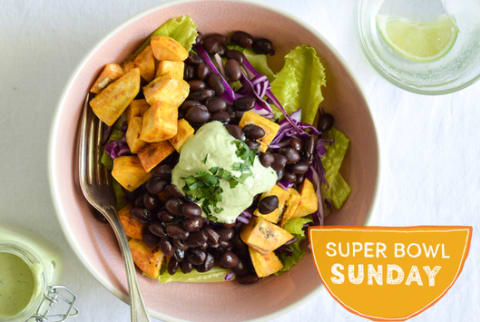 June 19, 2016
Ah, the grain bowl. It's safe to say that this ubiquitous meal has now successfully penetrated our collective breakfast, lunch, and dinner repertoires as well as the menus of our favorite eateries.
And it's awesome! These one-bowl meals are infinitely versatile, and whole grains are full of fiber, plant-based protein, and essential micronutrients, which keep us healthy and feeling satiated. But if you're like me, you're probably feeling just a little tired of grains.
Advertisement
This ad is displayed using third party content and we do not control its accessibility features.
The solution: green plantains.
You've probably tasted these before at a Latin restaurant. As deep-fried tostones, they are commonly served as a side; they are also the base of mofongo, a popular home-style dish of mashed plantains mixed with other ingredients like chorizo.
In this recipe, plantains are the starchy replacement for grains. Plantains are rich in potassium and fiber as well as vitamins A and B-6 and are lower on the glycemic index than both brown rice and white potatoes.
To create this vegan, gluten-free plantain bowl, I called upon my other favorite Latin ingredients: cilantro, lime, and black beans.
What I love about this bowl is that all the ingredients can be prepped in advance to help speed along weeknight cooking; only the plantains need to be cooked à la minute, which nonetheless happens fairly quickly. I also love the contrast between fresh crunchy vegetables and crispy warm plantains. Mm…
At the store, look for firm green plantains with a few brown spots. Avoid plantains with molding on the ends.
Grain-Free Plantain Bowl With Cilantro-Lime Cashew Cream
Serves 4
For the cashew cream
1½ cups raw cashews, soaked for at least 4 hours
1 cup filtered water
3 tablespoons fresh lime juice (from about 1½ limes)
½ teaspoon fine sea salt
½ cup packed cilantro leaves
A few dashes of your favorite hot sauce
Advertisement
This ad is displayed using third party content and we do not control its accessibility features.
2 green plantains
2 tablespoons organic cold-pressed canola oil
Sea salt
1 head romaine lettuce, shredded
½ small head purple cabbage, shredded
1 14-ounce can black beans, drained and rinsed
Cilantro, to garnish (optional)
Preparation
1. For cashew cream: In a blender, combine cashews, water, lime juice, and salt. Blend until smooth. Add cilantro and hot sauce and blend until fully incorporated. Taste and season with more salt or lime juice, if needed. Chill until ready to serve. (Cashew cream may be refrigerated in an airtight container up to 4 days.)
2. To make plantains and assemble: Trim ends off plantains. Using a sharp knife, slice into the skin of each plantain lengthwise while keeping flesh intact. Place plantains into a shallow dish and cover with boiling water; let stand for 10 minutes (this makes them easier to peel).
3. Using tongs, lift plantains out of water, and peel. Cut plantains into ¾-inch-thick cubes.
4. Heat the oil in a large nonstick skillet over medium-low heat. Pan-fry plantains until golden brown, tossing occasionally, about 5 minutes. Be careful not to overcrowd the skillet; plantains may have to be cooked in batches. Transfer cooked plantains onto a paper-towel-lined plate to drain excess fat. Season with a pinch of salt.
5. Divide lettuce, cabbage, and beans among 4 bowls. Top with hot plantains and dollops of cashew cream. Garnish with cilantro, if desired.
Advertisement
This ad is displayed using third party content and we do not control its accessibility features.