We Tried All The Vegan Ice Cream & This Is The Best Of The Best
Contributing Food Editor
By Liz Moody
Contributing Food Editor
Liz Moody is a food editor, recipe developer and green smoothie enthusiast. She received her creative writing and psychology degree from The University of California, Berkeley. Moody is the author of two cookbooks: Healthier Together and Glow Pops and the host of the Healthier Together podcast.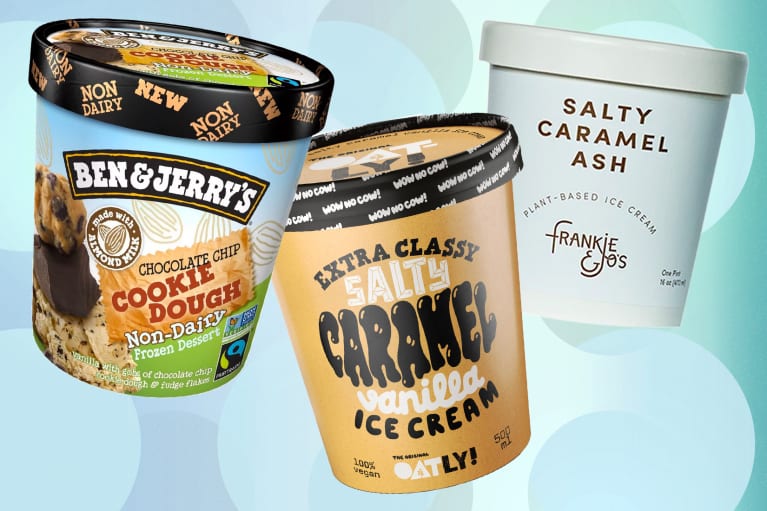 Our editors have independently chosen the products listed on this page. If you purchase something mentioned in this article, we may
earn a small commission
.
Dairy-free ice cream has come a long way in recent years. Now, you can find decadent bases made from ingredients like cashew, coconut, and oat milk, and wildly inventive flavors. We did the ever-so-hard job of trying all of the vegan ice creams on the market right now, and these were the best of the best.
So Delicious Bananas Foster
So Delicious makes a number of decadent, delicious dairy-free dessert options, but we're especially partial to their cashew-milk line, which is so creamy that you might prefer it to actual dairy. The Bananas Foster flavor is studded with chunks of caramelized banana and swirled with chocolate. It also has a bit of pea protein for an extra blood-sugar-stabilizing boost. ($6.51 for 1 pint)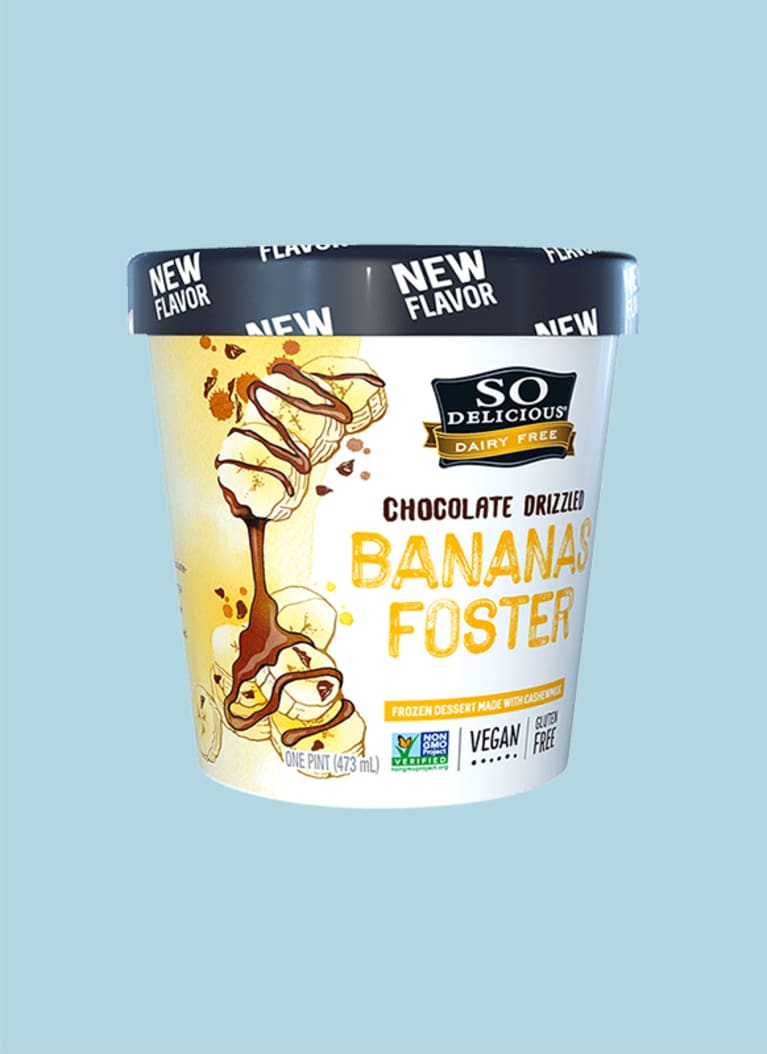 Nadamoo Marshmallow Stardust
Austin-based Nadamoo makes some of the most creative, whimsical flavors of dairy-free ice cream we've seen, including Strawberry Cheesecake, Birthday Cake Cookie Dough, and the out-of-this-world Marshmallow Stardust. There are marshmallows! There are sprinkle swirls! There's a gorgeous purple color (made from purple sweet potato, not artificial colors!). It's all housed in a base of organic coconut milk ice cream, and it's utterly delicious. ($40 for 5 pints)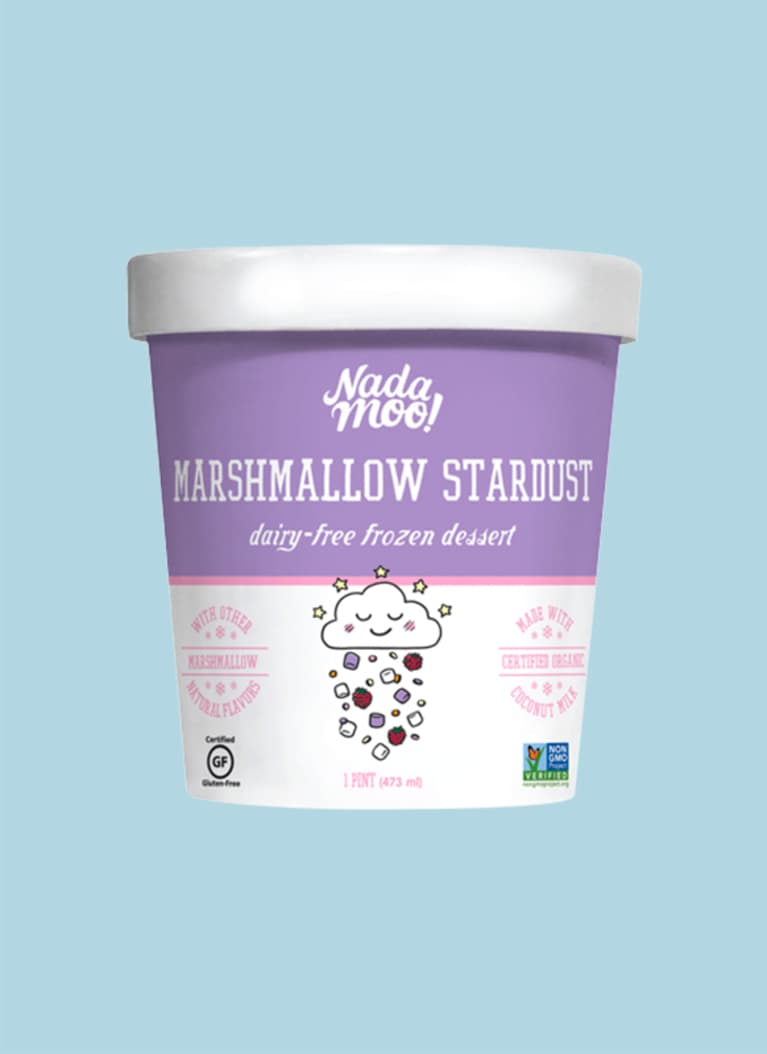 Enlightened Dairy-Free Chocolate Peanut Butter
This decadent dairy-free ice cream is sweetened primarily with erythritol, meaning that each serving has only 4 grams of sugar. Besides getting you off that blood-sugar (erythritol is blood sugar neutral), this almond-milk-based treat packs in a ton of flavor, with a fudgy chocolate base and swirls of decadent peanut butter. The rest of their flavors are delicious as well—the Cinnamon Bun and Candy Bar Crunch are also standouts. ($5.99 for 1 pint)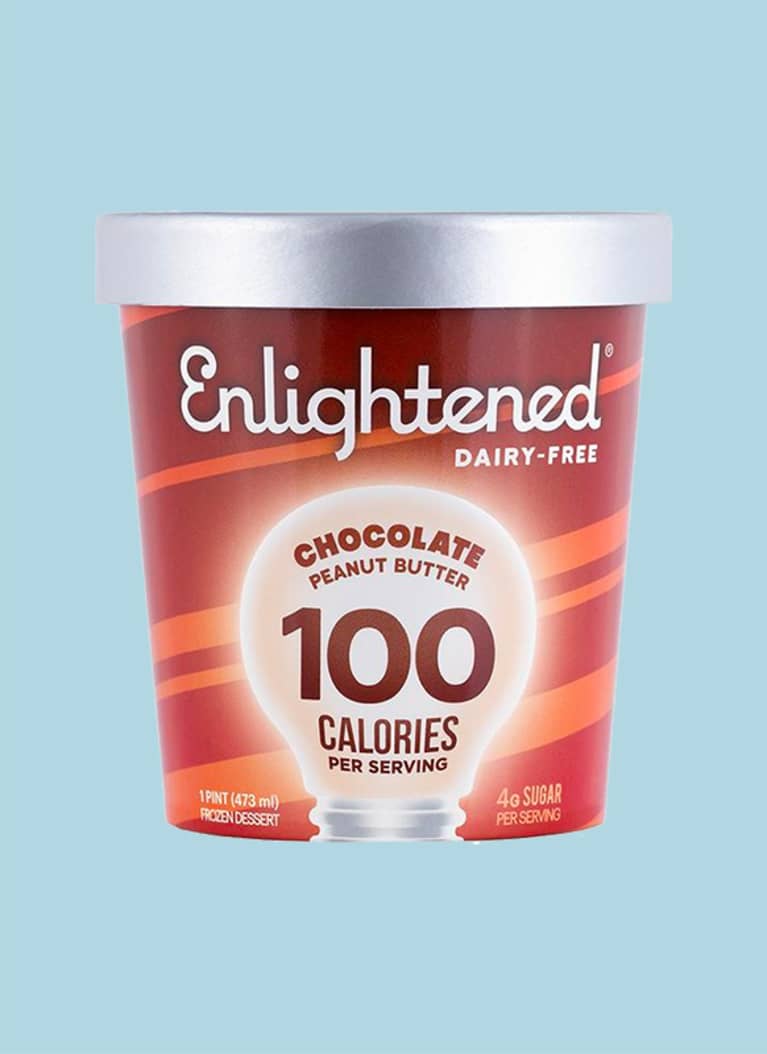 Oatly Salty Caramel Vanilla
The uber-popular oat milk brand recently debuted a line of oat-milk-based ice creams that are poised to be the new obsession of dairy-free dessert fans everywhere. The oat milk base is creamy and rich, with more body and chew than many dairy-free ice creams. The ripples of salty caramel that ribbon the vanilla base are just the right mix of sweet and salty. This is dairy-free done not as a compromise but as an elevation of dessert. All six flavors in the line are worth a try. ($5.99 for 1 pint)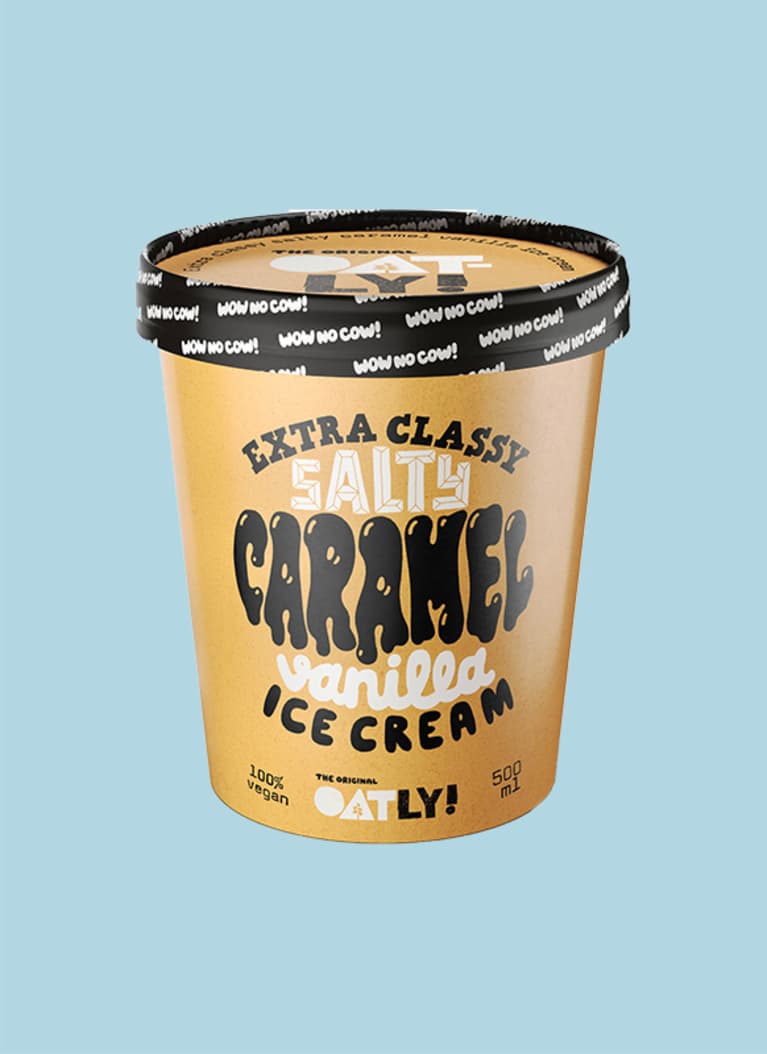 Halo Top Dairy-Free Birthday Cake
Halo Top completely revolutionized the dairy-free dessert category with their protein-packed pints (each container has a whopping 12 grams!). Their mix is a blend of coconut milk, pea and rice protein, and prebiotic fiber (which is great for the gut), and it's sweetened with a bit of cane sugar and blood-sugar-neutral erythritol and stevia. We especially love this flavor, which is dotted with rainbow sprinkles, but all are worth sampling. ($46 for 4 pints)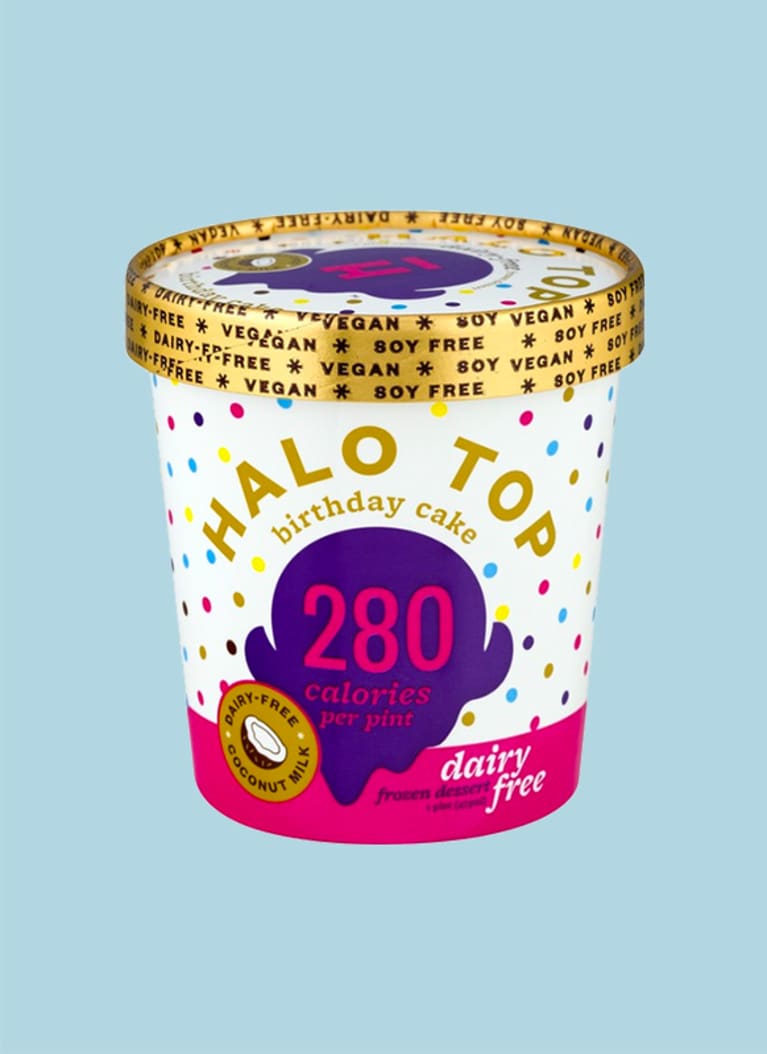 Ben & Jerry's Non-Dairy Chocolate Chip Cookie
Eternal favorite Ben & Jerry's spent years developing dairy-free versions of their most popular classic ice cream flavors, and suffice to say, the time was well spent. This version of their Chocolate Chip Cookie contains big chunks of cookie dough and fudge flakes housed in a creamy base of almond milk dairy-free dessert. Everything is in line with the brand's standards, meaning it's non-GMO, fair trade, ethically sourced, and absolutely delicious. ($7.99 for 1 pint)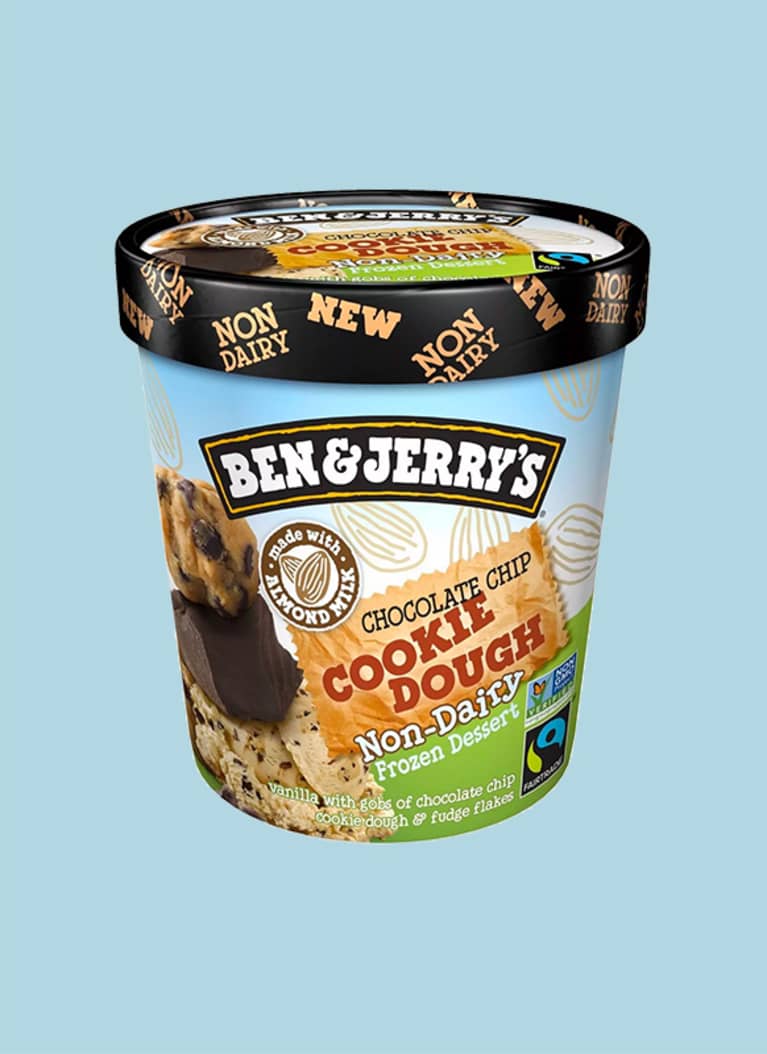 Frankie & Jo's Salty Caramel Ash
Seattle-based staple Frankie & Jo's makes some of the most elevated nondairy ice cream flavors we've seen, including Chocolate Tahini Supercookie, Gingered Golden Milk, and this bold, black Salty Caramel Ash. The ingredient list is amazingly simple—just cashew milk, coconut milk, cane sugar, coconut oil, activated charcoal, vanilla extract, sea salt—but the flavor is complex and decadent, with the burnt caramel and just the right kick of salt. (4 pints for $56)