The 6 Best Trader Joe's Salad Kits To Make Meal Prep A Breeze
mbg Editorial Assistant
By Eliza Sullivan
mbg Editorial Assistant
Eliza Sullivan is an editorial assistant at mindbodygreen. She received a B.S. journalism and a B.A. in english literature from Boston University.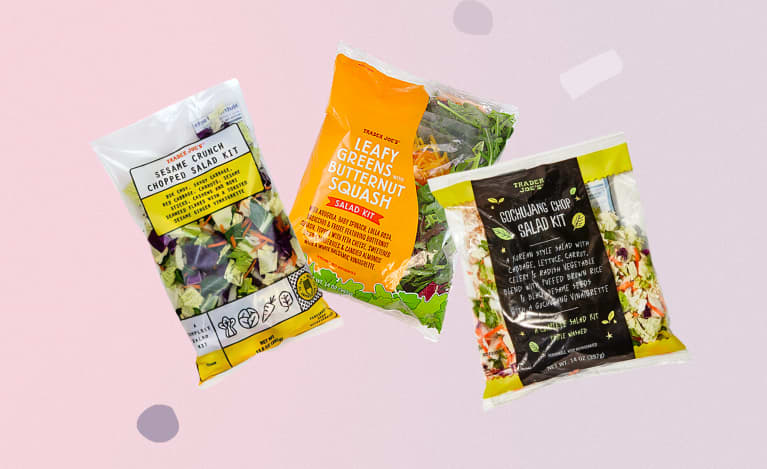 Some weeks, meal-prepping is tough. Whether you're tired of eating the same thing each day, have a busy weekend that won't allow time for cooking and prep, or simply can't be bothered to spend a glorious weekend afternoon indoors, some weekends it doesn't happen.
Enter our good friend Trader Joe's, whose fresh foods section actually offers plenty of meal-prep-assisting salad kits to make your weekly planning that much easier.
All of these salad kits come packed in plastic bags, just like their loose-leaf counterparts, but the package includes the toppings and dressings necessary to make the whole salad, happen, no thinking required.
Peanut and Crispy Noodle Salad Kit
A newer launch, this salad is inspired by the flavors of Thai cuisine and includes a mix of lettuce, cabbage, herbs, and a peanut and lime dressing. The dressing has a bit of sugar in it, so maybe go easy when tossing your lunch together. You can also stretch this for extra days of meals by adding protein: The store recommends keeping it vegan with a tempeh topper.
Contributor / Contributor
Sesame Crunch Chopped Salad Kit
More fun greens make up the base of this salad: Savoy and red cabbage meet bok choy, plus sweet carrots. Topped with sesame sticks and a toasted sesame ginger vinaigrette, this salad is a strong contender on its own, but we'd recommend topping it with a protein to round out your desk lunch.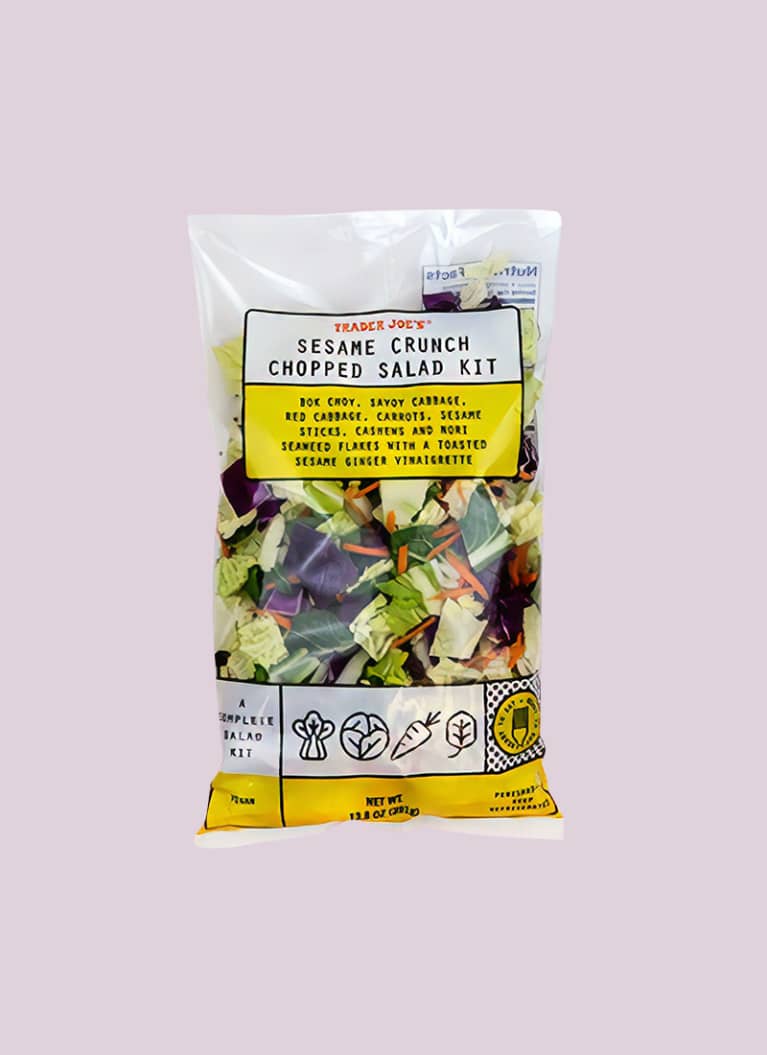 Contributor / Contributor
Veggies & Greens Salad Kit
This mix stays true to its name with a mix of shaved cauliflower and Brussels sprouts, chopped broccoli, radicchio, green cabbage, and kale. Topped with pistachios and dried pear and dressed with honey-ginger vinaigrette, this salad is another good candidate for a flash in a hot pan to soften the cruciferous veggies that make up the mix.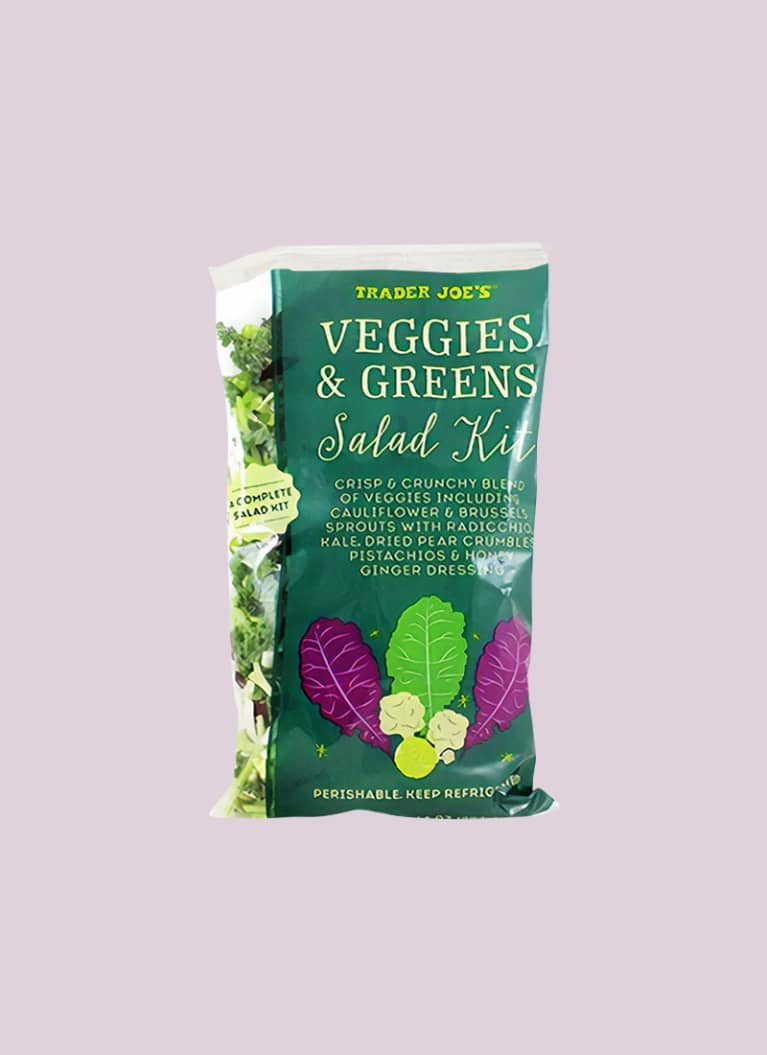 Contributor / Contributor
Trader Joe's Gochujang Chop Salad Kit
Another cabbage-forward mix, napa cabbage, carrots, and celery make up the base of this salad, which comes with sesame seeds and a Gochujang vinaigrette. Gochujang is a fermented chili paste, made with chili powder, soy, and rice. The salad is a bit lacking in protein and fats, but the spicy dressing will dress up even the plainest protein source, so you can keep the cooking simple.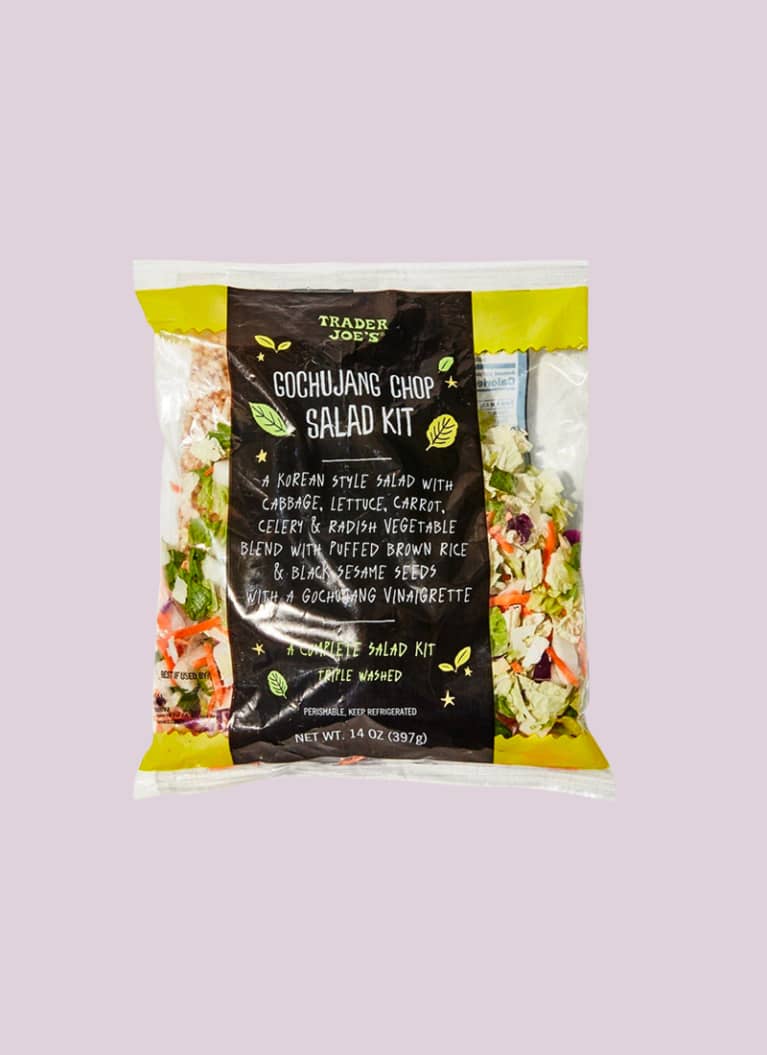 Contributor / Contributor
Trader Joe's Organic Mediterranean-Style Salad Kit
In an easy win for people adopting the Mediterranean diet, this salad draws inspiration from the regions along the sea with toppings of feta and roasted chickpeas. The greens are romaine, radicchio, and shredded broccoli, and the dressing is a classic red wine vinaigrette.
Contributor / Contributor
Southwestern Chopped Salad
This is a tried-and-true classic salad, with a Trader Joe's twist. A base of green cabbage and romaine comes with cotija cheese, tortilla strips, and an avocado dressing. We'd recommend adding some fresh avocado for healthy fats, and because who would ever say no to a little extra avocado?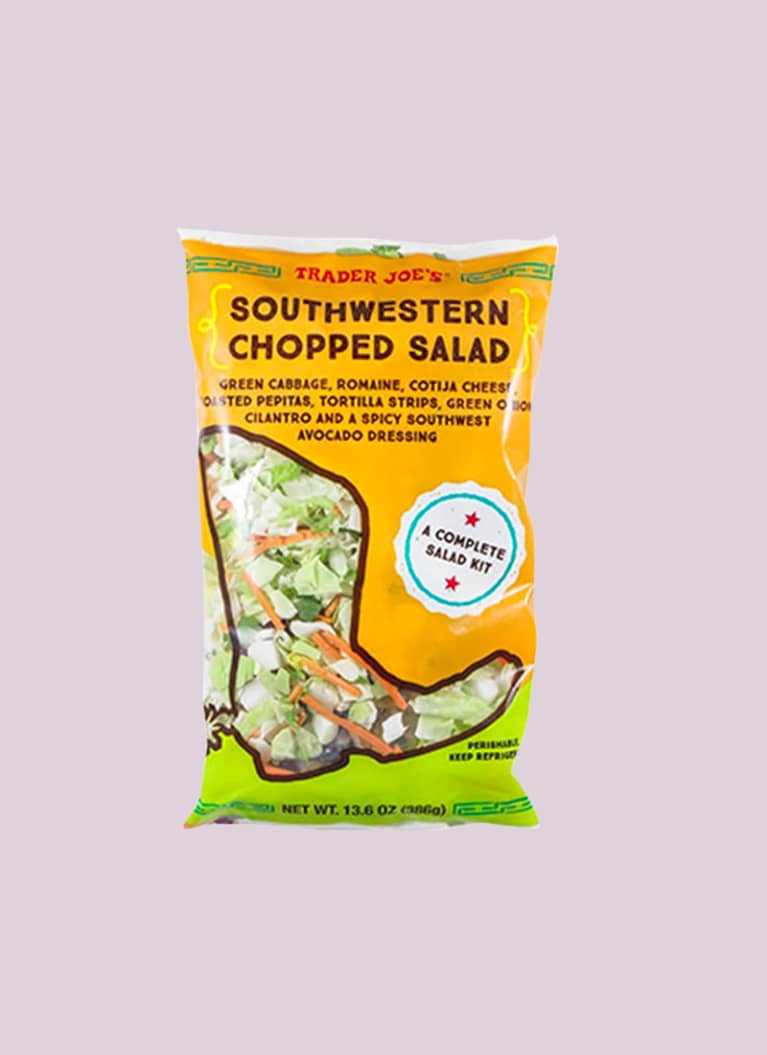 Contributor / Contributor
As with many of their other products, Trader Joe's is constantly changing their salad kit offerings to reflect the seasons and food trends of the minute. We checked in and you should be able to get these kits in the coming months, but the brand has also been known to change plans (and discontinue customer favorites) without much warning.
If you're looking to do more of the meal prep work yourself, or if these salads aren't what you're looking for, we have plenty of recipe ideas and meal-prep tips to help you make your week a healthy, food-forward one. And if you're set on salad for dinner but worried it won't satisfy, here are some tips for making it really feel like a complete dinner.
Trader Joe's is also one of our go-to's for an affordable dinner and healthy snacks, and we're pretty partial to some of their frozen products too (cauliflower gnocchi, anyone?).