Here Are The Best Grain Bowls To Order At Restaurants

Contributing Food Editor
By Liz Moody
Contributing Food Editor
Liz Moody is a food editor, recipe developer and green smoothie enthusiast. She received her creative writing and psychology degree from The University of California, Berkeley. Moody is the author of two cookbooks: Healthier Together and Glow Pops and the host of the Healthier Together podcast.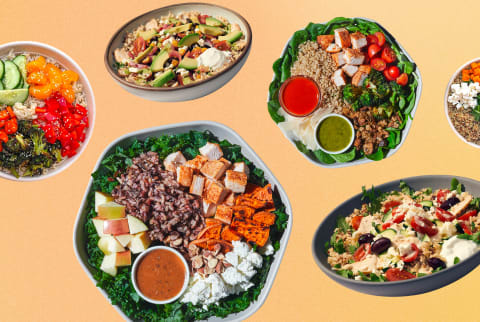 November 13, 2019
We carefully vet all products and services featured on mindbodygreen using our
commerce guidelines.
Our selections are never influenced by the commissions earned from our links.
There's little as nourishing during the cold weather as a grain bowl. There are few requirements to meet the grain bowl qualifications: if you want to make one at home, you can simply top your favorite grain with some veggies and a delicious sauce of your choice. Grain bowls are wonderful, in fact, for their versatility—you can make a Mexican-inspired bowl with rice and black beans, or a Greek one with orzo and feta. And, of course, you can skip the cooking and take care of yourself by ordering a grain bowl out.
Here are our favorite ones in restaurants across the country this fall.
Panera
The first is the Baja bowl, which is made with brown rice, quinoa, grilled citrus pepper chicken, black bean and corn salsa, salsa verde, red grape tomatoes, avocado, feta crumbles, and Greek yogurt. It's fresh and creamy and has more than enough protein to keep you full for hours, even if you opt to go vegetarian and leave off the chicken.
Their other option is a Mediterranean bowl, which combines cilantro-lime long-grain brown rice, quinoa, arugula, grilled citrus pepper chicken, red grape tomatoes, Kalamata olives, diced cucumbers, hummus, lemon tahini dressing, feta crumbles, and Greek yogurt with a squeeze of lemon. It's bright and tangy and just the right amount of savory to leave you dreaming about the taste long after you finish it. You can find both bowls at Paneras nationwide.
Sweetgreen
They have five different menu options: the Shroomami, a mix of wide rice, kale, portobello mushrooms, and sesame tofu with miso sesame ginger dressing; the Chicken Pesto Parm, with roasted chicken, spicy broccoli, tomatoes, shaved Parmesan, za'atar breadcrumbs, warm quinoa, organic spinach, and a pesto vinaigrette; the Harvest Bowl, with organic wild rice, shredded kale, apples, sweet potatoes, roasted chicken, local goat cheese, toasted almonds, and balsamic vinaigrette; the Curry Chickpea Bowl, with roasted chicken, hot chickpeas, shredded carrots, shredded cabbage, raisins, cilantro, toasted almonds, warm quinoa, organic baby spinach, and a curry yogurt dressing; and a Fish Taco, with roasted steelhead, shredded cabbage, cilantro, tortilla chips, warm quinoa, organic arugula, and a lime cilantro jalapeño vinaigrette.
You can also customize your own grain bowl with a wild rice or quinoa base and any number of the chain's dozens of toppings!
Saladworks
The Asian chicken one features brown rice, kale, chicken, red peppers, oranges, roasted carrots, and an absolutely addictive spicy peanut sauce, while the Southwestern bowl has a quinoa base and is topped with kale, avocado, corn, beans, grapes, roasted onion and butternut squash, with feta cheese, smoked pumpkin seeds, and a chipotle ranch dressing. Saladworks also lets you customize your own grain bowls with any number of their toppings.
Le Pain Quotidien
Taking a bite of Le Pain Quotidien's Warm Grain Bowl is like chomping straight down on a piece of fall. It features an exquisitely autumnal combination of quinoa, farro, roasted Brussels sprouts, butternut squash, baby kale, arugula, spiced pecans, and goat cheese and is the perfect option for anyone looking to embrace a grain bowl with a decidedly seasonal twist. You can find their grain bowl at Le Pain Quotidiens nationwide!
Chipotle
If you're looking for a grain bowl with a decidedly Mexican flavor, look no further than ingredient-focused fast-casual restaurant Chipotle. Their burrito bowl is a grain bowl in disguise, with a decidedly grain base of rice that you can top with sustainably sourced steak, barbacoas, carnitas, chicken, or vegan sofritas, made from tofu. You can top it with fall veggies, black or pinto beans, guacamole, and three different levels of spicy salsa. The perfect way to warm up on a cold winter day!