7 Barista-Approved Products That Totally Upgrade Your Coffee Routine
Food Writer
By Eliza Sullivan
Food Writer
Eliza Sullivan is a food writer and SEO editor at mindbodygreen. She writes about food, recipes, and nutrition—among other things. She studied journalism at Boston University.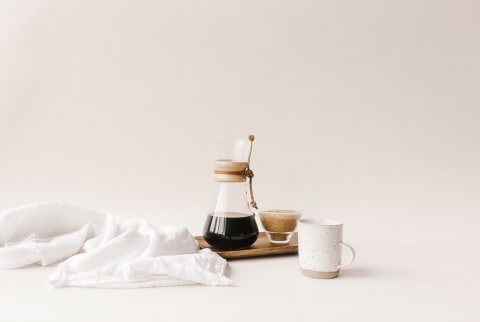 Image by @katie.maynemarketing / Twenty20
September 29, 2021
Our editors have independently chosen the products listed on this page. If you purchase something mentioned in this article, we may
earn a small commission
.
It's a very important day: National Coffee Day! We're marking it by sharing some top-notch products for upping our at-home coffee routine because there's not always a need to pay for a cup a day out when you can actually make pretty great coffee at home.
Because coffee is so subjective—some people like a frothy latte, others prefer a simple black coffee, and still others are all-year-round cold brew devotees—these products don't necessarily apply to everyone. But if you're looking to make the most of an at-home routine, one or two of these can make a big difference—and after a few years of experience working in specialty coffee, they're the ones I reach for each morning to make my morning cup:
Advertisement
This ad is displayed using third party content and we do not control its accessibility features.
If you (like me) love a frothy coffee, the ultimate home upgrade is a frother. There are a few different styles you can go with: Some people like a simple handheld option like this one—but for me, upgrading to this Bodum electric option changed the game. It heats the milk while it froths it, so I have cafe-quality milk to add to my favorite coffee with just the flip of a switch. The best part? It turns off when the milk reaches an optimal temperature and works perfectly with all my favorite alt-milks.
2.
A complementary supplement
While I'm all for enjoying an unadulterated coffee, adding extra benefits to your cup in the morning can help set you up for success in more ways than one—because it means you're getting even more perks from your coffee. mbg's beauty director Alexandra Engler prefers a collagen (specifically, mbg's beauty & gut chocolate collagen+): "Let's say you're like me and prefer a less-is-more approach to your morning routine," she says. "Well, the good news is that adding collagen literally takes no more work than scooping out a spoonful and mixing it into your coffee." You could also try swapping in or adding mushroom coffee to your routine.
Advertisement
This ad is displayed using third party content and we do not control its accessibility features.
If you're serious about upgrading your home routine, updating your brewing process can be the best place to start. There's nothing wrong with a drip coffee maker, but switching to a pour-over method like a 3-cup Chemex or a classic V-60 brewer gives you more control over the brewing and can also help make your coffee process a more mindful experience. Instead of just switching it on and walking away, you get to stand and enjoy the experience (and smells). If you're looking to make more latte-style coffees at home, an Aeropress is a slightly more involved brewer but offers a stronger, more concentrated, coffee—I'm obsessed with my Aeropress Go, which is the even more portable version of the already travel-friendly brewer.
There's nothing this washed-up barista loves more than supporting a local business. Arguably the best upgrade I've ever made in my coffee routine is buying different beans from local roasters or small businesses instead of supermarket varieties. These 19 black-owned coffee brands all have options to order online, and the beans are so much better than the grounds you get at big-box stores.
Advertisement
This ad is displayed using third party content and we do not control its accessibility features.
5.
A coffee-specific grinder
While we're talking beans, in my first years as a barista, I was told getting my own grinder would yield the biggest shift in the flavor of my morning coffee—and that advice wasn't wrong. Sure, it makes the journey to my morning cup take longer, but it also makes my coffee taste fresh and strong. Plus, I get the extra bonus of the prolonged aroma of fresh grounds before I even start brewing. While some people use spice grinders for this purpose, coffee-specific models give you more control over grind size—which is important because depending on your brewing method, the size of the grind should change. I love my Hario handheld, but there are also options out there for electric burr grinders, if you have the space and budget for one.
6.
A purposeful coffee storage option
Whether you opt to grind fresh or not, how you store your coffee beans can make a huge difference in flavor. The less air the beans or grounds are exposed to, the better, so brands have started making airtight containers that keep your coffee extra fresh. This one from Miir is the one the Specialty Coffee Association sells, and it's pretty sleek to look at, too.
Advertisement
This ad is displayed using third party content and we do not control its accessibility features.
7.
An insulated mug (or tumbler)
This last one is a case of personal preference, but I find if I'm drinking hot coffee, I want it H-O-T. And if I'm drinking iced coffee, I want it to taste like coffee, not melted ice. For that reason, I love my insulated tumbler and coffee cup, which ensures my coffee always tastes the way I made it (even when I get distracted and forget about it for a while).
Taking time to relish a morning coffee routine is an easy way to make your morning more relaxing and joyful. These products have certainly helped make my morning cuppa that much more wonderful. Not sure you want to make a purchase, but want to make your morning more mellow? Start with just setting a habit of enjoying your coffee rather than rushing it.
Eliza Sullivan
Food Writer
Eliza Sullivan is an SEO Editor at mindbodygreen, where she writes about food, recipes, and nutrition—among other things. She received a B.S. in journalism and B.A. in english literature with honors from Boston University, and she has previously written for Boston Magazine, TheTaste.ie, and SUITCASE magazine.