Ayurvedic Lunch & Dinner Recipes To Support Your Doshas During Early Winter

Certified Ayurvedic Practitioner
By Ananta Ripa Ajmera
Certified Ayurvedic Practitioner
Ananta Ripa Ajmera is founder and CEO of The Ancient Way, an organization that carries forward the mission of her lineage ancestors, of health and spiritual freedom for all, and the author of "THE WAY OF THE GODDESS: Daily Rituals to Awaken Your Inner Warrior and Discover Your True Self."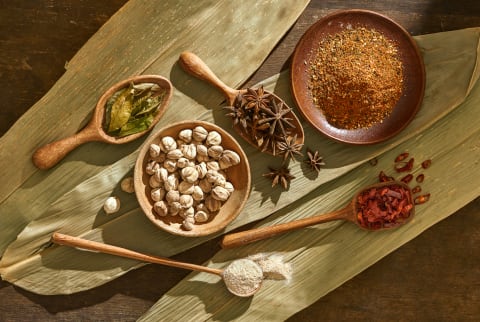 Image by Marc Tran / Stocksy
November 14, 2020
Early winter is considered the best time of year for health in Ayurveda. According to the ancient Ayurvedic texts, none of the doshas (Ayurvedic mind-body types) are out of balance right now. So provided you're able to keep up with healthy habits, the next few months should be relatively smooth.
What to eat in early winter, according to Ayurveda.
For this balanced early winter season, from mid-November through mid-January, you are encouraged to eat heavier foods. This is because, due to the decreased presence of the sun, your inner digestive fire becomes very strong, which helps you digest food better than you can at any other time. Having a balanced digestive fire (called agni in Sanskrit) is the key to overall health.
So as long as you are relatively healthy already, this is the time of year when you can really enjoy your holiday meals, provided you also get adequate exercise!
Here are three fun seasonal recipes to feed your belly, as well as strengthen your mind and spirit.
Spice-Up-Your-Life Ayurvedic Fajitas
Enjoy Mexican food with a healthy Ayurvedic twist! All of the ingredients and spices used to make Ayurvedic fajitas are excellent for digestion. The unctuousness of avocados, paired with roasted cumin powder, cilantro, and other flavorful spices, makes the guacamole easy on your stomach. Using split mung dal, cooked with ghee and spices, also helps ensure that you can enjoy Mexican flavors gas-free. This recipe is a great way to introduce Ayurvedic cooking in a way that feels familiar, yet is new and exciting and uplifts your mind.
Ingredients:
1 cup green split mung dal
½ teaspoon turmeric powder
Himalayan pink rock salt
1 avocado
1 sweet heirloom tomato, finely chopped
¼ teaspoon freshly roasted cumin powder
Fresh cilantro, chopped (optional)
½ teaspoon pomegranate seed powder, plus ¼ teaspoon (optional)
1 lemon, juiced (optional)
2½ tablespoons ghee or coconut oil
½ teaspoon cumin seeds
½ teaspoon ajwain (bishopsweed) seeds
½ teaspoon fennel seeds
½ teaspoon mango powder
8 to 10 curry leaves
½ teaspoon fenugreek seeds
3 to 4 colored bell peppers (orange, red, green, yellow), roughly chopped
2 carrots, roughly chopped
1 yellow squash or winter squash, roughly chopped
1 zucchini, roughly chopped
Wheat tortillas
Method:
Rinse the mung dal until the water is clear, then place in a medium bowl. Add enough water to cover the dal by 1 inch and soak for 2 to 3 hours, then drain and rinse.
Place the mung dal, turmeric, salt to taste, and enough water to cover the dal by 1 inch in a soup pot. Cook until the mung dal looks like it is soft, 20 to 25 minutes. While the mung dal is cooking, prepare the vegetables.
To make the guacamole, cut and scoop the avocado out of its skin into a medium bowl. Add the tomato, finely chopped onion, if using, cumin powder, and fresh cilantro to taste. Add ¼ teaspoon pomegranate powder, if using. Add rock salt and freshly squeezed lemon juice to taste. Set aside.
Warm 1 tablespoon of the ghee in a small skillet. Add ¼ teaspoon of the cumin seeds, ¼ teaspoon of the ajwain seeds, ¼ teaspoon of the fennel seeds, and rock salt to taste. Cook until you can smell the seeds, about 10 to 15 seconds at most. Pour into the dal.
Warm the remaining ghee in a large skillet big enough to fit vegetables. Add the mango powder and the remaining turmeric, cumin, ajwain, and fennel seeds, as well as the curry leaves, fenugreek seeds, and ¼ teaspoon pomegranate seed powder. Swirl and cook until fragrant, 10 to 15 seconds.
Add the bell peppers, carrots, squash, and zucchini to the onions and cook, covered, until the veggies are soft enough that you can cut them with a spoon, 8 to 10 minutes.
Bring the vegetables to the table sizzling in the pan, and serve alongside the tortillas, mung dal, and homemade guacamole.
Conviction Veggie Korma
This grounding Indian dish can support you in developing stronger conviction on your spiritual path by giving you all the rich flavors you love while keeping your body from becoming overly heated.
Ingredients:
2½ medium-size sweet heirloom tomatoes
½ tsp. hing
¾ tsp. kalonji seeds
⅓ tsp. fennel seeds
2½ tbsp. shredded coconut
1 tbsp. ghee
2 bay leaves
¾ tsp. turmeric powder
¾ tsp. garam masala
¼ tsp. each of ground cardamom and ground cinnamon
Dash of black pepper
1 cup of seasonal vegetables (pumpkin, sweet potatoes, carrots, zucchini, cauliflower, turnips, winter melon, winter squash, fennel root, green beans, radishes, spinach all work well)
¾ head small cauliflower, chopped into florets
1⅓ cups cooked chickpeas
1⅓ cups water or coconut milk
⅓ tsp. pink rock salt
⅓ tsp. jaggery, sugar, or sugar substitute
Method:
To cook the chickpeas, you will need to soak them overnight (or for at least 4 hours). Then you can put them into an Instant Pot on the "pressure cook" setting for 15 minutes or simmer on the stovetop until soft.
Blend together the kalonji seeds, hing, fennel seeds, tomato and coconut until smooth (can use puree setting on blender). Add a few tablespoons of water as needed. Blend the combination for 1 minute, then pause it, and blend again after 5 minutes to allow all the ingredients to blend together.
Add ghee or coconut oil to a large skillet on medium heat. Add bay leaves to the ghee or oil and cook for a few seconds. Add in the ground cardamom and ground cinnamon.
Add the blended mixture to the ghee or oil and spices. Add a pinch of pink rock salt. Cook for 5 to 7 minutes, until the tomato mixture gets thick and the combination releases a scent.
Mix in the vegetables and cooked chickpeas. Add water or coconut milk and pink rock salt. Cover and cook for 15 minutes, or until the vegetables are as cooked as you'd like them to be.
Add more coconut milk if needed and then allow the mixture to simmer for several minutes. Add ¼ teaspoon of sweetener if needed.
Garnish with cilantro and serve warm with flatbread, tortillas, or cooked white basmati rice.
Crown-Chakra-Balancing Creamy Carrot-Lime Soup
This plant-based soup is nourishing and simple to make, even for beginner chefs! The substitution of hing and kalonji seeds for garlic and onions (considered mind-dulling foods in Ayurveda) is very helpful for opening your crown chakra to subtler perceptions, inspirations, and spiritual contemplations.
You are what you eat, according to Ayurveda, so eating something simple yet satisfying and decadent helps you become clear enough to receive the guidance of your own inner wisdom.
Ingredients:
1 tbsp. ghee or coconut oil
2 pounds carrots, peeled and roughly chopped
1½ tsp. pink rock salt
Fresh black pepper
½ tsp. hing
1 tsp. kalonji seeds
1 tsp. ground cumin
2½ cups vegetable broth
1 bay leaf
¼ cup cashew or almond butter
1⅔ cups coconut milk
4 tbsp. fresh lime juice
Method:
Sauté ghee with kalonji seeds, carrots, half of the salt, and a bit of black pepper. Cook until the carrots begin to soften, about 5 minutes.
Add hing, cumin, the remaining half of the salt and black pepper. Cook for 1 to 2 minutes, coating the vegetables in the spices.
On an Instant Pot: Select "Cancel"; pour in the vegetable broth; add bay leaves, nut butter, and coconut milk. Stir to combine. Select the Soup setting and cook for 10 minutes. Allow a natural pressure release for 5 minutes. On the stove: Add ingredients to a large sauté pan and cook until combined, about 15 minutes.
Puree the soup in a blender.
Stir in the lime juice.
Garnish with cilantro leaves, and enjoy!

Ananta Ripa Ajmera
Certified Ayurvedic Practitioner
Ananta Ripa Ajmera is founder and CEO of The Ancient Way, an organization that carries forward the mission of her lineage ancestors, of health and spiritual freedom for all, and the author of THE WAY OF THE GODDESS: Daily Rituals to Awaken Your Inner Warrior and Discover Your True Self.
The Ancient Way offers a balance of modern day food, lifestyle and spirituality with a centuries' old proven way of life that is close to nature, the gems of Yoga and Ayurveda and the call of spirituality. Ananta also serves as Director of Ayurveda at THE WELL, a modern wellness club that brings together world-class doctors and master healers for a more balanced you.

She is also author of the award-winning book "The Ayurveda Way: 108 Practices from the World's Oldest Healing System for Better Sleep, Less Stress, Optimal Digestion and More." Ananta has taught Ayurveda and Yoga staff trainings at Stanford University, NYU, UNICEF, California Department of Public Health and ABC News - to name a few. She studied and practiced Ayurveda, Yoga, Vedanta and Vedic Psychology deeply in traditional Vedic spiritual lineages for 12 years. Her work has been featured in Forbes, Vogue, Yoga Journal and MindBodyGreen. You can book a complimentary 15-minute consultation with Ananta here.