9 Dessert Recipes To Make To Celebrate National Avocado Day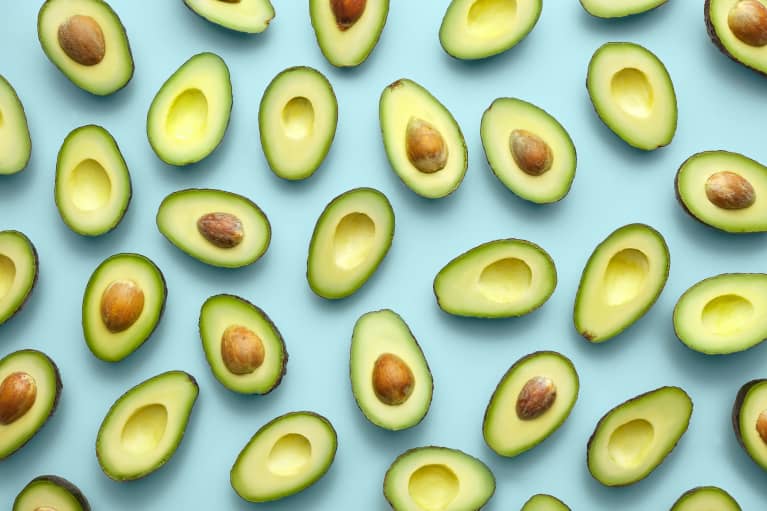 Having long since graduated beyond toast and guacamole, there's almost nothing an avocado can't do. They've become important ingredients in inventive dishes for any meal of the day, dessert included.
While they're known for being among those healthy fats that are so important to the ketogenic diet (and others), avocados are also a perfect ingredient for bringing creaminess to a vegan dessert—which many of these are. In addition to being a good source of healthy fats, avocados are also a good source of nutrients like vitamins B-complex, C, E, and K, plus fiber and polyphenols.
These recipes celebrate the avocado in all its glory while making some of your favorite desserts a little healthier—sounds like a win-win situation to us.
If you're looking to really commit to an avocado dessert, this avocado and passion fruit sorbet is a perfect fresh, summery option. The sharp flavor of passion fruit complements the creamy texture from the avocados and was inspired by the authors' visits to Michoacán, Mexico.
Vegan Mint-Chip Ice Cream
For something a bit more familiar, turn to this vegan take on mint chip ice cream. That signature green tint to the ice cream is fittingly taken on by the flesh of two avocados, and the inclusion of fresh mint leaves and cacao nibs take this from childhood favorite to adult flavors.
In the wide world of raw desserts, there's something about the idea of raw gelato that just makes sense. This simple vegan chocolate gelato combines avocados with cashews to create its smooth texture. You may not taste them, thanks to a significant portion of raw cacao powder.
Chocolate Fudge Popsicles
Another recipe that harkens back to childhood summers, these homemade chocolate ice pops are again a slight upgrade on what you may have gotten from an ice cream truck. The avocado base is combined with coconut milk, and the cocoa powder is accented with espresso powder to make the flavor richer.
What's better than an easy dessert? An easy dessert with only three ingredients. You can always make these in advance for a gathering or as a gift. Simply combine dark chocolate, half an avocado, and a few scoops of collagen to make these truffles—and if you choose, top them with sea salt, nuts, or coconut shreds.
Sound crazy? We promise it's not, even though there's avocado in both layers of this raw gooey chocolate cake recipe. The fancy finish on the final product makes it a great people-pleaser, but the simplicity of putting it together may make this a fast favorite for you as well.
Simplify dessert prep further with this five-ingredient chocolate pudding, for which you'll likely have the ingredients on hand: Avocados, your choice of alternative milk, dark chocolate, maple syrup, and sea salt have all been active features in my kitchen of late and are all you need for this easy recipe.
The difference between mousse and pudding may be minor (theoretically, mousse would be a bit lighter), but we promise you won't confuse this recipe with the one before. A generous teaspoon of freshly ground ginger heightens this raw mousse recipe beyond just an ordinary dessert.
In case you'd begun to worry you could only use avocados in chocolaty desserts, here's an alternative: an avocado-based key lime pie. The avocados lend the filling its green hue to match its sharp lime flavor, and the no-bake crust harnesses oats and ghee for a quick fix that doesn't need the oven.
Looking for more inspired ways to cook with avocados to celebrate their day? Try any of these eight (non-guacamole) ideas from an award-winning chef.
Want to turn your passion for wellbeing into a fulfilling career? Become a Certified Health Coach! Learn more here.