mbg Food Contributor
By Molly Patrick
mbg Food Contributor
Molly Patrick is a recipe developer with an expertise in plant-based diets and the co-founder of Clean Food Dirty Girl.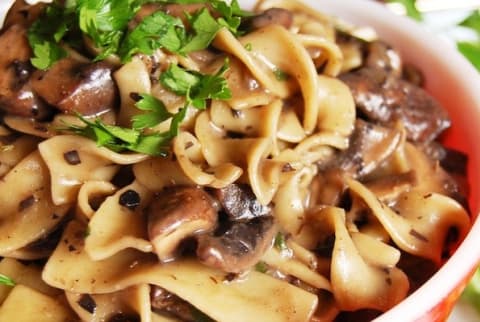 October 22, 2013
Apart from the changing leaves, nothing says fall like stroganoff in your mouth.
This dish will get you excited for chunky sweaters, impatient for cozy nights by the fire and motivate you to bust out your holiday boxes. Make it with love, share it with friends and enjoy the change of colors out your window.
Fall Mushroom Stroganoff
Time: 15 - 30 minutes
Serves 4-6
Vegan, Gluten-free options (see cook's notes below) Nut-free, Soy-free (see cook's notes below)
Ingredients:
Advertisement
This ad is displayed using third party content and we do not control its accessibility features.
8 ounces uncooked ribbon noodles (230g)
1 tablespoon Earth Balance buttery spread (15g)
1 yellow onion, chopped (140g)
3 tablespoons whole wheat flour, divided (20g)
2 cups beefless beef broth or veggie broth (.5 liters)
1 tablespoon soy sauce (15ml)
1 teaspoon lemon juice (5ml)
1 teaspoon tomato paste (6g)
1 1/2 pounds mushrooms (half portobello and half button mushrooms), cut into large 2-inch chunks (740g)
1/2 teaspoon dried thyme
1/2 teaspoon dried sage
1/2 teaspoon salt (3g)
1 tablespoon white wine vinegar (15ml)
1/4 cup vegan sour cream - optional (55g)
10 turns of freshly ground black pepper
1/4 cup flat-leaf parsley, minced (6g)
Directions:
Cook the noodles per the direction on the package. Under cook them a bit because they will be cooked again once incorporated into the sauce. Drain, and set aside.
In a large saucepan, melt the Earth Balance and saute the onions for three minutes on medium heat. Add the flour and cook for 30 seconds, stirring constantly.
Gradually add the broth, soy sauce, lemon juice and tomato paste, while stirring at the same time. Stir until mixture becomes thick and bubbly, about a minute.
Add the mushrooms, thyme, sage and salt. Stir to combine. Cook for 5 minutes, stirring frequently until mushrooms have shrunk in size.
Add the vinegar and simmer for 4 more minutes.
Add the noodles, sour cream, 1 tablespoon of flour, black pepper and parsley and cook on low for an additional 5 minutes. Garnish with parsley.
Cook's Notes:
You can make this dish gluten free if you use gluten-free pasta, gluten free soy sauce and substitute the whole wheat flour with rice flour. If you want a soy-free version, swap out the soy sauce with sea salt to taste.
This recipe, along with 90 others, will be available in our new cookbook, Bold Vegan Food For The Body & Soul, coming out later this fall.
Advertisement
This ad is displayed using third party content and we do not control its accessibility features.
Molly Patrick
mbg Food Contributor
Molly Patrick is the co-founder of cleanfooddirtygirl.com. Molly's expertise used to be drinking red wine and is now on the Whole Food Plant Based diet. She guides people on their journey of changing what, how and why they eat in a way that sticks. Losing weight, getting off from medication and falling in love with life is just a taste of what Molly has to offer.