Are Oats & Oatmeal Gluten-Free? Here's What You Need To Know
mbg Associate Movement & Wellness Editor
By Ray Bass, NASM-CPT
mbg Associate Movement & Wellness Editor
Ray Bass is the associate movement and wellness editor at mindbodygreen and a NASM-Certified Personal Trainer. She holds a degree in creative writing from the University of Pennsylvania, with honors in nonfiction.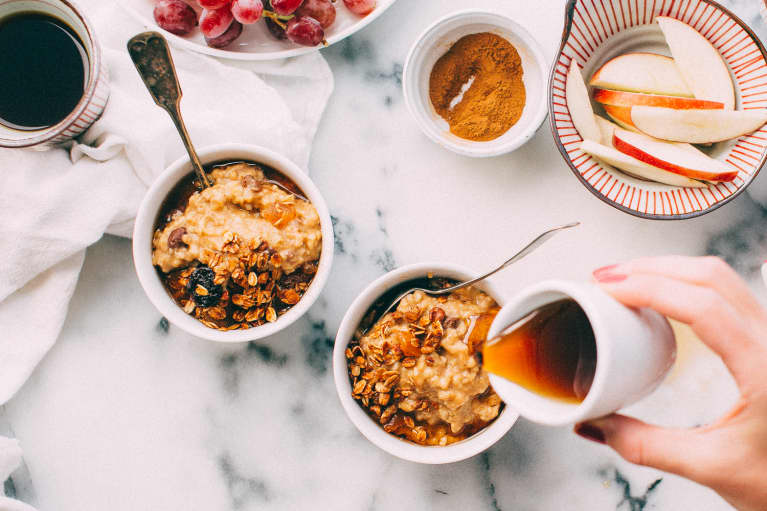 Our editors have independently chosen the products listed on this page. If you purchase something mentioned in this article, we may
earn a small commission
.
Gluten can be a polarizing topic, and it's been that way for (what feels like) a long time. And when it comes to knowing what contains gluten and what doesn't, it's much more complicated than "this is bread" and "this is not bread." The line between gluten-full and gluten-free is thin and blurry. For example, one type of grain that people often wonder about is oats. Are they gluten-free or not? Well, let's find out.
At their most basic level, yes, oats are indeed gluten-free. We're talking about oats that haven't been touched by other grains or foods—aka they haven't crossed paths with gluten in any way. But food manufacturing, as you can imagine, is not that simple. Contamination happens, and oats are especially susceptible because they're often processed in facilities that work with wheat, barley, and other gluten-filled ingredients. We've all seen the writing on the wrapper: "Manufactured on shared equipment...may contain [peanuts, tree nuts, wheat, soy, milk]."
Are oats safe for people with celiac?
While yes, oats are gluten-free in their natural form, we wouldn't recommend buying the first tub of oats you lay your eyes on at the grocery store. FDA regulations require that "among other criteria, any foods that carry the label 'gluten-free,' 'no gluten,' 'free of gluten,' or 'without gluten' must contain less than 20 parts per million of gluten." This, they say, is the lowest that can be reliably detected in foods using science-backed methods.
Regulations also state that in addition to the 20 ppm threshold, a food can be labeled as gluten-free if it does not contain:
An ingredient that is any type of wheat, rye, barley, or crossbreeds of these grains,
an ingredient derived from these grains that has not been processed to remove gluten, or,
an ingredient derived from these grains that has been processed to remove gluten but results in the food containing more than 20 ppm of gluten.
The FDA's rules seem sufficient in ruling out what can and cannot be deemed gluten-free, which is why if you have celiac but want to eat oats, we recommend taking a very close look at the label and looking up the product or company online.
The FDA does not require a "gluten-free" claim to be put on a food package—so foods that are naturally gluten-free, like fruits or eggs, don't have to bear a gluten-free label. That said, most companies producing foods that are not naturally gluten-free (like protein bars, breads, baked goods, or crackers) will include a certified gluten-free label on their packaging if it is, in fact, gluten-free.
So if you see a certified gluten-free label, that is your best bet to know if a food is actually gluten-free. Of course, everyone is different, and our bodies can react differently to foods—some could have a reaction to a food, and some could not. Most people who have a gluten intolerance should be fine eating oats. But if you have celiac, definitely look for a certified gluten-free label on your oats, or avoid altogether.
Types of gluten-free oats and recipes.
If you read this and are now craving gluten-free oats, rest assured that there are plenty of options out there for you. Bob's Red Mill makes Gluten-Free Old-Fashioned Rolled Oats, as does GF Harvest—and nowadays there's a gluten-free version of pretty much any food you could want.
And if you're looking for recipes to use your oats in...oh, we've got plenty.