9 Antioxidant-Rich Breakfasts We're Making Right Now
mbg Nutrition & Health Writer
By Eliza Sullivan
mbg Nutrition & Health Writer
Eliza Sullivan is a food writer and SEO editor at mindbodygreen. She writes about food, recipes, and nutrition—among other things. She studied journalism at Boston University.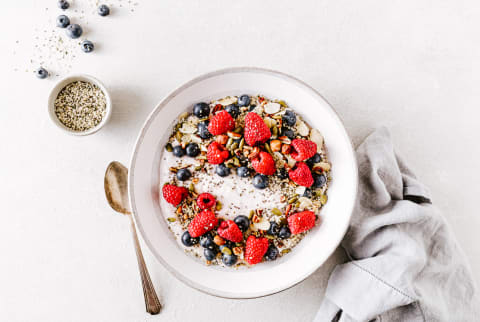 Image by Darina Kopcok / Stocksy
February 22, 2021
Whether you're a first-thing-in-the-morning breakfast person or more of a midmorning fast breaker, making sure that your first meal of the day is something nutrient-dense and delicious should be a priority. Some of our favorite nutrients to focus on in the mornings are antioxidants.
Finding antioxidant-rich foods to add to your diet starts with color—if you look for rainbow foods, you're likely going to find foods with antioxidants. According to Carly Knowles, M.S., RDN, L.D., you'll find vitamin C in red or orange foods (and some yellow or green ones too); while darker green foods (like leafy greens) have chlorophyll and isothiocyanates, and purple or blue foods offer anthocyanins. Stocking your fridge with a mix of fruits and veggies in these colors is an easy way to make sure your meals provide diverse nutrients.
There are so many tasty ways to enjoy antioxidants for breakfast—and yes, that includes those leafy greens. It's great to mix it up and find new favorites, but there's a few we love coming back to:
1.
Buckwheat Breakfast Bowl
2. Blueberry Cheesecake Overnight Oats
Blueberries are a great source of anthocyanins—an antioxidant that may help manage inflammation1—and this recipe includes them in a dessert-like breakfast that doesn't spike blood sugar.
3. Coconut Crêpes With Coconut Yogurt & Berries
Creamy yet dairy-free, these crêpes pack in antioxidants with their fruity toppings: blackberries, blueberries, and pomegranate. The simple crêpe batter itself requires only four ingredients plus some fat for greasing your pan.
If you're more of a fluffy pancake person, these feature antioxidants in the batter itself. The mix uses beets—which are rich in vitamin B3 (aka niacin) and betaine—to color and slightly flavor the pancakes. Add even more nutrients by topping your breakfast with berries, too.
5. 2-Ingredient Green Juice
Green juice is an optimal option for getting your vitamins and minerals first thing in the morning—but if you don't have a juicer or powerful blender, it can be a nightmare to make at home. With mbg organic veggies+, though, you can make green juice in one easy step, with just two ingredients.
6. Kale Breakfast Salad
If Beyoncé eats it for breakfast, we're definitely interested. This recipe for a breakfast kale salad is from Marco Borges, who worked as a trainer for Beyoncé and Jay-Z, and introduced the couple to plant-based eating. It packs in kale, citrus, and pomegranate for tons of antioxidants.
7. Red Berry Chia Pudding
Chia pudding is the perfect breakfast for anyone who isn't a morning person–you can make it ahead, so it's ready in the fridge when you wake up. This version uses frozen berries (blackberries are recommended, but it's totally adaptable) to flavor the mix. To make this fruity blend, the recipe calls for blitzing the berries into the liquid before adding the chia seeds, for an even flavor throughout.
8. Sangria Smoothie
9. Blackberry & Blueberry Quinoa Breakfast Salad
Upgrade a simple fruit salad by adding a nutrient-dense grain like quinoa. This recipe also features a simple citrus dressing to add to the mix of berries, grains, and chia seeds.
However you're enjoying them, antioxidant-rich foods are an important part of the diet. Luckily, it's actually pretty simple to infuse them into your day, starting with a healthy breakfast and maybe even wrapping up with berries for dessert, too.
Eliza Sullivan
mbg Nutrition & Health Writer
Eliza Sullivan is an SEO Editor at mindbodygreen, where she writes about food, recipes, and nutrition—among other things. She received a B.S. in journalism and B.A. in english literature with honors from Boston University, and she has previously written for Boston Magazine, TheTaste.ie, and SUITCASE magazine.