Bring Healthy Holiday Flavors To Your Mornings With These Baked Oats
mbg Nutrition & Health Writer
By Eliza Sullivan
mbg Nutrition & Health Writer
Eliza Sullivan is a food writer and SEO editor at mindbodygreen. She writes about food, recipes, and nutrition—among other things. She studied journalism at Boston University.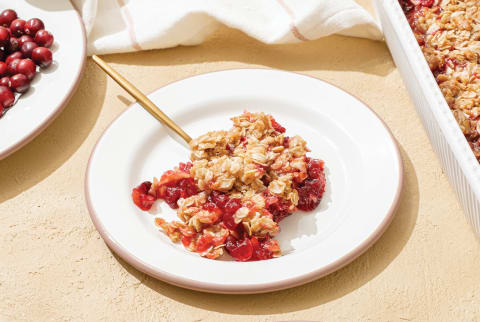 Image by Jeremy Pawlowski / Stocksy
December 8, 2021
Stop leaving cranberries behind on the Thanksgiving table! These little berries are packed with antioxidants—not to mention flavor—that make them a fabulous addition to any meal. Luckily, we're not alone in thinking that, and New York City–based chef, recipe developer, and activist Sophia Roe pulled out all the stops with this breakfast recipe, which she shared in a video on her Instagram.
Baked oats had quite a moment this year, and they don't show any signs of going away soon—but in case your nutty or chocolatey go-to recipe needs a refresh, try this one: It features cranberries alongside ground ginger and cinnamon, plus just a bit of orange, too. Can you imagine a more perfect set of flavors for a winter morning? "This dish can be prepped the day before, and popped in the oven whenever you need," shares Roe. "It also sets beautifully once it's cooled, so it's perfect for any circle/square cutter for portion."
She's also quick to encourage you to think outside the breakfast: Why not use this recipe to make a bit of a cake, perfect for pairing with a cup of coffee for the afternoon? "I also experimented with small spring-form pans to see if making a baked oatmeal cake was actually something tasty, and wow...it was great!" she writes. "This recipe can't really be messed up, so please try it out."
Cranberry Baked Oatmeal
Ingredients
2½ cups old-fashioned rolled oats
1½ teaspoons ground ginger
1 teaspoon cinnamon
1 teaspoon baking powder
½ teaspoon baking soda
¼ cup chopped nuts of choice
2 cups unsweetened plant-based milk
5 tablespoons maple syrup
1½ teaspoons vanilla extract
1 teaspoon salt
1 tablespoon vegan butter
2 cups fresh or frozen cranberries
2 oranges, juice and zest
⅓ cup monk fruit sugar (more or less depending on your taste)
1 cinnamon stick
2 teaspoons thyme (optional)
Method
Preheat oven to 350°F. Lightly oil and prep with parchment paper, either two 6-inch spring-form pans, one 9-inch spring-form pan, or a casserole dish will work too!
In a large bowl stir together the oats, ginger, cinnamon, baking powder, baking soda, chopped nuts, plant-based milk, maple syrup, vanilla extract, salt, vegan butter, and zest of one orange. Stir until incorporated; let sit while you prep cranberries.
For the cranberries, add the cranberries, juice of the 2 oranges, monk fruit, cinnamon stick, and thyme to a pot on low. Allow to cook for at least 15 minutes on low until mixture starts to thicken. Once thickened, turn off heat.
Pour a few tablespoons of cranberry mixture on the bottom of your cake/casserole pan/dish, then pour the oat mixture into your pan/dish. Add a few more tablespoons of cranberry mixture on top, and swirl into the oats!
Bake for 30 to 35 minutes or until the top is golden and the oatmeal is set. Let it rest for 5 to 10 minutes before serving. I blended up ¼ cup of the cranberry mixture with a few tablespoons of plant-based milk and some confectioners' sugar to create the yummiest cranberry syrup to serve the oatmeal with.
Eliza Sullivan
mbg Nutrition & Health Writer
Eliza Sullivan is an SEO Editor at mindbodygreen, where she writes about food, recipes, and nutrition—among other things. She received a B.S. in journalism and B.A. in english literature with honors from Boston University, and she has previously written for Boston Magazine, TheTaste.ie, and SUITCASE magazine.