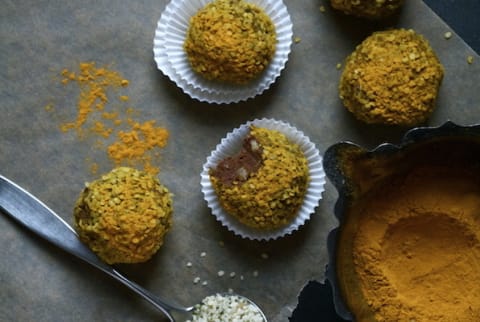 December 22, 2014
Turmeric is filled with all the best "anti's" our bodies need, especially in winter — anti-oxidant, anti-viral, anti-bacterial and anti-inflammatory properties — not to mention the happiness boosting properties of niacin, vitamin C, calcium, magnesium and zinc!
When my house gets the sniffles, an immune boosting turmeric, honey, ginger concoction seems to clear things up fast. But for a more fun and fabulous way to add turmeric to your winter diet, try these Turmeric truffles!
1/2 cup soaked, pitted dates
1/2 cup soaked walnuts
6 tablespoons raw cacao powder
3 tablespoons coconut oil
pinch of good salt
pinch of vanilla powder (optional)
1 tablespoon orange zest
2 tablespoons turmeric powder
3 tablespoons hemp seeds
1. Blend all ingredients in a food processor or blender until combined. Place in the fridge for about 10 minutes to harden.
2. Roll into balls, and into turmeric/hemp mixture until coated. Chill for 15-20 minutes before serving.
Photo courtesy of the author

Elise Swartwood
Private Chef
Elise is a private chef and holistic nutrition consultant who recently jumped coasts from Massachusetts to California. She is passionate about food as a way of healing and nourishing our bodies and minds; Her main focus includes a personalized approach to wellness, to achieve balance naturally and for clients to feel their most radiant selves. She is happiest when cooking for loved ones or being near the ocean, preferably both.