An Anti-Inflammatory Cucumber Smoothie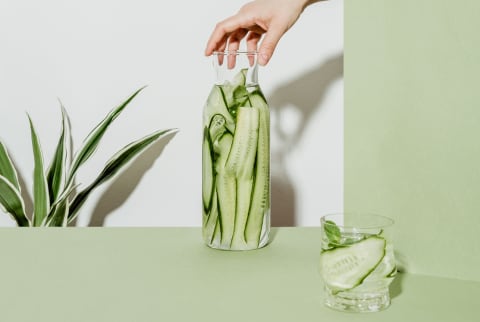 Image by Tatjana Zlatkovic / Stocksy
August 17, 2014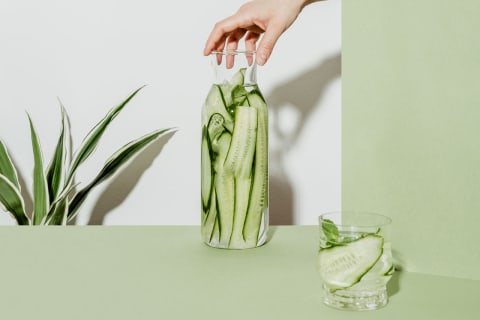 Image by Tatjana Zlatkovic / Stocksy
This smoothie tastes delicious, and combines two of the most powerful superfoods on earth.
Cucumber is a little known superfood. High in antioxidants, it is a diuretic and a kidney tonic, which helps against puffiness. You might normally use it on your eyes to make them shine more clearly, but those bags under your eyes belong to your kidneys.
Cucumbers are a highly anti-inflammatory, alkalizing, anti-cancer food and highly hydrating. They are high in plant lignans, which help the bacteria in our digestive tract, but what is really important is that they help bind and convert the hormones that cause estrogen-related cancers.
Fennel is another surprising superfood that is high in phytonutrients and helps fight cancer in extraordinary ways. It's an immunity and health booster too (because of its anti-inflammatory properties) and it also helps remove toxins from the colon.
Who would have known? You thought you had to only eat kale, right?
A Powerful Anti-Inflammatory Smoothie
1 cup cucumber
1 cup fennel
1 cup apple
1 1/2 - 2 cups coconut water (water works as a substitution)
1/2 avocado
Juice from 1/2 of a lime
Dash of sea-salt
Chop the cucumber, fennel (use the bulb) and apple (without the core) into chunks, all with the skin on. The size of the chunks depends on your blender's size and power. Peel your avocado and remove the pit. Put everything in a blender and squeeze in the lime-juice. Add a large dash of the sea-salt (this is not so that you can taste the salt, it is only to bring out the taste of the smoothie). Blend.
Enjoy this refreshing summer drink. If you make it a bit thicker by adding more avocado, it can be served as a summer soup! A health booster never tasted so delicious!

Jeanette Bronée
Speaker, Author, & Founder of Path for Life®, Inc.
Jeanette is rethinking self-care in the workplace as the foundation for peak performance, engagement, and a culture where people belong and work better together. An internationally recognized self-care mindset expert, she shares the tools to reclaim agency and cultivate the human connection that helps us communicate and collaborate with curiosity and care so that we can navigate challenges, innovate and grow stronger together in our constantly changing reality. She has spoken at the United Nations, delivered TEDx talks and keynotes throughout the US, and spoken to audiences on five continents about how we can facilitate change in our relationship with self-care at work so that we can be busy and healthy at the same time, cultivating a culture where people create impact and sustainable success together. Her new book, "The Self-Care Mindset, Rethinking How We Change and Grow, Harness Wellbeing, and Reclaim Work-Life Quality" is a book of tools so that we can harness our human advantage and grow through adversity.