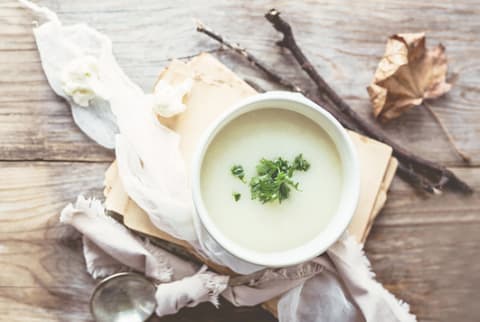 January 25, 2017
Chances are if you're reading this you probably already practice the Danish trend without even realizing it.
Hygge (pronounced hoo-ga in English) originally comes from a Norwegian word meaning "well-being" and was integrated into the Danish culture in the 1800s. It embodies all things cozy, intimate, and the act of taking pleasure from simple things such as a hot bath at night, sipping warm tea under a fuzzy blanket, or enjoying a homecooked meal with loved ones.
I've been totally onboard with the hygge trend this winter, and one of my favorite ways to decompress, relax, and fully embrace the moment is by turning on some jazz music, pouring myself a glass of peppermint tea, and whipping up a big batch of this cozy, creamy roasted cauliflower bisque.
Not only is it warm, thick, hearty, and delicious, but it's incredibly nourishing with the incorporation of cruciferous, cancer-protecting cauliflower, gut-boosting leeks (a natural prebiotic), and fiber and protein-rich garbanzo beans. It's also very anti-inflammatory and completely gluten-free, deriving its denseness and creaminess from the beans, ghee, and coconut milk. I like to roast the cauliflower before adding it into the soup to give it that extra depth of flavor.
Take your hygge to the next level by lighting a fire or some candles, tossing a big green salad, or toasting some (gluten-free) bread and serving this healing, soothing soup to your friends and loved ones.
Cozy + Creamy Roasted Cauliflower Bisque
3 tablespoons olive oil
1 head cauliflower (about 1½ pounds) broken into florets
2 tablespoons ghee
1 leek, minced, white and light-green parts only
1 medium-size yellow onion, roughly chopped
6 cloves garlic, minced
1 teaspoon truffle salt
black pepper to taste
1 tablespoon fresh or dried herbs (like rosemary and thyme)
1 (15-ounce) can of garbanzo beans, drained
3 cups vegetable broth
1 can organic coconut milk
Preheat the oven to 425°F and line a large baking sheet with parchment paper.
Chop cauliflower into florets and spread on a baking sheet. Toss with 2 tablespoons of olive oil, 2 minced garlic cloves, and a sprinkle of sea salt and pepper.
Roast for 30 minutes or until the cauliflower is browned around the edges.
While cauliflower is roasting, heat a large stovetop pot over medium heat and toss in the ghee and remaining tablespoon of olive oil until melted.
Add in chopped onion and leek and cook over medium heat until caramelized, about 10 minutes or so.
Add in the remaining 4 cloves of minced garlic, truffle salt, cracked black pepper, and herbs, stirring for another minute or so.
Toss in garbanzo beans, veggie broth, and coconut milk, cover and bring to a boil. Once boiling reduce to a simmer over medium-low heat. When cauliflower is done roasting add it into the pot and continue to simmer for one hour (the longer you cook the more flavorful the soup will be).
When soup is done simmering, uncover and let cool for 10 minutes or so. Once cooled, transfer to either a high-power blender or use an immersion blender and blend soup until smooth and creamy.
*The soup should be incredibly thick (which I prefer); however, if you like it thinner, add more coconut milk, broth, or water. Top with olive oil, coconut milk, fresh herbs, or some chopped bacon (look for nitrate-, hormone-, and sugar-free) if you're craving a meaty flavor.

Lauren Chambers
Lauren Chambers of SofreshNsogreen is on a mission to help you live your happiest, healthiest life, one delicious and simple plant-based recipe at a time.