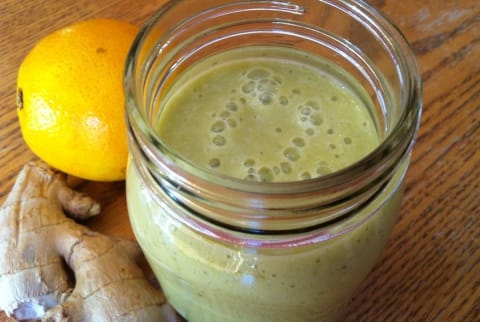 January 10, 2014
One thing I look forward to during the cold winter months is getting a shipment of fresh Florida oranges. Oranges have got to be one of my favorite fruits — juicy, sweet and bursting with vitamin C!
There isn't a better time to take in extra vitamin C than during cold and flu season. Vitamin C builds your immune defenses, leaving you happy and healthy. Another favorite of mine is ginger — especially ginger tea! Ginger is great for digestion. Since 80% of your immune system is in your gut, you want to keep it healthy and balanced. You can do this by regularly adding ginger to your diet.
The combination of oranges and ginger in this smoothie gives you a powerful immune-boosting punch! As a bonus, it's delicious!
Orange and Ginger Smoothie Recipe
2 medium oranges, peeled
1 half-inch knob of fresh ginger, peeled
1/4 of an avocado
3 cups of romaine lettuce, washed
1 cup almond milk, or your favorite nut milk
1 handful of ice cubes
Blend all ingredients in a high speed blender such as a Vitamix.
Share the second serving or store it in an airtight container for up to 24 hours.

Shannon Huckaby
Shannon Huckaby is a Certified Holistic Health Coach (AADP), healthy living expert, business mentor, and teacher who is determined to spread the word about the benefits of eating healthy whole foods to children and adults alike. Given her love for teaching and her passion for health and wellness, she is wholeheartedly committed to helping others live the life they deserve – healthy, happy, and vibrant. Shannon runs online nutrition programs and mentors health coaches to do the same, provides practical wellness tips and easy to follow recipes on her blog, and teaches children and adults that eating healthy can be delicious. To learn more about Shannon, visit her website at www.shannonhuckaby.com, or connect with her on Facebook.