Entrepreneur and Author
By Dave Asprey
Entrepreneur and Author
Dave Asprey is the founder & chairman of Bulletproof. He is a three-time New York Times bestselling science author, and host of the Webby award-winning podcast Bulletproof Radio.
I've always liked the quick, convenient nature of this dish, which is great for lunch or dinner. You could also use a strip steak for convenience or put the herb butter on a ribeye.
Check out what I eat in a typical day here.
Hanger Steak and Herb Butter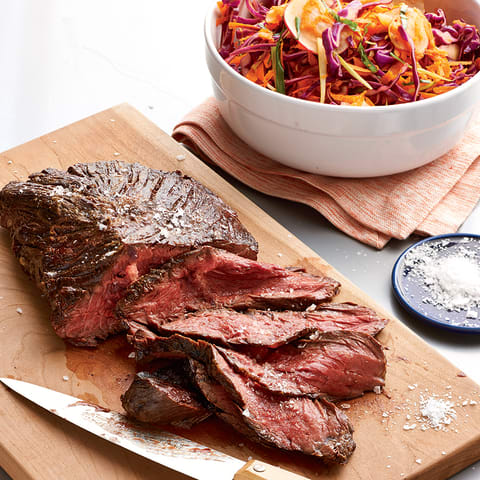 1 hanger steak (½ pound)
1 tablespoon Bulletproof Brain Octane oil (or MCT or coconut oil)
1 lemon
4 tablespoons (2 ounces) grass-fed unsalted butter, at room temperature
1 tablespoon minced chives
2 tablespoons mixed chopped fresh herbs (oregano, thyme, or rosemary)
Sea salt
3 cups (about 3 ounces) spinach
1. Rub the steak with the Brain Octane oil and set aside. Grate 2 teaspoons of zest from the lemon. Halve the lemon and cut into wedges. Squeeze out 1 teaspoon of juice and set the remaining lemon wedges aside.
2. In a small bowl, combine the lemon zest, butter, chives, herbs, and 1 teaspoon sea salt, stirring well to combine and create a compound butter. Stir in the lemon juice.
3. Heat a grill pan over (or fire up your grill to) medium-high heat. Season the steak with sea salt, place on the grill, and reduce the heat to medium-low.
4. Cook, taking care not to char the meat, for 5 to 6 minutes per side for rare, 6 to 7 minutes per side for medium-rare. Transfer the steak to a plate, top with 2½ tablespoons compound butter (reserve remaining compound butter for another use), and allow to rest for 5 minutes.
5. Slice the steak thinly across the grain, and serve with the spinach, topping with meat juices and a squeeze of lemon.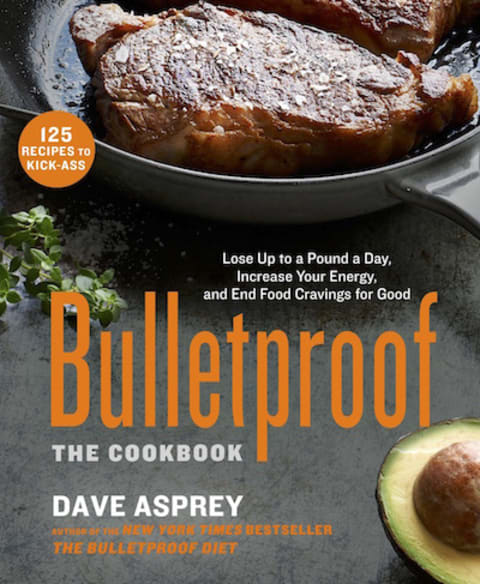 Reprinted from Bulletproof: The Cookbook by Dave Asprey. Copyright © 2015 by Dave Asprey. By permission of Rodale Books. Available wherever books are sold.

Dave Asprey
Entrepreneur and Author
Dave Asprey, founder and chairman of Bulletproof, is a Silicon Valley investor and technology entrepreneur who spent two decades and over $2 million taking control of his own biology. Dave lost 100 pounds without counting calories or excessive exercise, used techniques to upgrade his brain by more than 20 IQ points, and lowered his biological age while learning to sleep more efficiently in less time. Learning to do these seemingly impossible things transformed him into a better entrepreneur, a better husband, and a better father.
Dave is the creator of the widely popular Bulletproof Coffee, host of the #1 health podcast, Bulletproof Radio, and author of the New York Times bestselling book, THE BULLETPROOF DIET. Through his work Dave provides information, techniques and keys to taking control of and improving your biochemistry, your body and your mind so they work in unison, helping you execute at levels far beyond what you'd expect, without burning out, getting sick, or allowing stress to control your decisions.