A lot of processed foods are aimed at convenience. Products that are easy to make, easy to eat, and easy to fit into our busy lives. But, a lot of times convenience comes at a cost — whether it's just lack of nutrients or harmful chemicals.
It's one thing to avoid processed foods, but we can't avoid the fact that our lives are stressful and busy and sometimes we need that convenience. That's where this recipe comes in.
We make these egg muffins on Sundays for weeks we know will be jammed, which is bound to happen during the holiday season. The broccoli and mushrooms are full of healthy nutrients and flavor, and the protein and fat in the eggs provide balanced energy. They're easy for breakfast or as a grab-and-go snack.
To skip the roasting step, try substituting softer veggies or greens, like spinach, or adding cooked sausage.
Mushroom and Broccoli Egg Muffins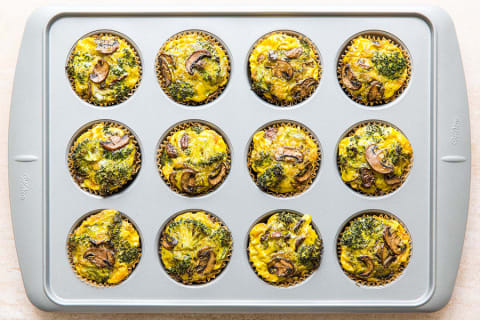 10 eggs
5 cups (~1 lb.) mushrooms, sliced
4 cups (~1 lb.) broccoli, cut into small florets
1½ teaspoons thyme
1½ teaspoons sea salt
3 tablespoons olive oil
1. Preheat oven to 350ºF. Add veggies to a large bowl, and mix with oil and thyme. Place veggies on a roasting tray, and roast for 20 minutes (rotate at 10 minutes).
2. Prep muffin pan with baking cups or liners. In the same bowl that the vegetables were prepped in, crack all the eggs and add the sea salt. Beat until well mixed. Remove veggies from oven and distribute evenly into muffin tray.
3. Pour eggs into cups with roasted veggies. (We pour the beaten eggs into a measuring cup for easy pouring.)
4. Bake muffins for 10 minutes, then rotate tray. Bake another 10 to 15 minutes, until the tops seem mostly set. Let rest, then enjoy. Don't worry — the muffins always deflate a bit when they cool off.
Muffins will store refrigerated for about 5 days.
Photo courtesy of the author

Cody Gantz
We are Cody and Natalie Gantz. We work as commercial and editorial photographers in San Francisco, and run the food blog, The Gantzery.
We're obsessed with food. Not just food, but how we make decisions around food, and how it permeates family, health, the environment, and our community.
The Gantzery is an exploration; an outlet for recipes, tips, and ideas. Our goal is to inspire people to eat healthy, and make cooking at home easier.