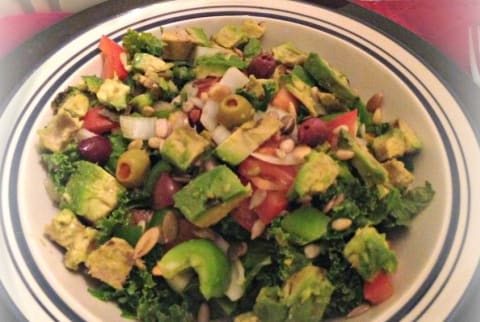 October 19, 2013
A little over a year ago I adopted a plant-passionate lifestyle. I've been able to heal and renew my body, get off medication, avoid insulin, drastically reduce my PCOS symptoms and shed 30 pounds.
Today my eating philosophy is 80/20. I eat vegan meals 80% of the time, vegetarian the other 20%. I eat healthy 80% of the time, but my mom makes the best vegetarian soul food, my grandma throws down for the holidays and I can't always drag my friends (or my wife) to the Mom and Pop vegan restaurant. I see it like this: even if you can't do a total overhaul of your diet, simply start by cleaning it up. Add more fruits and veggies, reduce gluten, and experiment with using food as medicine.
Advertisement
This ad is displayed using third party content and we do not control its accessibility features.
So this may come as no surprise: I'm absolutely obsessed with kale. In ALL varieties. I have mastered kale. My favorite things on the planet are green smoothies and kale salads. Today, I'll share one of favorite concoctions with you. I call it: Plant Goddess Kale Salad. Everyone I've made it for loves it.
This recipe is gluten free, vegan, raw and paleo friendly (skip the salt if you want). Pure perfection.
Ingredients:
15 large organic kale leaves (or for bagged kale, use 3/4 bag - 1 whole bag. Tweak ingredients if using the whole bag. May need a little more of everything. This recipe was perfect for me using 15 whole large kale leaves)
1/2 diced organic green pepper
1-2 ripe avocados, depending on the size and creaminess you want to obtain (pit removed and diced)
1/2 beefsteak tomato
1/2 large diced yellow onion
1/2 red, yellow or orange bell pepper (Optional. It won't mess it up if you skip this)
5 green olives, 5 kalamata olives (sliced)
Juice of 1/2 lime
1 jalapeño pepper (seeds and stems removed and diced)
2 Tbsp olive oil
1/2 tsp pink Himalayan salt (or celtic sea salt)
Pinch of cayenne pepper to taste (I use about 1/2 teaspoon. I love spicy)
Pinch of garlic powder to taste (I use 1/2 teaspoon. HUGE garlic fan)
1/8 - 1/4 cup of pine nuts (you can skip these if you're sensitive to nuts or are doing a detox. If skipping, add more seeds. This is the only ingredient that's not raw. I prefer to toast my pine nuts)
1/4 cup raw sunflower seeds
1/8 cup pepitas (pumpkin seeds)
Directions:
Wash kale and remove stems.
Chop kale to make bite sized. Don't be lazy here. The smaller the pieces, the better.
In a large bowl combine all ingredients. Massage and mix with your hands to wilt the kale and cream the avocado.
Serve with a side of quinoa or your favorite gluten-free grain. If you don't do grains, serve this as a side dish with your favorite meal, or let this be the main course and serve with your favorite side dish.
Kale salads are one of the easiest things to make. You CAN'T mess it up, so don't be afraid to try different ingredients. I have yet to meet a kale salad I don't like. In the comments below, tell me your favorite kale dish to make with kale!
Advertisement
This ad is displayed using third party content and we do not control its accessibility features.

Torrie Pattillo
Soul-Alignment Strategist
Torrie Pattillo is a modern mystic who helps socially conscious entrepreneurs who want to experience soul-alignment in life and business.

Through her blog, live video streams and online programs, she's here to help you embody your divine purpose, connect to your intuition and create Sacred Affluence™

Her insights have been featured in The Huffington Post, MindBodyGreen, Lightworker Nation, Be True Be Love Magazine and Sacred Sister Society's online summit.

When she's not empowering the next generation of change agents to build a soulful foundation to support the dreams they were born to fulfill, you can find her channeling her inner "Bohemian Mermaid", curled up with a book, or mastering the art of being a vegetarian foodie.

Get free tips to transform your life and business into a magical revolution at: TorriePattillo.com