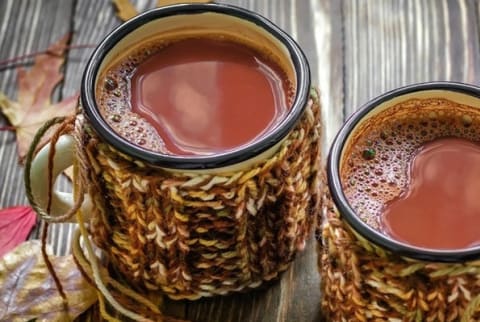 Photo by Shutterstock.com
December 5, 2013
Our family loves hot cocoa, particularly the kids. In the winter it's a request every time they come inside from sledding or skiing.
This year I managed to come up with a much healthier alternative to the sugar-laden, store-bought stuff, and they actually like it more. This hot cocoa has three great superfoods: raw cacao, raw honey and organic unrefined coconut oil. While there are too many benefits to list here, you'll know you're serving a treat that's free of the processed junk that's so often sold in stores.
2 cups vanilla almond milk
1 Tbsp. (heaping) raw cacao
1 Tbsp. raw honey
1 Tbsp. coconut oil
½ tsp. cinnamon
Heat the almond milk on the stovetop, to just under a boil and then add all the ingredients to your blender or Vitamix and blend for a minute.
The coconut oil gives it the creaminess, richness and the frothiness that make a good cup of hot cocoa. The cinnamon works together with the honey to boost the sweetness without adding sugar, and also offers the many proven benefits of cinnamon, including blood sugar regulation.

Kim Murray
Kim Murray is a graduate of the Institute of Integrated Nutrition and a Board Certified Health Coach as well as a member of the American Association of Drugless Practitioners. She is the founder of Murray Wellness and offers online seasonal detoxes, as well as one on one nutrition coaching.
Contact kim@murray-wellness or visit www.murray-wellness.com for more information on programs and services.