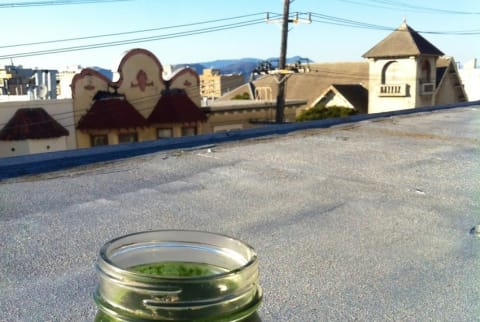 February 8, 2014
Introducing the healthiest, greenest smoothie you'll ever drink, filled with the super-est of superfoods: spirulina!
Spirulina is a blue-green, spiral-shaped algae (hence its name) that has been around since life appeared on earth. Coincidence? I think not!
The taste is strong, so one tablespoon will do the trick — a little goes a long way! With some turmeric and maca powder, it's an energizing anti-inflammatory breakfast, too!
Side note: It can leave a bit of it's blue-green color in your mouth, so it's not advisable to eat this before a hot date. Unless your hot date is drinking the spirulina smoothie with you, in which case I think you've found a keeper.
1 frozen banana
1/3 cup frozen blueberries
1 cup unsweetened almond milk (I used vanilla)
2 handfuls of spinach (about 2 cups)
1 scoop vanilla plant based protein powder
1 Tbsp. spirulina (1 1/2 or 2 Tbsp. for the overachievers out there, though this will affect the taste!)
1 tsp. maca powder
1/2 tsp. turmeric
Night before: Peel and cuts bananas in thirds, then place in freezer the night before. Having a stash of frozen bananas in the freezer is a great way to make a smoothie ritual easier!
Morning of: add ingredients together in blender (any variety will do) and blend.
Enjoy. At home, with a friend, or on a rooftop.
Kristen Brotemarkle
Kristen is a San Francisco based yoga teacher, writer, and healthy recipe creator, working to change the world. She believes this change starts within and that we all have both the right and obligation to live happy, healthy lives of purpose. She hopes to make this lifestyle accessible to all, using yoga and healthy eating as vehicles for self-realization and self-love. Through her writing and teaching, she aims to inspire others to move beyond fear, and towards authentic lives of love and possibility. In short, living life as our best selves.
For your daily dose of food and inspiration, you can visit Kristen on her mat at KristensMats.com, or on Facebook, Twitter, and Instagram @KristensMat