Celebrate St. Patrick's Day At Home With 7 Green-Filled Recipes
mindbodygreen Editorial Assistant
By Sarah Regan
mindbodygreen Editorial Assistant
Sarah Regan is a writer, registered yoga instructor, and Editorial Assistant at mindbodygreen. She received her bachelor's in broadcasting and mass communication from SUNY Oswego, and lives in Brooklyn, New York.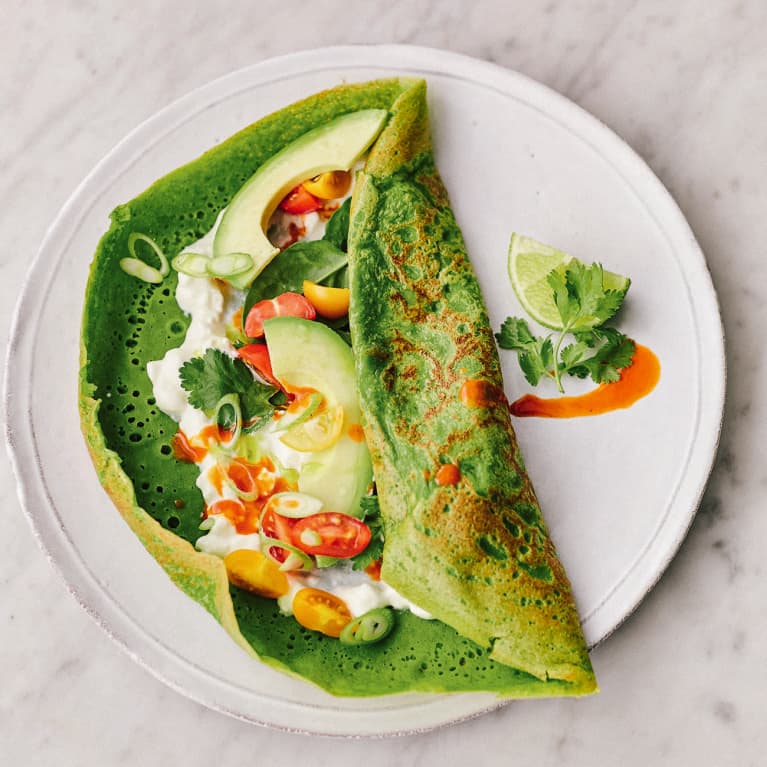 Our editors have independently chosen the products listed on this page. If you purchase something mentioned in this article, we may
earn a small commission
.
We know, we know—it's kind of hard to think about celebrating St. Patrick's Day amid the coronavirus outbreak. But in any event, in case you forgot, it's March 17th! And as a holiday all about the green, plus plenty of folks cooped up inside, we're using it as an excuse to round up our favorite green recipes.
No salads here (not that we don't love 'em). We're talking pancakes, pizza, and chips and dip for this St. Paddy's Day. Let's get started.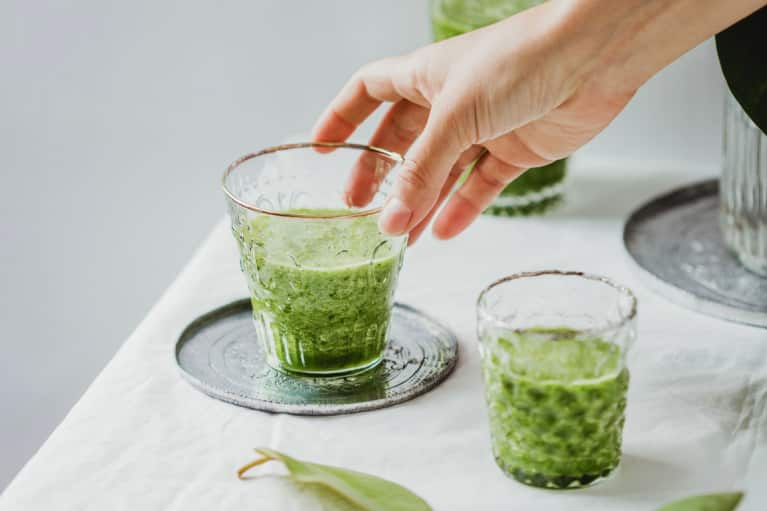 This green smoothie is perfect for when you're craving something super-green and nutrient-dense. Rather than your typical sugar-loaded, shamrock-shake, this smoothie is refreshing, packed with vitamins and minerals, and ginger is a potent anti-oxidative and anti-inflammatory root. Sounds like the perfect green drink to sip on right about now!
Ingredients (serves 2)
4 cups kale leaves
1 cucumber (chopped)
1 lemon (juiced)
2 pears (peeled and chopped)
1 tablespoon ginger (peeled and grated)
1 tablespoon ground flaxseed
1½ cups water or almond milk
5 ice cubes
Add all ingredients to the blender. Blend on high until smooth. Divide into glasses and enjoy.
2.
St. Paddy's Green Hummus Dip
For a green twist on everyone's go-to dip, this St. Paddy's Day green hummus is perfect for serving up with crackers, in wraps and sandwiches, or with your favorite green veggies like cucumbers or green peppers. You could even experiment with other green herbs and spices, like basil, rosemary, and dill.
Ingredients
2 cups chickpeas, cooked (if canned, use a BPA-free brand)
¼ cup tahini (sesame paste)
¾ cup fresh baby spinach
1 clove garlic (increase to 2 for garlic lovers)
½ teaspoon cumin
2 tablespoons extra-virgin olive oil
¼ cup lemon juice
2 to 3 tablespoons water (if you use canned chickpeas, you can use the water from the can)
¼ teaspoon cayenne or more (adjust down if your kids don't enjoy hot pepper)
Add all ingredients to your food processor, and blend until very creamy. Adjust seasonings to taste, and add more water, a teaspoon at a time, to make the hummus creamier, if needed.
Serve with fresh pita chips, carrot sticks, or celery for a snack. To serve for lunch, wrap hummus in romaine lettuce or endive leaves, with a thin slice of red pepper.
3.
Kale Chips With Nutritional Yeast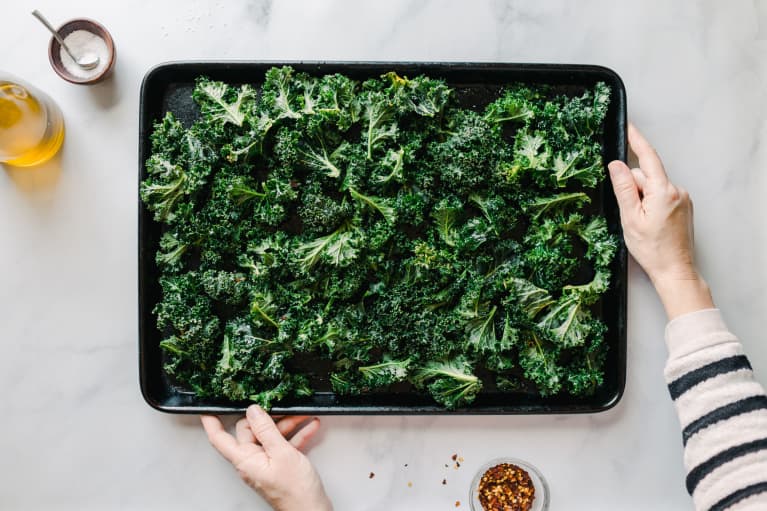 For a quick and easy fix to use up your kale, enter these kale chips with nutritional yeast. They only take 15 minutes in the oven, and require just four ingredients. Serve them along with your green hummus or other light dips!
Ingredients
1 small bunch of kale (lacinato or curly)
2 teaspoons olive or coconut oil
1 to 2 tablespoons nutritional yeast
Salt
Preheat oven to 250°F.
Rinse kale and dry thoroughly. Remove stems, and tear or cut pieces of kale into 2-inch pieces. Put kale pieces into a bowl and toss with oil to coat kale. (If you use coconut oil, you'll need to gently heat it to liquefy the oil first.)
Add nutritional yeast and toss to lightly coat kale. Arrange on baking sheets one layer deep only, and sprinkle lightly with salt.
Bake at 250°F for 15 minutes or until crispy. Store in an airtight container to preserve freshness.
4.
Super-Easy Socca Pizza
This super-easy socca pizza offers something a little more substantial, and it's super versatile too (feel free to use any toppings you desire)!
On top of that, thanks to the use of chickpea flour, this pizza is gluten-free, and it bakes in the oven in virtually less than five minutes. Not bad! Some of our favorite green toppings include but are certainly not limited to basil, oregano, microgreens, arugula, green peppers, spinach, green olives, and broccoli.
Ingredients (makes 1 10-inch pizza, 2 small/medium servings)
1 cup chickpea or garbanzo flour (Bob's Red Mill makes a great one)
1 cup water
3 tablespoons of olive oil & 1 tablespoon of olive oil
½ teaspoon salt
2 cloves minced garlic (optional)
1 teaspoon dried oregano (optional)
Toppings of choice
Whisk together all ingredients save for 1 tablespoon of olive oil and toppings, and let sit for an hour to let everything soak in.
Turn your oven on broil and let a 10-inch cast-iron pan (or ovenproof pan of choice) sit in there to get warm and toasty. Remove carefully using oven mitts, then set on stove.
Swirl in 1 tablespoon of olive oil to coat bottom. Pour into socca batter. Tilt the pan around until it's evenly spread. Return to oven and let broil for 3 to 5 minutes or until the edges get brown and toasty.
Remove from oven and add toppings. You can serve it immediately, or if you'd like the cheese to melt, return to oven for 1 to 2 more minutes or until cheese is bubbly.
Slice and serve!
5.
Super Spinach Pancakes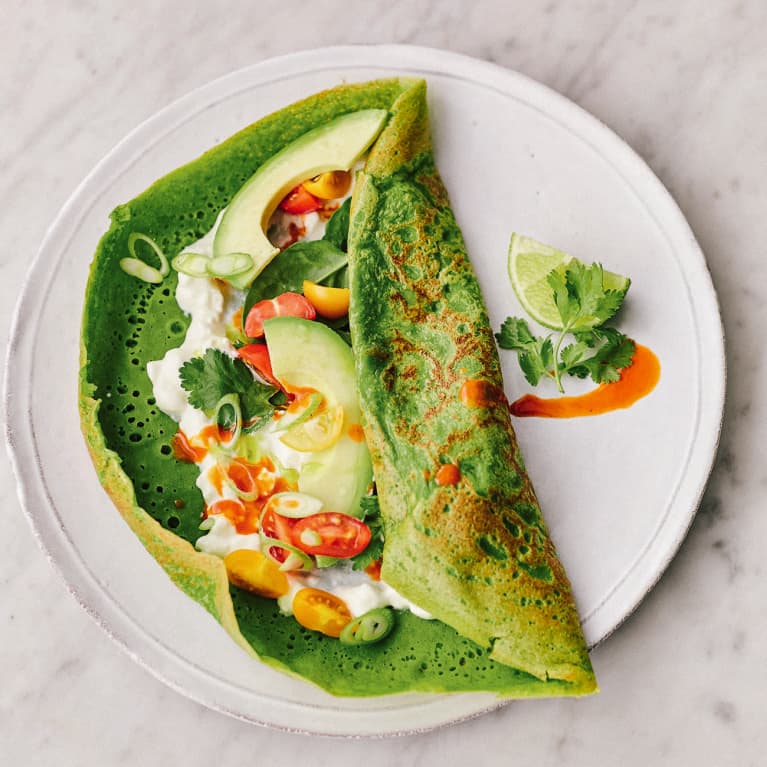 These super spinach pancakes are a savory spin on your usual breakfast fare—and they're absolutely delicious. And with the use of everyday items like flour, cherry tomatoes, spinach, and eggs, you likely already have most, if not all of these ingredients. You can even swap out the spinach for different herbs if you feel so inclined!
Ingredients (serves 6)
1 ripe avocado
12 oz. ripe mixed-color cherry tomatoes
3½ oz. baby spinach
3 scallions
½ bunch fresh cilantro (½ oz.)
1 lime
Extra-virgin olive oil
1 large egg
1 cup self-rising flour
1 cup reduced-fat (2%) milk
10 oz. cottage cheese
Hot chili sauce
Halve, pit, peel, and finely slice the avocado and quarter the tomatoes, then place in a salad bowl with a quarter of the spinach. Trim, finely slice, and add the scallions, and pick in the cilantro leaves, then squeeze over the lime juice. Drizzle with 1 tablespoon of extra-virgin olive oil, season to perfection with sea salt and black pepper, toss to coat, and put aside.
Crack the egg into a blender; add the flour, milk, remaining spinach, and a pinch of pepper; then blitz until smooth. Place a large nonstick frying pan on medium heat, rub the pan with a little olive oil, then pour in a thin layer of batter, swirling it up and around the edges. Cook on one side only for 2 minutes, or until lightly golden, then stack up on a serving plate and repeat.
Top each pancake with dollops of cottage cheese, the avocado salad, and a few good shakes of chili sauce. Really nice served with extra lime wedges for squeezing over and a fried egg on top, if you fancy.
Tip: Instead of spinach, you could use a mixture of soft herbs, such as parsley, mint, basil, or tarragon—whatever you like!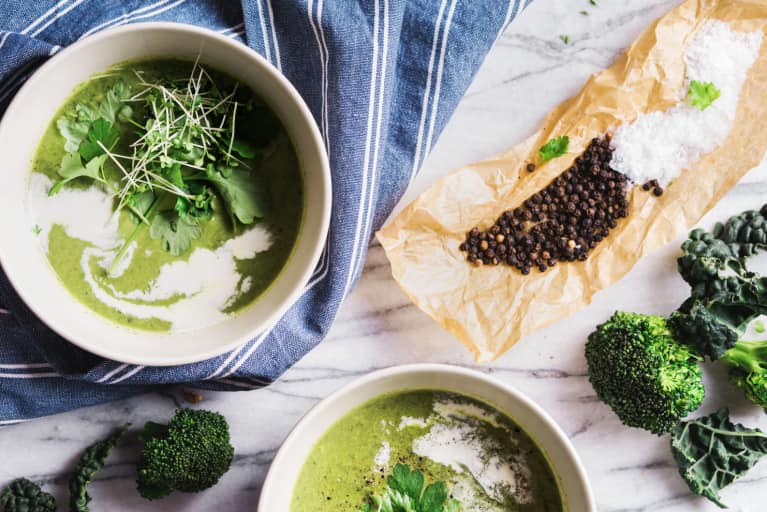 For a green soup along a similar vein as the aforementioned smoothie, enter this green soup, made with broccoli, sweat peas, and tons of other greens.
Ingredients (serves 2)
1 head broccoli
1 zucchini
3 handfuls fresh spinach and kale
2 cups shelled sweet peas
4 cups vegetable broth
1 chopped leek
1 clove garlic
3 tablespoons olive oil
½ cup packed cilantro leaves
½ cup packed parsley
juice of 1 lemon
sea salt and pepper to taste
Wash and roughly chop broccoli, zucchini, spinach, kale, and sweet pea. Set aside.
Dice and slice the leek and garlic.
In a large saucepan, heat olive oil over medium-high until warm.
Add leeks; stir and soften for about 5 minutes until fragrant.
Add garlic, and stir for 1 minute.
Next add broccoli, zucchini, sweet peas, and kale; stir and cook for an additional 5 minutes.
Pour in vegetable broth and bring soup to a boil; reduce heat and simmer for 15 minutes until vegetables are tender. Stir occasionally.
Add the spinach and sweet peas; simmer for another 2 minutes.
Turn off heat and allow soup to cool.
Pour into a blender with lemon juice, cilantro, and parsley, and purée until smooth.
Serve in a bowl, add a swirl of a fragrant olive oil, and garnish with a few cilantro leaves, kale chips, or shaved almonds.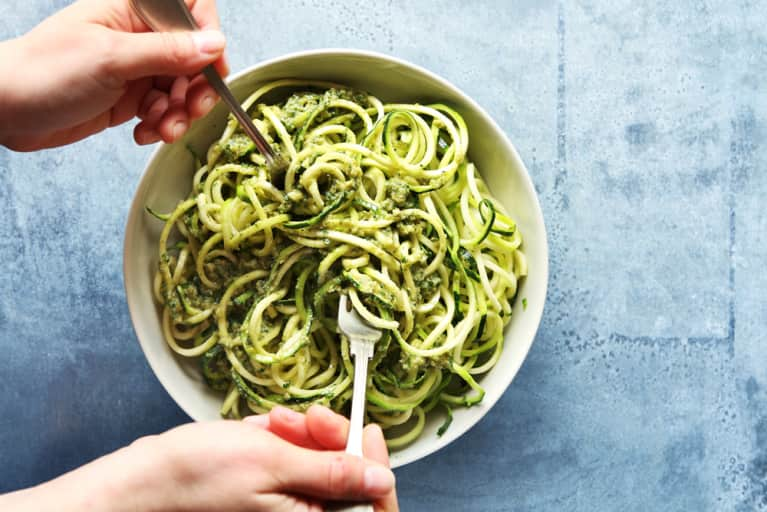 And lastly, for a simple, single-serving meal that takes no time at all, there's always pesto zoodles. You can buy prepackaged zucchini noodles, or make them yourself if you have a spiralizer. Then, it's just a matter of tossing with your pesto. You can either make it homemade, or go the store-bought route, for that too.
Here's the recipe from scratch if homemade is your deal.
Ingredients (serves 1)
1 zucchini, spiralized
1 avocado
2 tablespoons olive oil
1 tablespoon water
1 tablespoon nutritional yeast
1 tablespoon lemon juice
1 teaspoon crushed garlic
Handful of almonds
Handful of basil
Handful of spinach
Sea salt and cracked pepper to taste
Blend the avocado, olive oil, water, nutritional yeast, lemon juice, garlic, basil, salt, and pepper until smooth.
Toss with the spiralized zucchini, serve, and enjoy!
So, while your St. Patrick's Day may not unfold exactly how you'd envisioned it a few weeks ago, that doesn't mean you have to cancel the fun. With these seven recipes, it's still possible to have your own healthy and green-filled celebration as we all wait for the storm to pass.