Celebrate St. Patrick's Day With 13 Green-Filled Recipes
mbg Spirituality & Relationships Editor
By Sarah Regan
mbg Spirituality & Relationships Editor
Sarah Regan is a Spirituality & Relationships Editor, and a registered yoga instructor. She received her bachelor's in broadcasting and mass communication from SUNY Oswego, and lives in Buffalo, New York.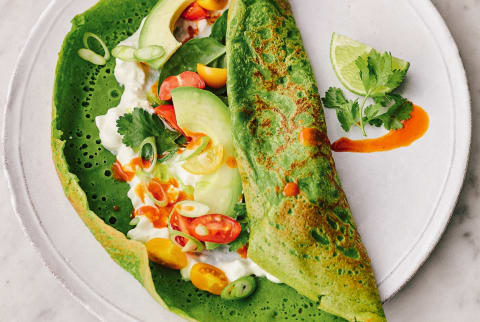 Image by David Loftus / Contributor
March 16, 2021
We carefully vet all products and services featured on mindbodygreen using our
commerce guidelines.
Our selections are never influenced by the commissions earned from our links.
Celebrating St. Patrick's Day at home can be just as vibrant as out and about with these bright recipes. (In case you forgot, it's March 17th!)
As a holiday that's very green-themed, we're using it as an excuse to round up our favorite green recipes. Powered by some of our ultimate superfoods like kale and fresh herbs, these dishes will make for a festive day without compromising on health—even when we are talking pancakes, pizza, plus chips and dip for this St. Paddy's Day.
A green smoothie is perfect for when you're craving something super-green and nutrient-dense. Rather than your typical sugar-loaded, shamrock-shake, smoothies are more refreshing and completely packed with vitamins and minerals. Additions like ginger provide a potent anti-oxidative and anti-inflammatory1 benefit, too. Sounds like the perfect green drink to sip on right about now!
For a green twist on everyone's go-to dip, a St. Paddy's Day green hummus. It's perfect for serving up with crackers, in wraps and sandwiches, or with your favorite green veggies like cucumbers or green peppers. You could even experiment with other green herbs and spices, like basil, rosemary, and dill.
Get the recipe here, or try another option here.
For a quick and easy fix to use up your kale, enter these kale chips with nutriotional yeast. They only take 15 minutes in the oven, and require just four ingredients. Serve them along with your green hummus or other light dips!
This super easy pizza offers something a little more substantial, and it's super versatile too (feel free to use any toppings you desire)! On top of that, thanks to the use of chickpea flour, this pizza is gluten-free, and it bakes in the oven in virtually less than five minutes. Not bad! Some of our favorite green toppings include but are certainly not limited to basil, oregano, microgreens, arugula, green peppers, spinach, green olives, and broccoli.
These pancakes are a savory spin on your usual breakfast fare—and they're absolutely delicious. And with the use of everyday items like flour, cherry tomatoes, spinach, and eggs, you likely already have most, if not all of these ingredients. You can even swap out the spinach for different herbs if you feel so inclined!
For a colder March day, turn to this green soup. Along a similar vein as the aforementioned smoothie, it's made with broccoli, sweat peas, and tons of other greens. Top it with crispy kale or herbs to add even more green to your bowl.
For a simple, single-serving meal that takes no time at all, there's always pesto zoodles. You can buy prepackaged zucchini noodles, or make them yourself if you have a spiralizer. Then, it's just a matter of tossing with your pesto. You can either make it homemade, or go the store-bought route, for that too.
Get the recipe to make it from scratch here.
8. Baked Feta
An easy-to-make sheet pan meal, this recipe provides protein, nutrients, and tons of flavor without too much effort. All you need to do to make it is toss the kale and chickpeas with some olive oil, lemon, and salt, and then nestle wedges of feta in on a sheet pan. Toss it in the oven and enjoy a satisfying green-hued dinner.
9. Zero-Waste Kale Salad
Double down on our favorite leafy green with this waste-free salad. Use the leaves of the kale as the base of the dish, and repurpose stems into a pesto to dress the salad. A win for the earth, but also for you because you can save money and time by using your one ingredient two ways.
10. Broccolini Frittata 
It might sounds like brunch, but you could really easily enjoy this frittata at any time of day. A large bunch of broccolini, or broccolette, gives the dish it's green—but it's also topped off with anchovies. A surprising addition, they add a ton of inflammation-fighting nutrients to an already well-rounded dish.
Ever thought of making a dip from broccoli? Well, here's how! This surprising snack dip is super flavorful thanks to an entire head of garlic (it makes two cups of dip total) and also offers some protein thanks to a can of white beans. It's an easy way to eat more veggies, and you can pair it with just about anything.
12. Guacamole
For a more expected green dip, turn to guacamole. There's plenty of recipes you could go with, but the key is really adding the flavors you love, to turn mashed avocado into something truly wonderful. Keep it simple with just citrus and salt, or go with a recipe.
Get our favorite guacamole recipes here.
13. Zucchini Bread
For a bit of sweetness to your day, why not make a quick loaf of zucchini bread? Thought it's not a classic soda bread (nor does it look particularly green when baked), it is super tasty and has a definite dose of green ingredients. This one is keto-friendly and full of flavor.
So, while your St. Patrick's Day may not unfold exactly how it did in the pre-pandemic world, that doesn't mean you have to cancel the fun. With these recipes, it's still possible to have your own healthy and green-filled celebration.
Sarah Regan
mbg Spirituality & Relationships Editor
Sarah Regan is a Spirituality & Relationships Editor, a registered yoga instructor, and an avid astrologer and tarot reader. She received her bachelor's in broadcasting and mass communication from State University of New York at Oswego, and lives in Buffalo, New York.