Times Have Bean Tough, But These 7 Bean-Filled Recipes Aren't
mbg Spirituality & Relationships Editor
By Sarah Regan
mbg Spirituality & Relationships Editor
Sarah Regan is a Spirituality & Relationships Editor, and a registered yoga instructor. She received her bachelor's in broadcasting and mass communication from SUNY Oswego, and lives in Buffalo, New York.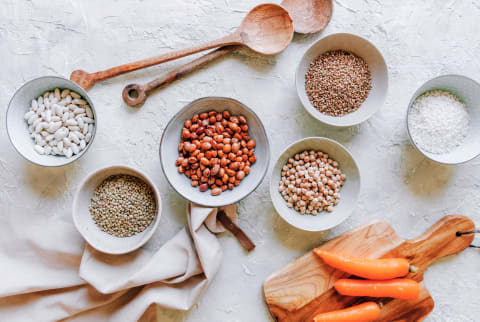 Image by Nataša Mandić / Stocksy
March 14, 2020
We carefully vet all products and services featured on mindbodygreen using our
commerce guidelines.
Our selections are never influenced by the commissions earned from our links.
As people everywhere look for ways to protect themselves from the coronavirus, many folks may be stocking up on canned goods—particularly beans.
And given beans' nutritional value, what with all their protein and fiber, they are a great option for quick and healthy meal solutions (especially when you're also trying to keep immunity up). In fact, Blue Zones founder Dan Buettner, says we should all aim to eat more beans every single day if we'd like to live longer.
And from salads to burgers to soups, they have a place in a ton of great recipes.
Ancho Black Bean Chili With Orange Essence
This hearty and flavorful chili is super filling, and the surprising use of orange juice and zest gives it a special flair that brightens all the other flavors, like the ancho chili powder, cumin, and cilantro. Not to mention it's loaded with iron, folate, potassium, and vitamins A, C, and K.
This recipe makes enough for four, but it lasts up to three months in the freezer, so feel free to make a big batch and save portions for when you or your family are in need of a quick reheat situation!
3 tablespoons olive oil
1 medium-size onion, diced (about 1½ cups)
1 large red bell pepper, seeded and diced (about 1 cup)
4 garlic cloves, minced
1 tablespoon ancho chili powder
2 teaspoons ground cumin
1¼ teaspoons salt, plus more to taste
1 teaspoon dried oregano
½ teaspoon cayenne pepper, plus more to taste
2 tablespoons tomato paste
2 cups canned crushed tomatoes
3 (15-ounce) cans low-sodium black beans, drained and rinsed
2 teaspoons finely grated orange zest, divided
1 tablespoon honey or maple syrup
2 tablespoons freshly squeezed orange juice
½ cup plain non-dairy yogurt
⅓ cup lightly packed fresh cilantro leaves
Heat the oil in a large pot over medium heat. Add the onion and bell pepper and cook, stirring occasionally, until softened, 5 minutes. Add the garlic, ancho chili powder, cumin, salt, oregano, cayenne, and tomato paste and cook, stirring, for 1 minute more.
Add the crushed tomatoes, beans, 1 teaspoon of the orange zest, the honey, and ½ cup of water and bring to a boil. Lower the heat to low, cover, and cook, stirring occasionally, until the ingredients have melded, 20 minutes. Stir in the orange juice. Add additional water by the tablespoon if the chili is thicker than you'd like, and more salt and cayenne to taste.
Serve each bowl garnished with a dollop of yogurt, cilantro leaves, and a pinch of the remaining orange zest. The chili will keep in an airtight container in the refrigerator for up to 4 days, or in the freezer for 3 months.
Quinoa Salad With Black Beans & Avocado
This easy salad is super simple, refreshing, and will keep you full longer than your average salad might, thanks to protein-packed quinoa and black beans, and healthy fat from the avocado and olive oil. It's also wheat and gluten-free to boot! To make it ahead of time, toss the dry ingredients together and store. Toss in the lime juice and freshly-cut avocado when you're ready to eat.
1 cup uncooked quinoa, rinsed
1 cup fresh, frozen or canned corn (if frozen, defrost for recipe)
1 medium avocado, diced
8-10 cherry tomatoes, halved
1 15 ounce can black beans, rinsed and drained
2 tablespoons olive oil
1 tablespoon fresh squeezed lime juice
1/4 teaspoon salt
1/4 teaspoon cracked black pepper
Cook quinoa according to package directions. Set aside and let cool.
Whisk together olive oil, lime juice, salt and pepper.
Add corn, avocado, tomatoes and black beans to quinoa.
Gently stir in lime juice mixture.
For best results, refrigerate for 30 minutes and serve.
Pan-Fried Butter Beans & Greens
This recipe gets four stars for its versatility and awesome garlicky flavor. For being so simple, the red-pepper, olive oil, lemon, and Parmesan come together beautifully. (Feel free to use vegan Parmesan, of course).
You can use these pan-fried butter beans and greens as a meal on their own, a simple side, or add it to other dishes like pastas, tacos, or even served with eggs. Check out all five ways to enjoy here!
3 tablespoons olive oil
⅛ teaspoon crushed red-pepper flakes
1 (15-ounce) can butter beans, rinsed, drained, and patted dry
2 cloves of garlic, roughly chopped
1½ cups kale, tough stems discarded, torn into bite-size pieces
fine sea salt and freshly ground black pepper
1 tablespoon fresh lemon juice
freshly grated Parmesan cheese or vegan Parmesan
Heat the oil in a large skillet over medium. Add the crushed red-pepper flakes and cook for about 30 seconds, stirring often. Add the beans in a single layer, being careful not to overcrowd the pan, and cook until they are lightly browned on the undersides, 4 to 5 minutes.
Flip the beans and cook for an additional 4 to 5 minutes. Stir in the garlic, kale, and salt and pepper to taste. Continue to cook until the kale begins to wilt, about 2 minutes. Mix in the lemon juice and cook for 1 minute longer, stirring until everything is evenly coated.
Divide the beans among the plates. Top with Parmesan and enjoy. (Note: can easily be split between two people as a main course but makes enough for four small side-dish portions.)
Detox Burgers With Black Beans, Brown Rice & Flax
For your next burger hankering, enter these detox burgers with black beans, brown rice, and flax. Much healthier than your usual beef patty, plus packed with nutrients like protein, fiber, and antioxidant-rich herbs, this burger is one to make a go-to. Make some when you have the time and throw them in the freezer to have on hand!
Serve up these burgers with your favorite toppings of choice, like bibb lettuce, baby arugula, avocado, red onion, and dijon mustard.
3/4 15-oz can black beans, rinsed and drained
1 cup cooked brown rice or quinoa
1 tablespoon flaxmeal
1 clove garlic, minced
1 teaspoon ground coriander
1 teaspoon ground cumin
2 scallions, chopped
handful of parsley, chopped
juice of half a lemon
2 tablespoons extra-virgin olive oil, plus more for drizzling
salt and pepper
Heat oven to 425ºF degrees.
Pulse ingredients in a food processor until combined. Season with salt and pepper. Using your hands, form the mixture into four patties, around 1-inch thick.
Place on a baking sheet lined with parchment (this makes for an easier clean up) and drizzle each patty with olive oil. Bake for about 20 minutes until they are golden brown.
White Bean Dip
We've never come across a bean dip we didn't like, and this white bean dip is no exception. It takes just minutes to come together in your food processor, and you can use it as a dip, on sandwiches and wraps, or scooped on top of a salad that could use a little more protein!
1 can of white beans
3 cloves of garlic
juice and zest of 1 lemon
pinch of dried oregano
fresh parsley, basil, thyme, or herbs of choice
1/4 cup extra virgin olive oil
salt to taste
Drain and rinse a can of white beans, then add to a food processor along with the garlic, lemon zest and juice, your herbs and salt, and olive oil
Whiz it up until its smooth and creamy (add more olive oil if necessary) and add more salt to taste.
Scoop dip into a dish and serve with crudités (make a platter with some pita slices and whatever vegetables you have on hand), or spread some on sprouted, whole-grain bread with lettuce, tomato, and other veggies for a protein-packed sandwich
Black-Eyed Pea, Pumpkin & Chickpea Stew
This black-eyed pea, pumpkin, and chickpea stew is absolutely delicious, and very reminiscent of fall (but you can definitely enjoy all year round). Requiring just one pot, it's a breeze to make, but you'd never guess because it's so flavorful. Enjoy on its own, with roast chicken, or with a grain like flatbreads or rice pilaf.
6 tablespoons extra-virgin olive oil
1 teaspoon cumin seeds
1 x 1-inch cinnamon stick
5 1/2 ounces onions, chopped (about 1⅓ cups)
4 garlic cloves, very finely chopped
8 ounces fresh mushrooms, sliced approx. 1/8 inch thick (about 4 cups)
1 pound pumpkin or butternut squash, peeled and cut in 3/4-inch cubes
14 ounces fresh tomatoes, peeled and chopped or 1 x 14-ounce can of chopped tomatoes
2 teaspoons ground coriander
1 teaspoon ground cumin
1/2 teaspoon ground turmeric
Pinch of sugar
1/4 teaspoon cayenne pepper
1 pound (about 3 cups) cooked black-eyed peas, strained (reserving the cooking liquid)
8 ounces (about 1⅔ cups) cooked chickpeas, strained (reserving the cooking liquid)
1 teaspoon salt
Freshly ground black pepper
3 tablespoons chopped cilantro
1 1/3 cups plain non-dairy yogurt and 1 tablespoon chopped mint leaves for mint yogurt
Heat the oil in a sauté pan over medium-high heat. When it is hot, put in the cumin seeds and the cinnamon stick. Let them sizzle for 5 to 6 seconds, then add the onions and garlic.
Stir-fry for 3 to 4 minutes until the onion is just beginning to color at the edges. Add the mushrooms and cook until the mushrooms wilt, then add the pumpkin or squash, tomatoes, ground coriander, cumin and turmeric, a pinch of sugar, and the cayenne.
Cook for 1 minute, stirring, then cover with a lid and cook over gentle heat for 10 minutes.
Turn off the heat and tip in the drained beans and chickpeas. Add the salt and pepper, together with 2 tablespoons of the cilantro.
Pour in scant ⅔ cup of the bean cooking liquid and ⅔ cup of the chickpea liquid (or 1¼ cups of vegetable stock if you've used canned pulses). Return to a boil, and then reduce the heat and simmer for 10 to 15 minutes, stirring occasionally, until the beans and chickpeas are tender.
To make the mint yogurt, combine the yogurt with the chopped mint in a bowl. Remove the cinnamon stick from the pan before serving, and sprinkle with the remaining cilantro.
Spoon into serving bowls and top with a dollop of the mint yogurt. Accompany with a green salad and rice, if you wish.
Vegan Green Shakshuka
And last up we have a vegan spin on the classic shakshuka that uses non-dairy yogurt in place of eggs. Za'atar, a traditional dried blend of Middle Eastern herbs, is a wonderful way to pack flavor into any dish, and fresh mint and dill keep this shakshuka bright and fresh.
1 leek
2 garlic cloves
1 (14 oz.) can cannellini beans
½ cup fresh mint leaves
½ cup fresh parsley leaves
½ cup fresh dill
1 ripe avocado
1 tbsp. olive oil
1½ cups frozen peas
7 oz. fresh spinach leaves
3½ tbsp. plant-based yogurt
½ tsp. za'atar
Salt and black pepper
4 slices crusty whole wheat bread, to serve
Trim and thinly slice the leek. Peel and grate the garlic. Drain and rinse the cannellini beans. Roughly chop the mint, parsley, and dill. Halve and carefully pit the avocado by tapping the pit firmly with the heel of a knife so that it lodges in the pit, then twist and remove. Scoop out and slice the avocado flesh.
Heat the olive oil in the large skillet over medium-high heat. Add the leek and cook, stirring, for 5 minutes, until softened. Turn down the heat, add the garlic, and stir for another minute.
Add the beans and peas and stir for 2 minutes. Add the spinach, one handful at a time, stirring constantly and allowing each batch of spinach to wilt down before adding the next.
When all the spinach has wilted and the peas are thoroughly thawed and cooked through, take the pan off the heat; stir in the mint, parsley, and dill; and season to perfection with salt and pepper. Top with the yogurt, za'atar, and the sliced avocado; and serve with crusty whole wheat bread.
We know, times have bean tough out here (but, really). If there's one less thing we have to stress about while the world rides out the coronavirus, we're happy hear it. And with these simple and delicious recipes, cooking with all those beans just got a lot more enjoyable.
Sarah Regan
mbg Spirituality & Relationships Editor
Sarah Regan is a Spirituality & Relationships Editor, a registered yoga instructor, and an avid astrologer and tarot reader. She received her bachelor's in broadcasting and mass communication from State University of New York at Oswego, and lives in Buffalo, New York.