6 Meal-Prep Recipes With Trader Joe's Products To Help You Ace The Week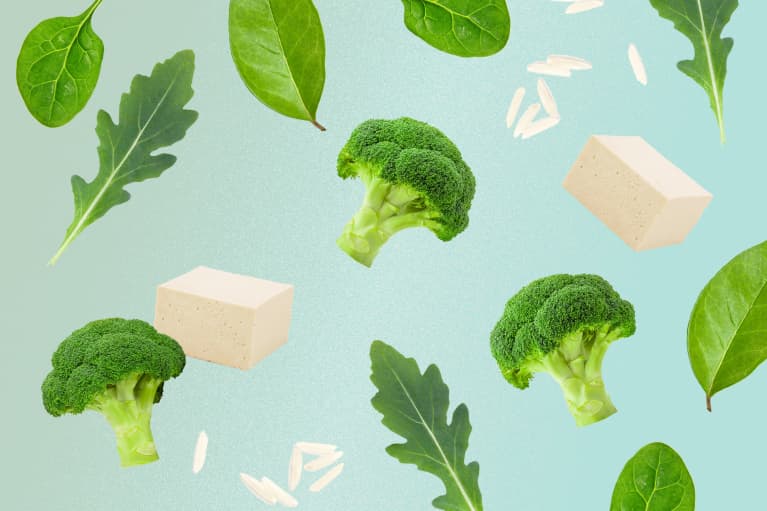 When it comes to eating healthy all week long, it never hurts to come prepared. Meal prepping can seem overwhelming if you're less seasoned, so we rounded up six super-simple meal-prep recipes to help you ace your week.
With two recipes for breakfast, lunch, and dinner, one solid prep sesh in the kitchen will set you up for a week's worth of balanced eating. The recipes are predominantly plant-based but can be tweaked as necessary to adhere to other dietary restrictions or just to put your own spin on things. Let's get started with breakfast!
Golden Milk Coconut Chia Pudding
This recipe comes straight from Trader Joe's, so you can be sure you'll find everything you need in the store. The original recipe makes two servings, so we're doubling it to make enough for four. And with anti-inflammatory properties from the turmeric, plus fiber, omega-3s, and protein from the chia seeds, this tasty breakfast will keep you fueled up all morning.
Ingredients (4 servings)
2 cups TJ's Turmeric Ginger Coconut Beverage
½ cup TJ's Organic Chia Seeds
2 teaspoons TJ's Pure Bourbon Vanilla Extract or TJ's Alcohol-Free Vanilla Flavor
2 tablespoons TJ's Maple Syrup
Toppings of choice (i.e., TJ's Unsweetened Coconut Chips, chopped fruit, fresh mint, a sprinkle of cinnamon)
In a small bowl, mix coconut beverage, chia seeds, vanilla, and syrup until combined.
Let mixture sit 10 minutes, stirring every 2 to 3 minutes to break up any clumps.
Cover bowl and refrigerate for a minimum of two hours, or overnight.
Remove pudding from fridge, divide among four small bowls or jars, and garnish as desired.
Tofu Scramble With Veggies
Tofu scramble is one of those great dishes you can get a lot of servings out of, plus it all comes together in one pan. There are lots of ways to do it, too—so feel free to switch up this recipe with other vegetables, herbs, or cheeses. (I like to add black beans for extra protein.) You can eat it as is, or for more carb action, wrap it up in a sprouted tortilla or serve with sprouted toast.
Ingredients (4 servings)
16 ounces (1 package) extra-firm tofu
2 tablespoons olive oil
½ red onion (thinly sliced)
1 red pepper (thinly sliced)
4 cups kale (loosely chopped)
1 teaspoon sea salt
1 teaspoon garlic powder
1 teaspoon ground cumin
½ teaspoon chili powder
½ teaspoon turmeric (optional)
Water to thin
Pat tofu dry and roll in a clean, absorbent towel with something heavy on top, such as a cast-iron skillet, for 15 minutes.
While tofu is draining, prepare a sauce by adding dry spices to a small bowl and adding enough water to make it pourable. Set aside.
Prep veggies and warm a large skillet over medium heat. Once hot, add olive oil and the onion and red pepper. Season with a pinch each salt and pepper and stir. Cook until softened—about 5 minutes.
Add kale, season with a bit more salt and pepper, and cover to steam for 2 minutes.
In the meantime, unwrap tofu and use a fork to crumble into bite-size pieces.
Use a spatula to move the veggies to one side of the pan and add tofu. Sauté for 2 minutes, then add sauce, pouring it mostly over the tofu and a little over the veggies. Stir immediately, evenly distributing the sauce. Cook for another 5 to 7 minutes until tofu is slightly browned.
Serve with toast or fruit and add your favorite salsa or hot sauce. Tofu scramble will keep in the fridge for up to three days or can be frozen up to one month.
Thai-Style Peanut Pumpkin Soup
For a quick and light lunch, what's better than soup and salad? Enter Trader Joe's Thai-Style Peanut Pumpkin Soup recipe, which is warming, fragrant, and delightfully creamy thanks to the use of coconut milk. TJ's recommends beefing it up a bit with noodles or vegetables, or you can pack a side of greens and call it a day.
Ingredients (4 to 6 servings)
2 cans TJ's Organic Coconut Cream
2 cans TJ's Organic Canned Pumpkin
1 bottle TJ's Spicy Peanut Vinaigrette
TJ's Basil for garnish (optional)
TJ's Thai Lime and Chili Cashews, crushed, for garnish (optional)
Pour the coconut cream in a large pot and heat over medium heat, whisking frequently, for 5 minutes or until smooth.
Add the pumpkin and vinaigrette, and bring to a simmer. Simmer 10 minutes, stirring occasionally.
Portion soup into containers. Reheat when desired, and serve with fresh basil and cashews for garnish.
We're big fans of any meal that can fit in a single bowl, and this easy and versatile roasted vegetable bowl is the perfect example (and it can be eaten for lunch or dinner)! You can virtually prep any ingredients you want and portion them out into a few containers for the week, but here's TJ's recipe for this vegan-friendly staple.
Ingredients (4 servings)
2 packages TJ's Frozen Brown Rice or 4 servings of rice of choice
4 cups of your favorite roasted vegetables, cold or warm (i.e., Brussels sprouts, squash, chickpeas, broccoli, etc.)
4 handfuls TJ's Kale
2 TJ's Avocados
TJ's Pepita Salsa
Roast vegetables and prepare rice according to package instructions.
Divide rice among four containers. Top each with roasted veggies and kale.
Enjoy warm or cold, with half an avocado and a drizzle of salsa.
For a dinner that brings some serious flavor, you won't believe how easy this green curry recipe is, thanks to TJ's Thai green curry simmer sauce (which is literally $2, by the way). To make your life even easier by cutting prep time in half, we're fans of their stir-fry and sauté kits that you can cook right in the sauce—but you can always prep your own vegetables and protein.
Ingredients (serves 3 to 4)
½ pound of protein of choice (i.e., tofu, chicken, shrimp)
2 packages of TJ's Frozen Brown Rice or rice of choice
½ pound vegetables of choice (i.e., peppers, onions, peas, broccoli) or one of TJ's stir-fry or sauté kits
One jar TJ's Thai Green Curry Simmer Sauce
Prepare rice according to package instructions.
In the meantime, sauté a half-pound of your favorite protein or tofu until cooked through
Add vegetables or sauté kit to the pan and then cover everything in the green curry sauce. Simmer until hot and vegetables are tender.
Portion out rice and curry into separate containers.
Spaghetti Squash With Meatballs
And last but not least, for a low-carb spin on the classic spaghetti and meatballs, get your spaghetti squash ready. TJ's recipe calls for beef meatballs, but fear not, meat-free folks, they sell meatless meatballs as well. They also call for cooking the squash in the microwave, but we'll include roasting instructions, too. To round off this meal, roast some additional vegetables while the oven's hot, or include a side salad of your favorite greens.
Ingredients (4 servings)
1 large spaghetti squash
½ package TJ's Party Meatballs or Meatless Meatballs
TJ's EVOO
½ jar TJ's Marinara Sauce
TJ's Grated Parmesan Cheese, to taste
salt and pepper to taste
If roasting, preheat oven to 400°F. Use a sharp knife to cut squash in half lengthwise and a large tablespoon to scrape out seeds and string.
Season with salt and pepper, placing cut side up in a microwave-safe dish with an inch of water. Cover dish with cling wrap and microwave on high for 10 to 14 minutes. If roasting, brush lightly with olive oil, sprinkle with salt and pepper, and roast on a lined baking sheet for 50 minutes, cut side down.
Allow to cool enough to handle before unwrapping. Using a fork, scrape squash from top to bottom to separate flesh into spaghetti-like strands.
Prepare meatballs according to package instructions. Once warmed through, add marinara sauce.
Divide the spaghetti squash into containers and top with sauce and meatballs. Reheat and serve with Parmesan and salt and pepper to taste.