We Tried All The Mood-Boosting Teas & These Were The 5 Best
Contributing Food Editor
By Liz Moody
Contributing Food Editor
Liz Moody is a food editor, recipe developer and green smoothie enthusiast. She received her creative writing and psychology degree from The University of California, Berkeley. Moody is the author of two cookbooks: Healthier Together and Glow Pops and the host of the Healthier Together podcast.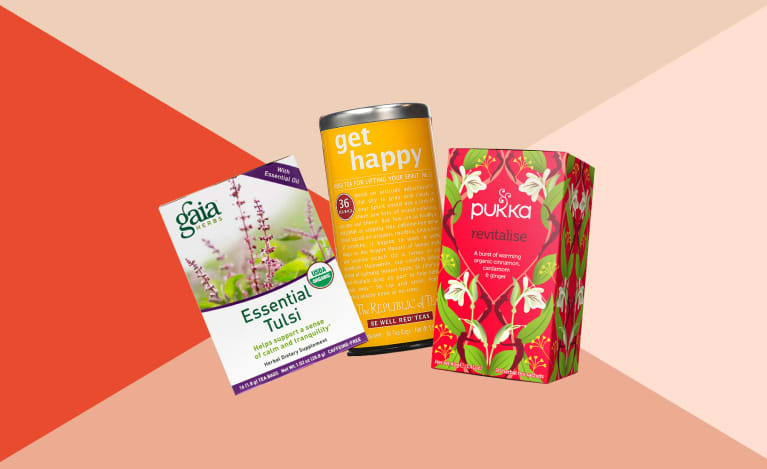 Our editors have independently chosen the products listed on this page. If you purchase something mentioned in this article, we may
earn a small commission
.
Around this time of the year, winter starts to feel rather unbearable—we have how many months left? Luckily, whether you've been diagnosed with seasonal affective disorder or you're just feeling a bit blah, there are a number of ways to gently lift your spirits—and sipping a warm cup of tea comes in high on the list. While the simple action of holding the steaming mug is comforting, these blends go above and beyond, offering science-backed therapeutic benefits. Here are the five best mood-boosting teas you can buy:
Traditional Medicinals Cup of Sunshine
Traditional Medicinals can always be counted on to bring potent, unique herbs to the table, and they knocked it out of the park with this tea, which features sceletium tortuosum, or kanna. Kanna is native to South Africa and is known for working on the central nervous system to decrease feelings of depression and anxiety. Here, it's combined with honeybush, another South African staple, for a toasty, caramel-ly sweetness. Cup of Sunshine, Traditional Medicinals ($5.29 for 16 servings)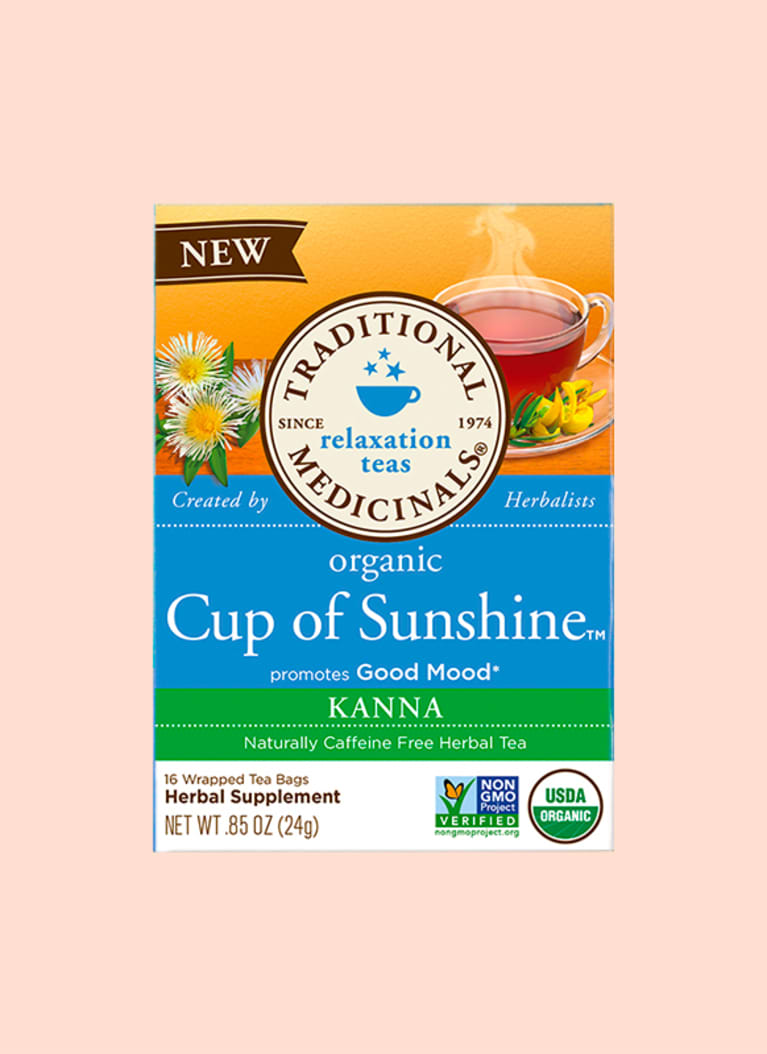 mbg creative + custom
Pukka Herbs Revitalise
No, we don't just love it because it shares a name with our signature event—Pukka's Revitalise tea is one of the most uplifting blends around. The sheer aroma will brighten your spirit, with cinnamon, ginger, cloves, and cardamom, all prized by ayurveda and traditional Chinese medicine for their warming properties, which counteract winter's chill. The hint of green tea also adds antioxidants, which fight the inflammation that stokes SAD. Revitalise, Pukka Herbs ($6.88 for 20 servings)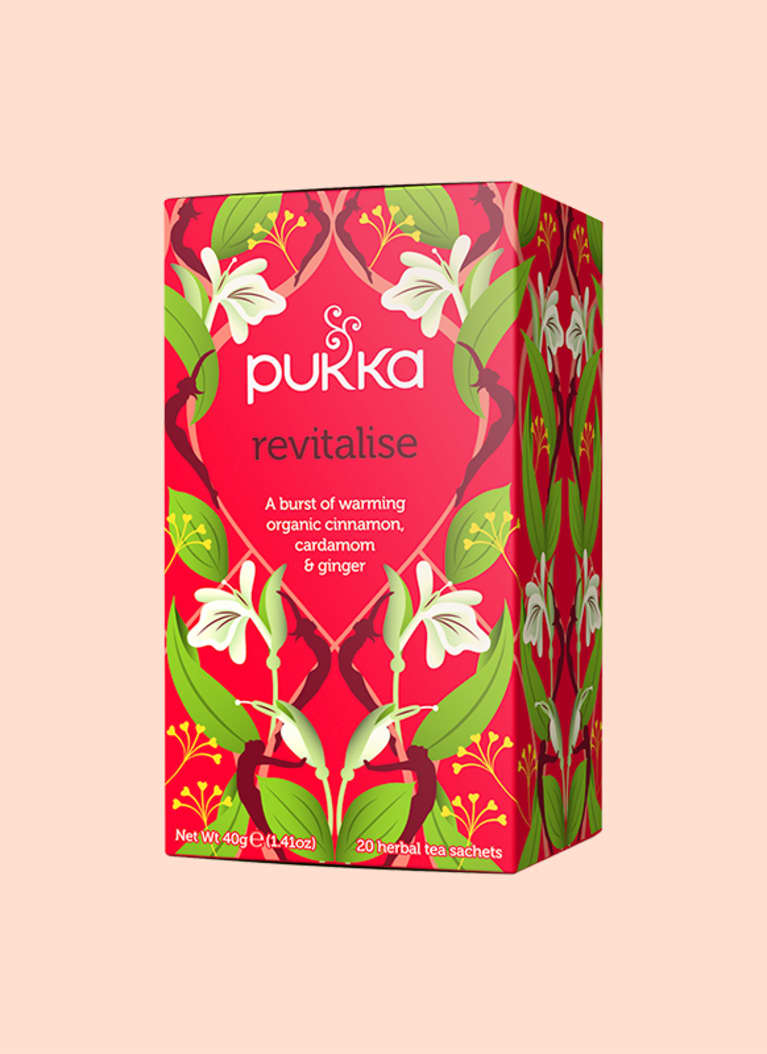 mbg creative + custom
Yogi Tea Cinnamon Berry Probiotic Balance
The gut-brain connection is well-established at this point, so it makes sense that, when you're feeling down, probiotics should be on your list. This tea provides a type designed to stand up to hot water, mixed with digestive-boosting spices like hawthorn berry, coriander, cumin, and cinnamon. With a delicious spicy berry flavor and just a hint of caffeine from a small amount of black tea, this is a perfect midmorning pick-me-up. Cinnamon Berry Probiotic Balance, Yogi Tea ($23.88 for 96 servings)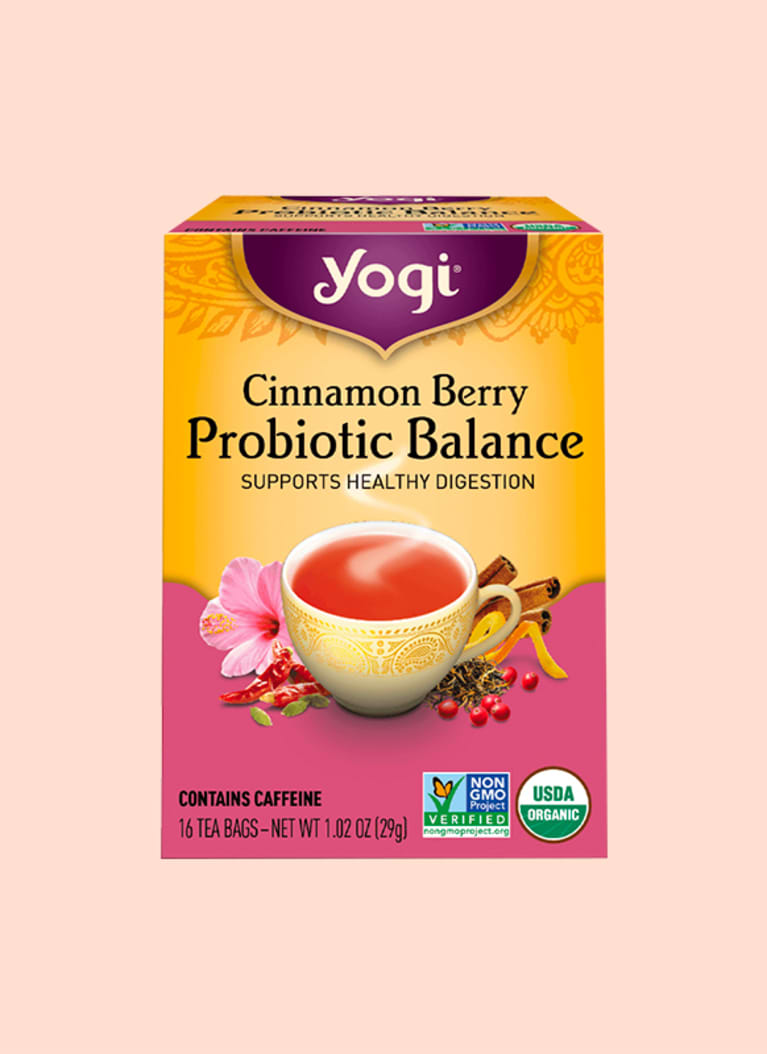 mbg creative + custom
Gaia Herbs Essential Tulsi Tea
Tulsi, otherwise known as holy basil, is revered in ayurveda for its ability to nourish the body and spirit. As an adaptogen, it helps support your body's stress response and increases your ability to deal with anxiety or fatigue—two mainstays of winter. In essence, it'll adapt to fulfill your body's needs. We love this blend, which mixes tulsi leaves with tulsi essential oil for even more potent therapeutic benefits. Essential Tulsi Tea, Gaia Herbs ($4.49 for 16 servings)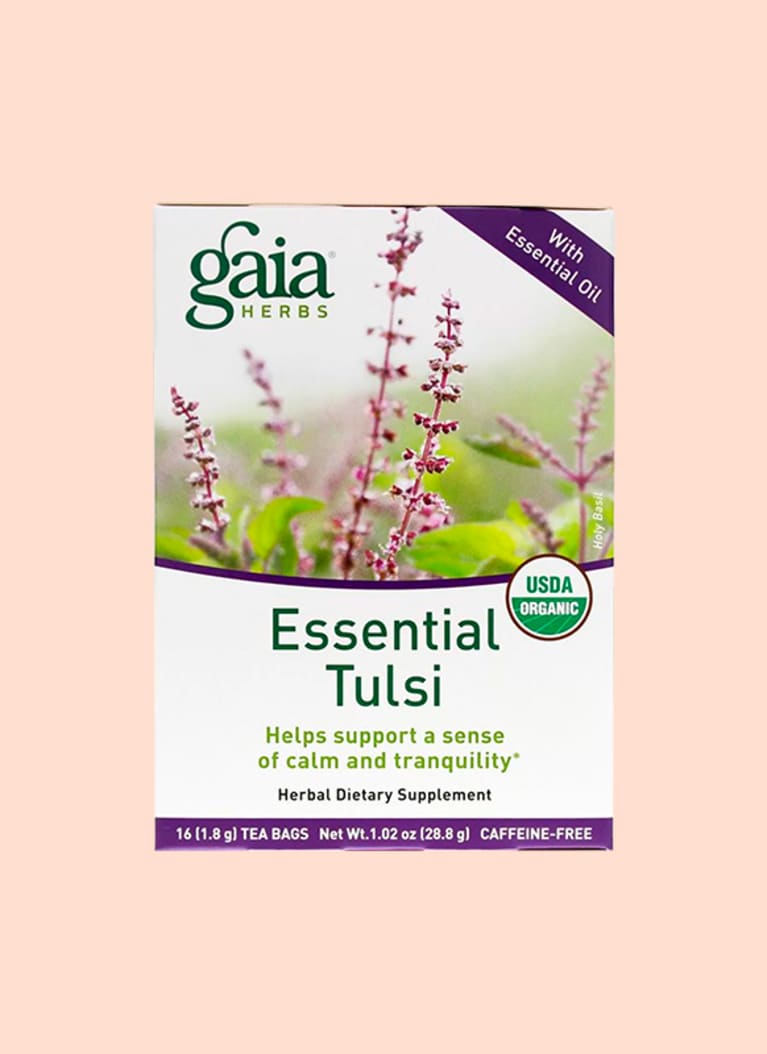 mbg creative + custom
The Republic of Tea Get Happy
It's easy to get happy, as the container implores, just looking at this blend, which is housed in bright-orange packaging. What's inside, though, is even better, with a lemon-balm-based blend that's been clinically shown to help alleviate stress. St. John's wort, known as nature's antidepressant, is also included (although the herb is powerful and can interact with pharmaceuticals, so check with your physician if you're on birth control or antidepressants before taking this tea). All of those potent therapeutic herbs are based in an anti-inflammatory, buttery-sweet rooibos tea, which also offers a natural sweetness. Get Happy, The Republic of Tea ($12 for 36 servings)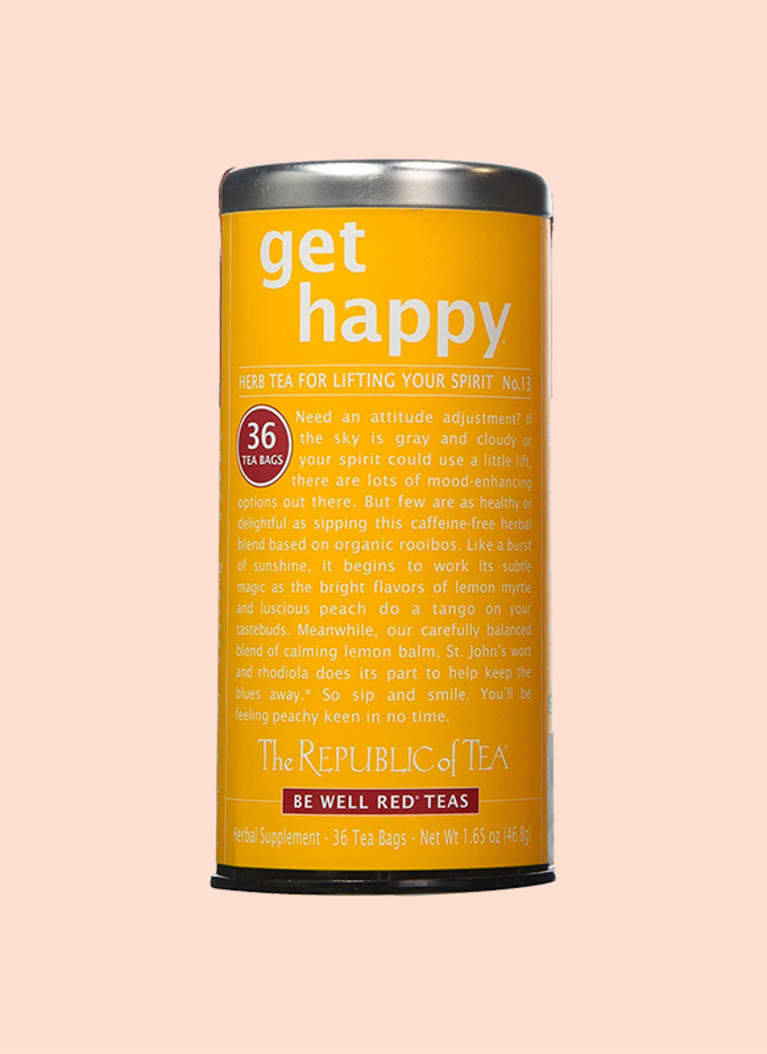 mbg creative + custom