13 Of Our Favorite Gluten-Free Cookbooks For Any Occassion
mbg Nutrition & Health Writer
By Eliza Sullivan
mbg Nutrition & Health Writer
Eliza Sullivan is a food writer and SEO editor at mindbodygreen. She writes about food, recipes, and nutrition—among other things. She studied journalism at Boston University.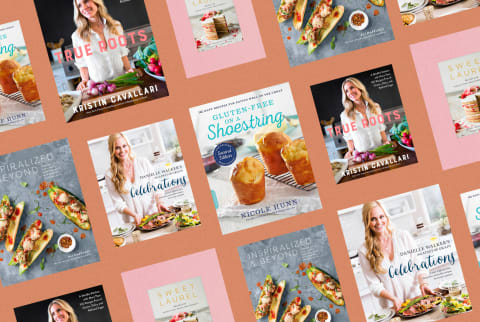 Image by mbg creative + custom
June 14, 2021
We carefully vet all products and services featured on mindbodygreen using our
commerce guidelines.
Our selections are never influenced by the commissions earned from our links.
With any dietary restriction, it can be difficult to find cookbooks that are truly full of recipes you can make and enjoy. Whether you're celiac or just looking to eat less gluten, you've likely tried your hand at substituting favorite gluten-free alternatives into gluten-full recipes—possibly with varying degrees of success (at least that's been my experience).
But finding gluten-free foods has only gotten easier, it seems, and the same truth extends to the world of cookbooks. Many of these authors can also be found sharing recipes around the internet and social media, and they just keep writing greats guide with new recipes to try.
So here you are, looking for a true gluten-free cookbook from one of those wonderful sources—the sort of title that you can dive into without pausing to google substitutions. We've got your back with this list of some of our ultimate favorites.
Against All Grain: Meals Made Simple
The second in Danielle Walker's collection of cookbooks is gluten and dairy-free, as well and checking the paleo-friendly box. It's full of recipes for family-friendly meals, and even includes an 8-week meal plan if you're looking to jumpstart an adjustment to a new eating style or just want a few weeks of meal planning to guide you.
Against All Grain: Meals Made Simple by Danielle Walker
mbg creative
Against All Grain: Celebrations
Another of Walker's super successful cookbooks, this installment's title "Celebrations" should tell you everything you need to know: it's a book packed through with recipes for major holidays or other celebrations, inspired by Walker's own traditions and family. It's worth having if you're gluten-free, but also is a good title to add to your bookshelf if you're looking for recipes to help accomodate gluten-free family members at gatherings.
Against All Grain: Celebrations by Danielle Walker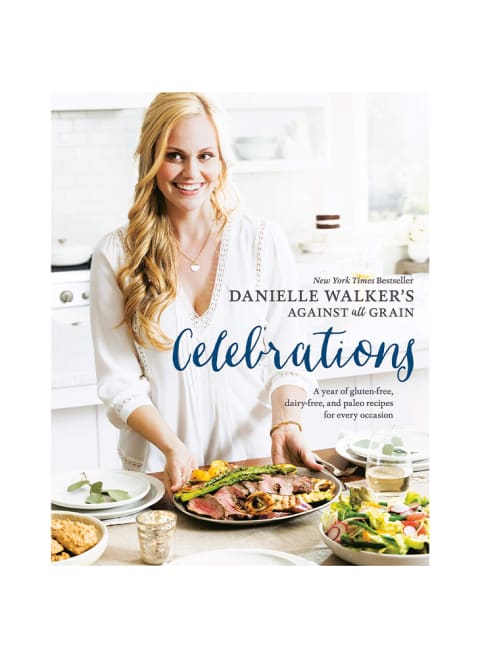 mbg creative
True Roots
Kristin Cavallari may not be the person you think of first when it comes to cookbooks—but in fact, she's the author of two cookbooks (the other one is below) full of recipes for true, comforting, home cooking style meals that are totally gluten-free—and also free of dairy and refined sugar.
True Roots by Kristin Cavallari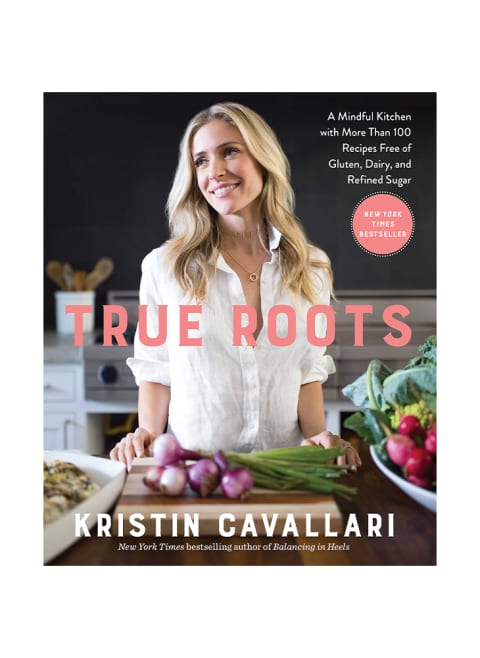 mbg creative
True Comfort
Cavallari's second book, this collection is defined by it's title, but also by the way it calls the 100 recipes it contains "cozy recipes," that are all once again free of gluten, dairy, and refined sugars.
True Comfort by Kristin Cavallari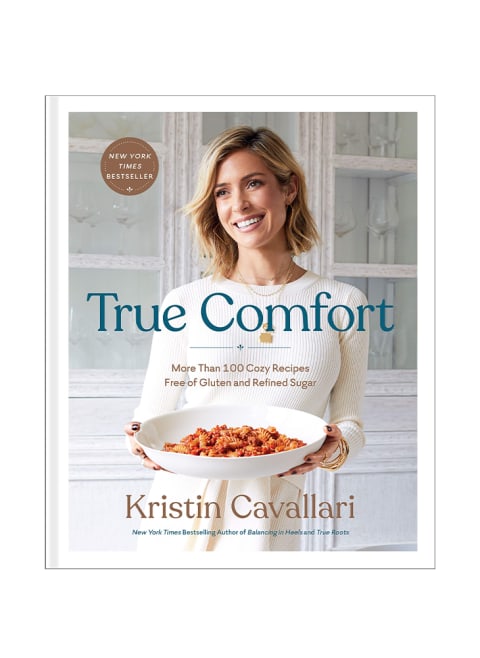 mbg creative
Sweet Laurel
Laurel Gallucci and Claire Thomas run the even trendy Sweet Laurel Bakery in Los Angeles, and kindly share all their best baking recipes for grain-free desserts in this book. Think layer cakes, cookies, pies—all the classics, but with a whole food twist. There's desserts fit for any birthday party, but also the type of thing you can throw together on a rainy evening for something special.
Sweet Laurel by Laurel Gallucci & Claire Thomas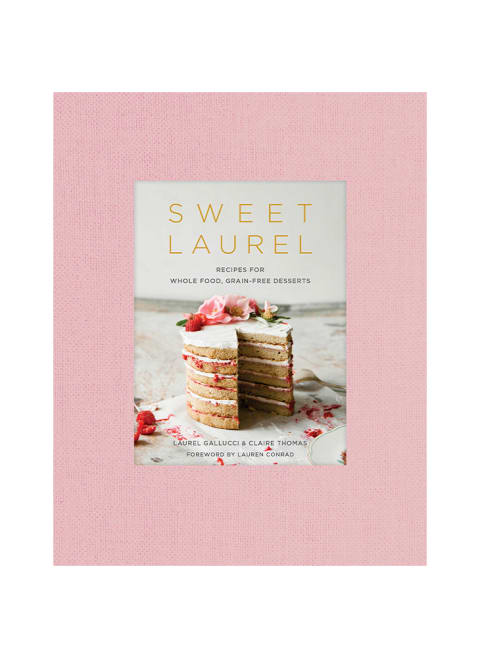 mbg creative
Sweet Laurel Savory by Laurel Gallucci and Claire Thomas
To follow their guide to all things gluten-free sweet treats, Galluci and Thomas put together a book full of savory baking: things like tarts, but also pastas, breads, and even pizzas—all totally grain-free and whole food based.
Sweet Laurel Savory by Laurel Gallucci & Claire Thomas
mbg creative
Bakerita
Another one for the keen baker, this book is, like other on this list, more than just gluten-free: it skips dairy and refined sugars as well, and some recipes are even vegan. It covers a whole day of baking, from aromatic breakfast scones to classic desserts like chocolate mouse pie and cheesecakes.
Bakerita by Rachel Conners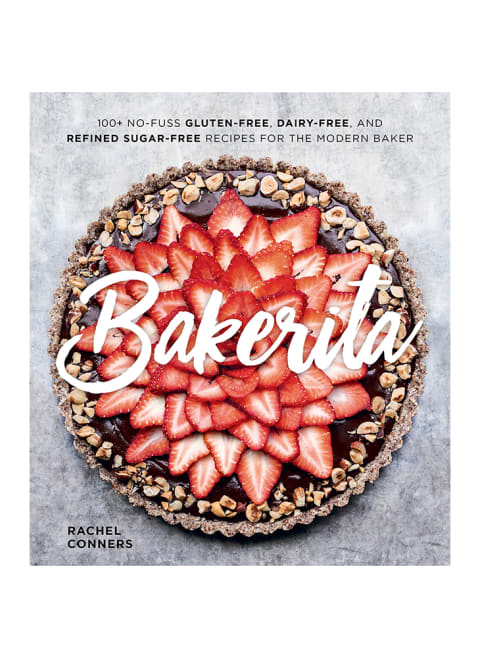 mbg creative
Gluten-Free Artisan Bread in Five Minutes a Day
Following their immensly successful book Artisan Bread in Five Minutes a Day, Jeff Hertzberg, M.D. and Zoë François set out to write the gluten-free version. So if you felt left out of the bread making boom of the last year because you struggled to find a truly easy to follow guide to making one that tastes, well, artisan—consider that problem solved.
Gluten-Free Artisan Bread in Five Minutes a Day by Jeff Hertzberg & Zoë François
mbg creative
Nom Nom Paleo: Food For Humans
A fun trick for finding accidentally gluten-free recipes and cookbooks is to look out for paleo options like this one. The paleo diet is inherently gluten-free friendly because it skips grains altogether. This, the first of a few volume of the Nom Nom Paleo books, is James Beard Award nominated and a New York Times bestseller, full of recipes paired with step-by-step images, where useful.
Nom Nom Paleo by Michelle Tam & Henry Fong
mbg creative
Whole Food Cooking Every Day
This collection of whole food focused recipes is vegetarian friendly, and there's no gluten, dairy, or refined sugar to be found either. Winner of the James Beard Award for Best Book in Vegetable-Focused Cooking, Amy Chaplin breaks down recipes into their component parts in a way that will help you become a better cook, even when you're not using the recipes themselves.
Whole Food Cooking Every Day by Amy Chaplin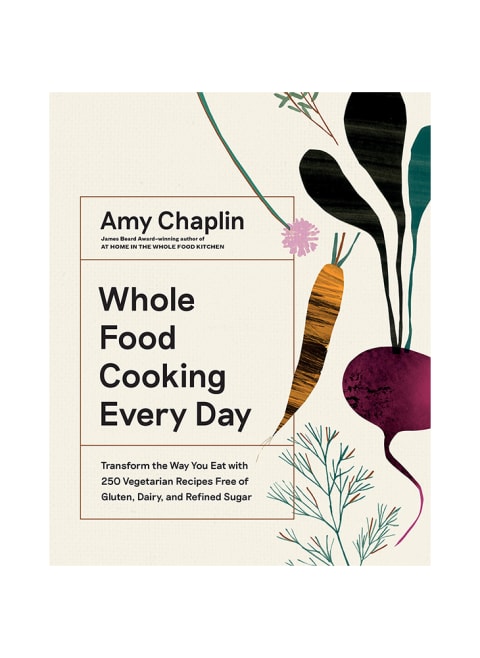 mbg creative
Eat Happy
Another book that can take you from breakfast through to dinner without grains or processed sugars, Anna Vocino also focuses on low-carb recipes to help fuel a "joyful life," inspired by how she shifted her diet to manage her Celiac disease. With everything from morning meals to snacks and soups to slow cooker meals, it's perfect for family cooking, too.
Eat Happy by Anna Vocino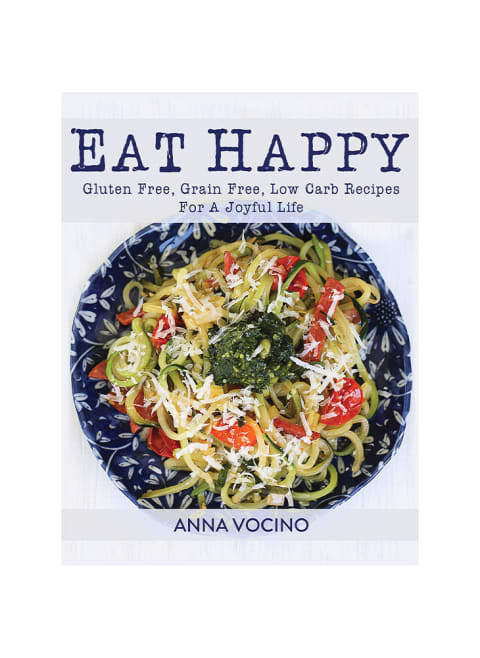 mbg creative
Gluten-Free on a Shoestring
Gluten-free eating doesn't have to be expensive, but sometimes the gluten-free versions of popular food items can certainly seem it. This book focuses on budget-friendly cooking and it just happens to be gluten-free too. Nicole Hunn started with a gluten-free blog and now has three cookbooks—but this is the one to get your hands on for simple, family friendly recipes.
Gluten-Free on a Shoestring by Nicole Hunn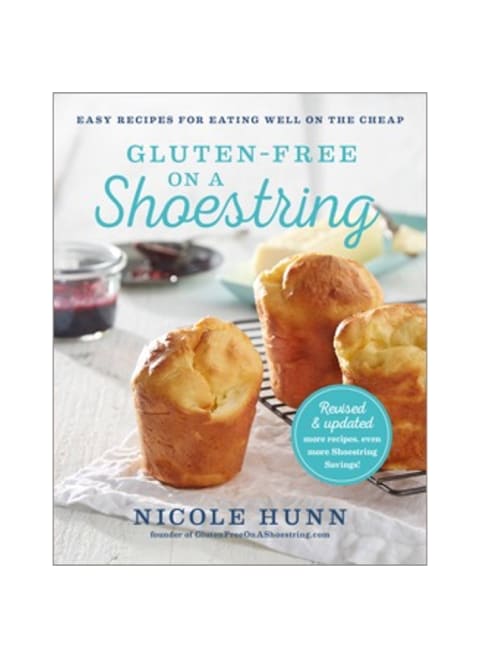 mbg creative
Free For All Cooking
Jules E. Dowler Shepard is something of a gluten-free expert, but this book is as allergen-friendly as you can get (the recipes also skip dairy, nuts, soy, eggs, and some other common allergens). Don't let the cover image confuse you, either—this is about way more than cake, and in fact covers family friendly recipes for any meal.
Free for All Cooking by Jules E. Dowler Shepard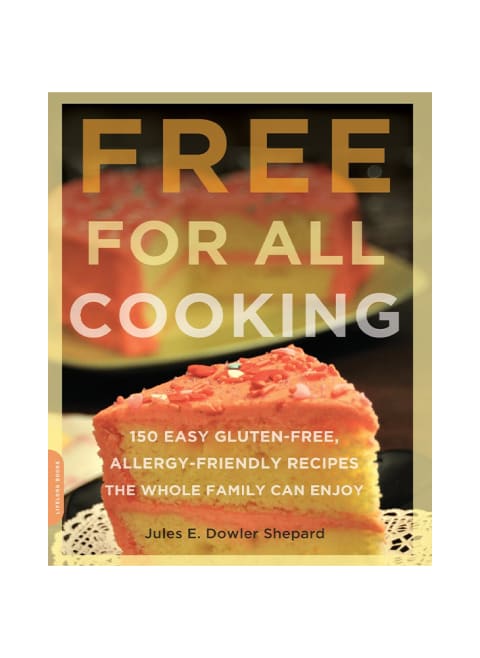 mbg creative
If you can't wait to get your hands on one of these titles, but want a quick and easy gluten-free recipe to try today, consider making one of these sweet treats.
Eliza Sullivan
mbg Nutrition & Health Writer
Eliza Sullivan is an SEO Editor at mindbodygreen, where she writes about food, recipes, and nutrition—among other things. She received a B.S. in journalism and B.A. in english literature with honors from Boston University, and she has previously written for Boston Magazine, TheTaste.ie, and SUITCASE magazine.