4 Vegetarian Sides That Will Impress Every Carnivore At The Table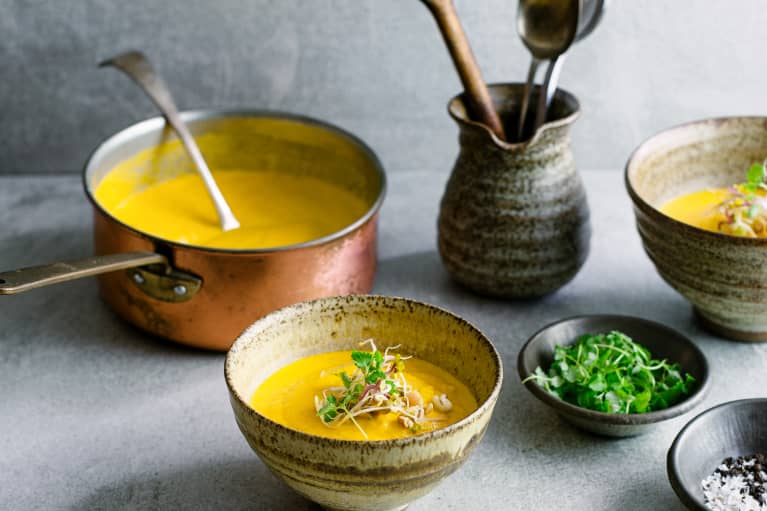 Last updated on November 26, 2019
If a feast centered around meat isn't your jam, we've rounded up some of our favorite veggie sides. Choose just one or two or put them all together—any way you dish them up, they're bound to be delicious.
1.
Lentil And Fennel Salad
First, on the menu, we have a lentil and fennel salad. This nutritious option features a mix of bold and light flavors and is packed with heart-healthy ingredients. Among these ingredients are lentils, which are high in fiber and magnesium and may help lower blood cholesterol and reduce the risk of heart disease. The taste of this nutty legume is complemented by the refreshing light essence of fennel and topped with lemon zest. If this isn't enough to convince you to plate it, it's also a quick one to make, so you can spend less time in the kitchen.
2.
Carrot, Ginger, Pear Soup
You can't go wrong with soup, and this carrot, ginger, and pear soup is not exception. While pears aren't usually found in soup, they're high in fiber and known to help with detoxing your digestive system and populating the gut with good bacteria. Besides the health benefits, the pear will add a subtle touch of sweetness to this gut-healing and immune-boosting bowl. Your cup will be bursting with flavor, including hints of spicy ginger and the slightly bitter, slightly sweet taste of carrots. You'll enjoy sharing this healthy cup with your loved ones and adding a pop of color to your Easter spread!
3.
Cauliflower Salad With Tahini And Turmeric
Easter would not be complete without this delicious cauliflower salad. It features a blend of warm ingredients such as roasted cauliflower and lentils as well as lighter ones including arugula, pomegranate seeds, and tahini. Cauliflower is one of our favorite cruciferous veggies, as it is known to regulate blood sugar, support the microbiome, and reduce the risk of cardiovascular disease. This grounding yet lifting dish also features turmeric, loved for its anti-inflammatory benefits, and garlic powder, which is chock-full of immune-boosting properties. No matter who's around the table we're sure this one will be a hit.
4.
Fava Beans & Sweet Pea Salad
As you craft your Easter meal, consider using local and seasonal ingredients. This delightful fava bean and sweet pea salad is a lovely way to include some of the most flavorful spring veggies: fava beans and peas. It contains sweet peas, which are high in protein and nutrient-dense (not to mention they recently made it on the EWG's Clean Fifteen list). You'll top off this healthy green salad with a flavorful blend of fennel, chives, parsley, and mint. If you're ready to give this one a try, head to your local farmers market for some fresh fava beans and sweet peas! And if you're crunched for time, remember frozen sweet peas are not a bad option!