3 Exotic Superfoods Are About To Be EVERYWHERE. Here's What You Need To Know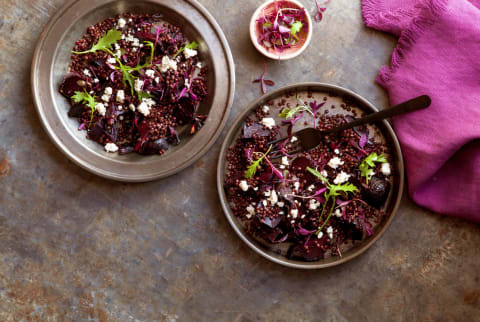 October 31, 2017
Chia seeds, avocado, ginger, turmeric—most of us are familiar with these common superfoods, which get a ton of attention from health and wellness enthusiasts. But what about other lesser-known superfoods? As the founder of Brooklyn Culinary Arts, an online culinary program, I am constantly searching for the healthiest foods on the planet, and all my recipes begin with a review of research from National Institutes of Health (NIH). During my months of research, I've discovered three superfoods that are crazy healthy and worthy of a little extra attention:
1. The purple sweet potato.
This potato is also known as the Okinawan potato, grown and eaten by the Okinawan people of Japan. This particular part of Japan is known for great health and longevity, and is proudly classified as a "Blue Zone," a term coined by author and National Geographic fellow Dan Buettner. Blue Zones are communities of people that live extremely long lives (often into their 100s) and are not affected by any of the chronic diseases—like cancer and heart disease—that plague the rest of the world. Scientists have been studying these areas of the world, trying to understand how their diet and lifestyle promotes such amazing health and longevity.
The purple sweet potato is a staple in the Okinawa diet. It is exceptionally delicious and very rich in antioxidants. This vibrant purple color is a good hint that it contains high levels of the exceptional antioxidant anthocyanin. This particular phytochemical has been studied1 and found to reduce oxidative stress, help fight free radicals, and protect the cells in our body from diseases like cancer. So be on the lookout for this gorgeous tubers!
2. Black radishes.
Another important and growing trend is black foods. And it's no wonder they are becoming so popular, as the science supporting their health benefits is pretty solid. One type of black food—the black radish—is a unique and a fun alternative to its red cousin. A black radish can be larger than a grapefruit and has a very strong sulfur-like flavor. The crispness can be very refreshing in a raw green salad with some citrus added for contrast. Black radish is said to contain four times the amount of the cancer-fighting sulfur compound called glucosinolates.
3. Beluga lentils.
These are a very delicate and beautiful black lentil that resembles beluga caviar (hence the name). They are a great source of vegan protein and are very rich in the powerful antioxidant anthocyanin. This antioxidant has been shown2 to be helpful for brain function and for fighting cancer. These beautiful lentils are high in protein and fiber; a half-cup of cooked beluga lentils has roughly 9 grams of protein, 8 grams of fiber, and only 112 calories. These are wonderful to cook up quickly and then keep in a glass continuer in the refrigerator to add to salads, soups, or sautés.
Mia Stern
Mia Russo Stern is CEO of Brooklyn Culinary Arts,an online wellness/cooking school. As a certified health coach, raw food chef, recipe developer and food blogger, she graduated from the Institute of Integrative Nutrition in NYC, and is raw-food certified with David Wolfe and holds a certificate in plant-based nutrition with Dr. T. Colin Campbell through Cornell University. She also has advanced knowledge in the field of detoxification and has studied detox with Natalia Rose. She is certified by the American Association of Drugless Practitioners (AADP). Mia works with clients one-on-one or through group coaching to help them reach their wellness and weight-loss goals. Check out her website.