In Kristen Miglore's newly released "Genius Recipes," the Executive Editor of Food52 shares recipes that she has found to be sheer genius from chefs both iconic and lesser known — from the perfect tomato sauce to the ultimate recipe for crepes and beyond. We were particularly struck by some of the plant-based main dishes in the book, which we share with you below. They're pretty genius.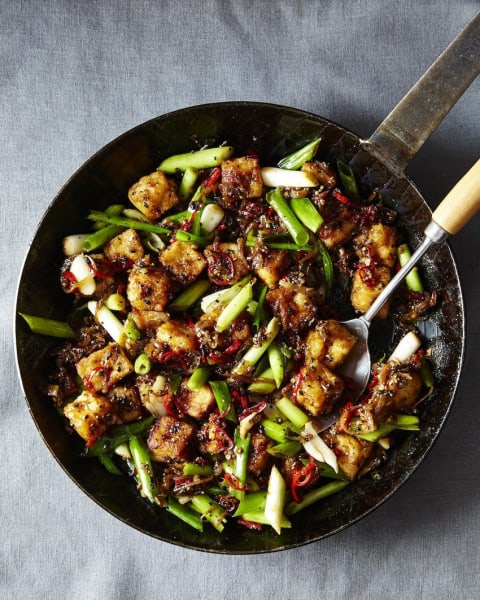 Tofu's proponents have tried to get us to see all the ways to improve its texture — freezing or pressing or boiling to rid it of spare water, broiling or roasting to crisp it up. These are all effective at making tofu friendlier to cook with, but nothing is as guaranteed to seduce a skeptic as dredging tofu in cornstarch and pan-frying it to a shiny crisp, while the inner bits go soft and custardy.
The just-fried nubs are almost too crunchy to eat, which is why it's a good idea to add them to a pan of shallots, chiles, ginger, and garlic that have stewed in butter and soy and heaps of black pepper. In the sauce, the fried cubes will relax just enough, but main- tain all the integrity you've fried into them.
This — with some brown rice — is as impressive a vegetarian dinner party main dish as you can get. And cheap, too — despite the 11 tablespoons of butter and 5 tablespoons of black pepper. The tofu called for, even organic, costs less than $6 and feeds at least four, generously.
Vegetable oil, for frying
1 3⁄4 pounds (800g) firm tofu
Cornstarch, to dust
11 tablespoons (150g) unsalted butter
12 small shallots (12 ounces/340g), thinly sliced
8 fresh red chiles (fairly mild ones), thinly sliced
12 cloves garlic, crushed
3 tablespoons finely chopped fresh ginger
3 tablespoons sweet soy sauce (kecap manis)
3 tablespoons light soy sauce
4 teaspoons dark soy sauce
2 tablespoons sugar
5 tablespoons coarsely crushed black peppercorns (use a mortar and pestle or a spice grinder)
16 small, thin green onions, cut into 11⁄4-inch (3cm) segments
1. Start with the tofu. Pour enough oil into a large frying pan or wok to come 1⁄4 inch (6mm) up the sides and heat over medium-high. Cut the tofu into large cubes, about 1 inch (2.5cm) square. Toss them in some cornstarch and shake off the excess, then add to the hot oil. (You'll need to fry the tofu pieces in a few batches so they don't stew in the pan.) Fry, turning them around as you go, until they are golden all over and have a thin crust. As they are cooked, transfer them onto paper towels.
2. Remove the oil and any sediment from the pan, then add the butter and melt it over low to medium heat. Add the shallots, chiles, garlic, and ginger. Sauté for about 15 minutes, stirring occasionally, until the ingredients have turned shiny and are totally soft. Next, add the soy sauces and sugar and stir, then add the crushed black pepper.
3. Add the tofu to warm it up in the sauce for about a minute. Finally, stir in the green onions. Serve hot.
Yes, you can ease back on the butter a little. And you can use whatever kind of soy sauce you have, if you adjust the saltiness to taste (and the sweetness, if you need to make up for not having kecap manis, a.k.a. sweet soy).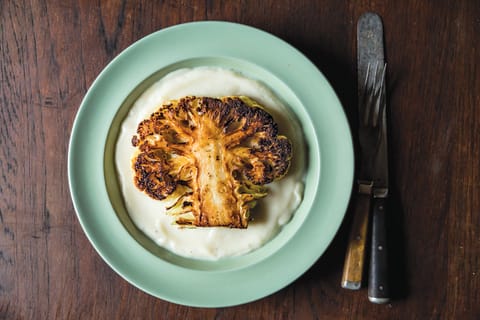 If you carve two thick planks from a cauliflower's middle, the cross-sections hold together much better than you'd think — well enough that you can fry them up like a steak. Dan Barber then simmers the remaining florets till soft in water and milk and blitzes them into a weightless white cloud.
You could just make one part of this recipe or the other, but, like a chicken-fried steak surrendering to its cream gravy, there is something deeply appealing about slashing through your slab of cauliflower and plunging it into the downy bed of puree.The cauliflower's sweet, subtle flavors are unobscured; its textures, on both ends of the spectrum, are at their best. Barber brings together the nutty crisped edges you get from roasting and the unearthly richness of a puree (as we learned in Paul Bertolli's cauliflower soup, whipping up cauliflower's natural pectin turns it creamy without adding any dairy).
How to serve this? The steaks work best at the center of the plate. Add a sturdy kale salad or serve the steaks as a first course at a dinner party before herbed salmon. Or maybe with a nice side of cauliflower (just kidding).
One 1 1/2-pound (680g) head cauliflower
1 1/2 cups (360ml) water
1 cup (240ml) whole milk
2 tablespoons vegetable oil, plus more for brushing
Salt and freshly ground black pepper
1. Preheat the oven to 350°F (175°C).
2. Using a sharp, heavy knife and starting at the top center of the cauliflower head, cut two 1-inch (2.5cm) thick slices of cauliflower, cutting through the stem end. Set the cauliflower steaks aside.
3. Cut enough florets from the remaining cauliflower head to measure 3 cups (300g). Combine the florets,water, and milk in a medium saucepan and sprinkle with salt and pepper. Bring to a boil and cook until cauliflower florets are very tender, about 10 minutes. Strain, reserving 1 cup (240ml) of the cooking liquid.
4. Transfer the florets to a blender. Add 1/2 cup (120ml) of the reserved cooking liquid and puree until smooth. Add more of the liquid, if desired, and puree again. Return the puree to the same saucepan.
5. Heat the 2 tablespoons vegetable oil in heavy, large ovenproof skillet over medium-high heat. Brush the cauliflower steaks with additional oil and sprinkle with salt and pepper. Add the cauliflower steaks to the skillet and cook until golden brown, about 2 minutes per side. Transfer the skillet to the oven and bake the cauliflower steaks until tender, about 10 minutes.
6. Rewarm the cauliflower puree over medium heat. Divide the puree between two plates; top each with cauliflower steak and serve.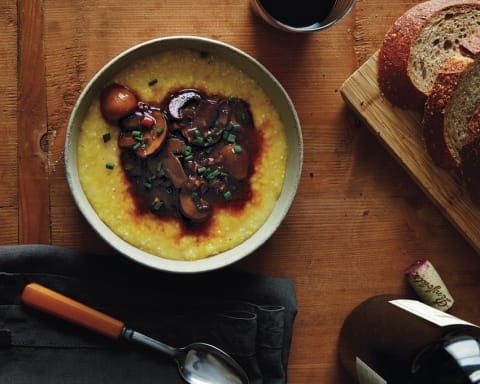 This version of boeuf bourguignon will do everything a bourguignon needs to do and will do it in time for dinner tonight. There is no beef in it. You won't care.
Deb Perelman, author of the popular blog Smitten Kitchen and a former vegetarian who was looking for celebratory meatless mains, designed this recipe based on Julia Child's classic boeuf bourguignon, a favorite dish of her mother's.
There's a fair amount of chopping and slicing up front, but by the time you start cooking, you're nearly done. In only 30 minutes of simmer time, you get a warming and complex stew, thanks to some stand-up red wine, a few aromatics, and umami (mushrooms are loaded with it).To make the sauce richly concentrated, thick, and glossy, you don't need to simmer all day, just swirl in a little butter and flour paste (a.k.a. beurre manié) in the last 10 minutes.
In another nontraditional but brilliant move, Perelman serves this with a spoonful of sour cream, a nod to another beefy classic: stroganoff— especially if you serve it over egg noodles, though polenta is just as good.
With my medium-size Dutch oven, I like to sear the mushrooms in a few batches so they can sizzle without steaming — this builds up a good layer of toasty residue to deglaze later.
2 tablespoons olive oil
2 tablespoons butter, softened
2 pounds (900g) portobello or cremini mushrooms, sliced 1⁄4-inch (6mm) thick1 cup (130g) pearl onions (thawed if frozen)
1/2 carrot, finely diced
1 small yellow onion, finely diced
1 teaspoon fresh thyme leaves
Salt and freshly ground black pepper
2 cloves garlic, minced
1 cup (240ml) full-bodied red wine
2 tablespoons tomato paste
2 cups (475ml) beef or vegetable broth (beef broth is traditional, but use vegetable to make it vegetarian; the dish works with either)
1 1/2 tablespoons all-purpose flour
Egg noodles, for serving (buttered potatoes or farro or polenta work well, too)
Sour cream and chopped fresh chives or parsley, for garnish (optional)
1. Heat 1 tablespoon of the olive oil and 1 tablespoon of the butter in a large Dutch oven or heavy saucepan over high heat. Sear the mushrooms and pearl onions until they begin to take on a little color, but the mushrooms do not yet release any liquid, 3 to 4 minutes. Remove them from the pan and set aside. Lower the flame to medium and add the second tablespoon of olive oil. Toss the carrot, diced onion, thyme, a few good pinches of salt, and several grinds of black pepper into the pan and cook for 10 minutes, stirring occasionally, until the onions are lightly browned. Add the garlic and cook for just 1 more minute.
2. Add the wine to the pot, scraping any stuck bits off the bottom, then turn the heat all the way up and reduce it by half. Stir in the tomato paste and the broth. Add back the mushrooms and pearl onions with any juices that have collected and bring to a boil. Then decrease the heat so the mixture simmers for 20 minutes, or until mushrooms are very tender.
3. Thoroughly combine the remaining 1 tablespoon of butter and the flour with a fork; stir it into the stew. Lower the heat and simmer for 10 more minutes. If the sauce is too thin, boil it down to reduce to the right consistency. Season to taste.
4. To serve, spoon the stew over a bowl of egg noodles (or buttered potatoes, farro, or polenta), dollop with sour cream, and sprinkle with chives or parsley.
Reprinted from Genius Recipes by Kristen Miglore. Courtesy of Tenspeed Press.

Kristen Miglore
Cookbook Author
Kristen Miglore is the executive editor at Food52.com. Her writing has been published in The Wall Street Journal, Saveur, and The Atlantic, and she was nominated for a James Beard Award for the Genius Recipes column in 2014. This year, Kristen is a finalist for an IACP Award for Best Culinary-Based Column, and Food52 is an IACP finalist for Best Culinary Website.