Ayurvedic Lunch & Dinner Recipes To Support Your Doshas During Early Summer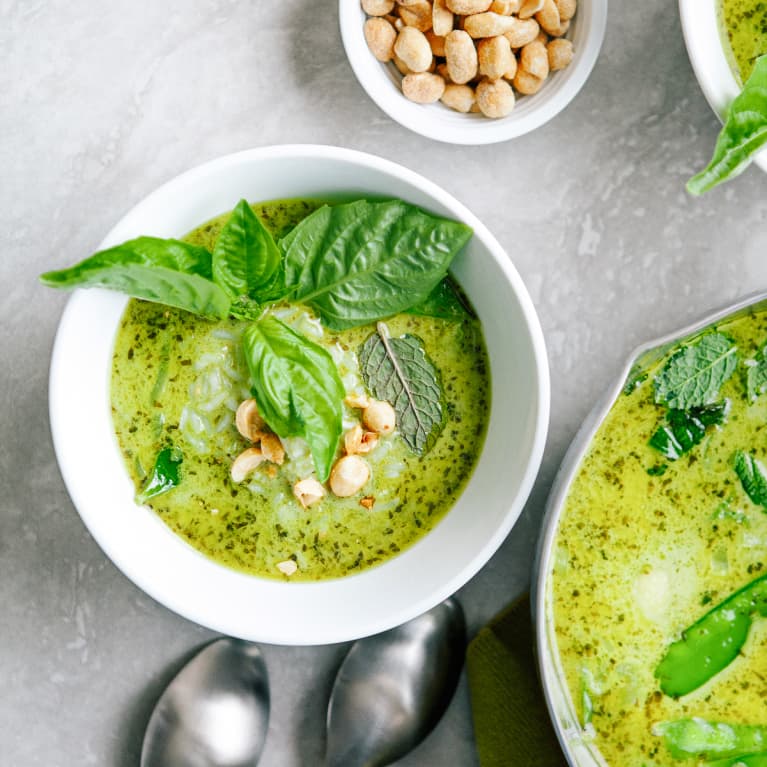 Last updated on August 24, 2021
Ayurveda, one of the world's oldest systems of medicine, follows a rich tradition called Ritucharya, a Sanskrit word that means "following the rhythms of the seasons." Following this more seasonal approach to health means adjusting your diet throughout the year in order to maintain balance in the body. Right now, we are midway through May, which marks a transition period in the ayurvedic seasonal calendar from the spring to the early summer season.
What to eat in early summer, according to ayurveda.
The three doshas (vata, pitta, and kapha) are the main elements or bioforces of ayurveda, and they vary throughout the year.
According to ayurvedic texts like Charaka Samhita, Bhavaprakash, and Ashtanga Hrdayam, in the spring season, the heavy earth and water elements that make up kapha dosha (the bioforce of stability) are aggravated. As the heat starts to increase in mid-May, the kapha dosha gets pacified and vata dosha (the bioforce of movement), made of the air and space elements, starts building up. Vata peaks in the later summer due to the dryness of the heat. The pitta dosha (bioforce of transformation, made of fire and water elements) also starts to accumulate in late summer, and peaks in the fall.
In the summer season, therefore, we want to balance both vata and pitta doshas with sweet, moist, light, cooling, soupy, and liquid foods. As we transition from spring (the time for foods that are bitter, pungent, and astringent tasting), we have to make dietary shifts slowly as we don't want to overwhelm the body. It's helpful to gradually decrease the consumption of heating spices like black pepper and ginger and then slowly increase the amount of cooling foods like cucumbers, avocados, squashes, etc., in your diet.
Here are some ayurvedic lunch and dinner recipes you can try this summer to keep your vata and pitta doshas in balance.
This recipe is easily adaptable. You can make it with several different kinds of dals (whole green gram, yellow lentils, red lentils, and split green gram). Add any seasonal vegetables you enjoy, and serve with white rice or tortillas if desired—or just eat it by itself. It's delicious in all ways!
1 cup yellow or green mung dal
¼ teaspoon turmeric powder
Himalayan pink rock salt
2 teaspoons ghee
½ teaspoon cumin seeds
1 medium-size onion, chopped (optional)
Fresh cilantro, chopped, for serving (optional)
Seasonal vegetables such as beets, carrots, green beans, okra, white onions, squash, or yam, chopped in 1-inch-cube size
Rinse and drain the mung dal, then place in a medium bowl. Add enough water to cover the dal by 1 inch and soak for about 3 to 4 hours beforehand (or overnight). Drain and rinse.
Combine the mung dal, turmeric, vegetables, and salt to taste in a pot. Add enough water to cover dal mixture by about 1 inch and bring to a boil. Lower heat to medium-low and cook until it looks mushy or pasta-like, 25 to 30 minutes. You can add more water once it finishes cooking to make it the consistency you desire.
Place ghee in a skillet on medium heat. Add the cumin seeds and swirl until fragrant. Then add the onions, if using, and sauté until pink and soft, 5 to 10 minutes.
Combine the ghee mixture with the cooked dal and garnish with the cilantro, if using. Eat warm.
This recipe made with masoor dal (a lentil with a unique hearty taste and texture) is easy to digest and has an especially therapeutic quality for balancing pitta dosha.
½ cup split red masoor dal⁠
¼ teaspoon turmeric powder⁠
Himalayan pink rock salt⁠
1 teaspoon ghee⁠
¼ teaspoon cumin seeds⁠
½ onion, diced⁠
2 carrots, chopped⁠
½ kale or spinach, chopped ⁠
Chopped lemon for seasoning (optional)⁠
Seasonal vegetables such as beets, carrots, green beans, okra, white onions, squash, or yam, chopped in 1-inch-cube size
Rinse masoor dal until water is clear, then add to small bowl. Add enough water to cover dal by 1 inch. Soak for at least 1 hour.⁠
Put dal, soaking water, turmeric, seasonal vegetables, and salt to taste into pot. Bring mixture to boil, then reduce heat to low and simmer until the dal looks mushy, about 20 minutes.⁠
Heat ghee in small skillet over medium heat. Add cumin seeds, swirl, and cook until fragrant, 10 to 15 seconds. Add diced onions, mix, and cook for 2 minutes. Add carrots; cook until they are soft enough to cut with a spoon. Then add kale or spinach and cook until soft.⁠
Add cooked ghee mixture to cooked dal. Garnish with lemon for a great flavor and eat while warm.
Cucumbers and coconuts are excellent, naturally cooling foods that can support your body during the dry heat of summer. Enjoy this light, simple, and sweet ayurvedic curry recipe with cooked white basmati rice and/or warm tortillas.m
2 cucumbers, diced into ¼- to ½-inch pieces
1 tablespoon ghee
1 cup coconut milk
8 to 10 curry leaves
1/2 teaspoon kalonji/nigella seeds
1/4 teaspoon hing (asafoetida powder)
1 teaspoon white rice flour
1/2 teaspoon turmeric powder
1/2 teaspoon cumin seeds
Parsley for garnish (optional)
Rock salt to taste
Heat a medium-sized skillet on medium-high heat and then add ghee, followed by hing, kalonji seeds, cumin seeds, and turmeric.
Sprinkle curry leaves onto the spice mixture.
Swirl the skillet around so that the spices and curry leaves all blend together well.
Add chopped cucumbers, followed by coconut milk to the skillet.
Cook the mixture with a lid over the skillet for 10 to 11 minutes, until the cucumbers are soft enough to cut through with a spoon.
Garnish with parsley leaves, and enjoy while warm.