Vegan Recipe: Energizing Strawberry Cream Chia Pudding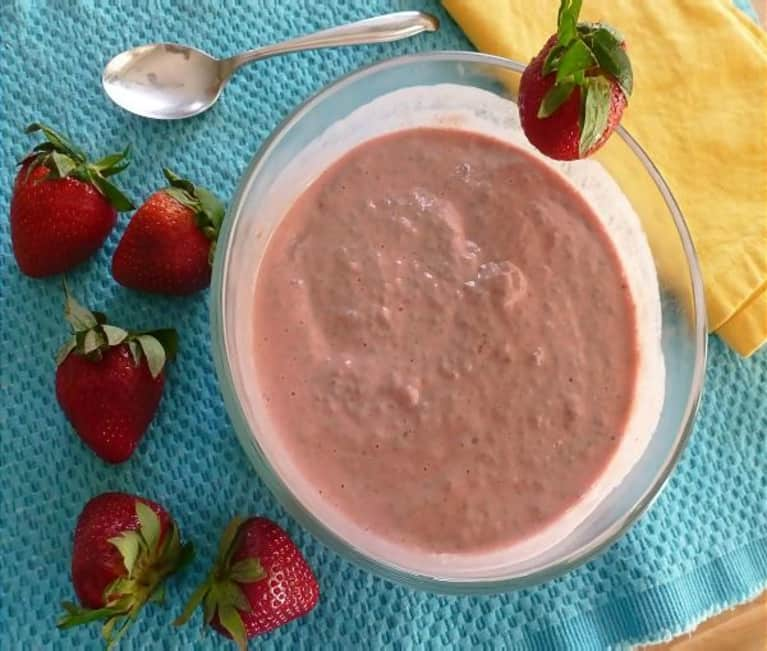 This luscious chia pudding is dairy free, gluten free and is comprised of some serious superfoods that will enhance your beauty. It's low glycemic, helps keep you hydrated, assists with weight loss and nourishes your body with vitamins, minerals, fiber and antioxidants. It's actually a pretty serious dose of long-lasting energy, all packed into one beautiful and scrumptious dish that will carry you through the day. I feel so satisfied, nourished and full after eating this pudding.
The star of the show is the tiny — yet miraculous — chia seed.
Ingredients:
1 cup organic strawberries (fresh or frozen)
1 cup almond milk (or your nut/seed milk of choice)
2 pitted medjool dates
1 Tbsp. lucuma powder
1 tsp. vanilla bean powder OR 1 Tbsp. vanilla extract
pinch of pink himalayan salt
liquid stevia — to taste
Directions:
Blend your nut milk with the strawberries, dates, vanilla, lucuma and sea salt. Sweeten further with stevia if so desired.
Transfer mixture to a glass bowl and add 1/4 cup chia seeds. Stir well.
Let mixture set in the refrigerator for several hours or overnight so that the chia swells and thicken.
To serve, eat as is — it's THAT GOOD! Or you can pop some organic strawberries, raw pistachios and raw cacao nibs into the bottom of a glass dish or mason jar (however fancy you want to get with it) and spoon in desired amount of chia pudding - top off with more strawberries, pistachios and cacao nibs for presentation (plus it just tastes amazing) and enjoy slowly, savoring each bite. Tasty and healthy for you — that's my kind of food!
I hope you all enjoy this recipe as much as I do. It's also a very impressive and beautiful dessert dish to serve to friends, family, and guests. It's good to know that you're serving them something sweet and tasty with TONS of healthful and nutritional benefits. That's my desire for all of you: to thrive and be your very best while enjoying food and life in balance.