Vegan Recipe: Super Simple Millet Pilaf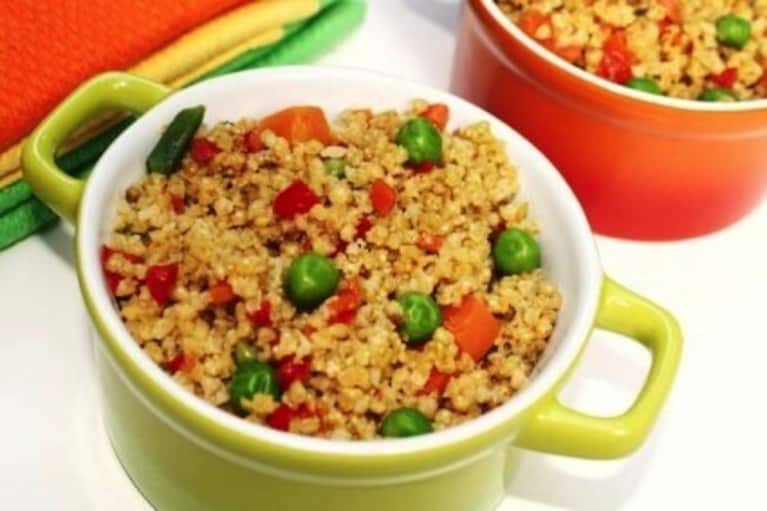 Most of us have good intentions when it comes to our health. We want to eat healthy, but life gets in the way. We run out of ideas, get stuck and our creativity is squashed by the day-to-day demands of a busy lifestyle. During times like these, I often remind myself to take it one step at a time. One simple, healthy choice a day is all you need to keep on track.
So here's a simple idea for a small step in the right direction. Instead of the same old rice or rice pilaf, how about switching the rice for millet and trying a millet pilaf? Try this millet pilaf recipe, and you'll be pleasantly surprised by how quick and simple it is.
Taking one healthy step at a time couldn't get any easier than this.
Ingredients:
1 cup millet
2 cups vegetable broth
1 small onion, chopped
3 cloves garlic, crushed or chopped 1-2 celery stalks, chopped
1 carrot, chopped
¼ cup frozen peas, thawed and rinsed
2 Tablespoons olive oil
½ tsp cumin seeds or cumin powder
Fresh thyme
½ tsp Herbs De Provence
Sea salt, crushed black pepper to taste
Directions: 
1. Prepare the millet separately. Start by mixing 2 cups of vegetable broth with 1 cup of water in a saucepan and bringing to a boil. Once that gets to a rolling boil, add the millet and bring the heat to low. Cover with a lid and let it cook for 20-25 minutes. Turn off heat when done.
2. In a separate pan, heat the olive oil, add the cumin seeds and cook until slightly dark brown.
3. Now add onions and garlic and sauté them for about one to two minutes.
4. Next, add celery and carrot and continue to cook.
5. Once the onions turn translucent, add peas.
6. Sauté for another minute and add the Herbs de Provence. Turn off the heat.
7. Add fresh thyme, salt and pepper to taste and mix together.
8. Using a fork, fluff the cooked millet and mix in the sautéed vegetables.
Note: If you are going to use cumin powder instead of cumin seeds, skip step number 2. Instead, just season with cumin powder in the end.
Voila! Easy, breezy and healthy!