3 Super Simple Ways to Eat Seaweed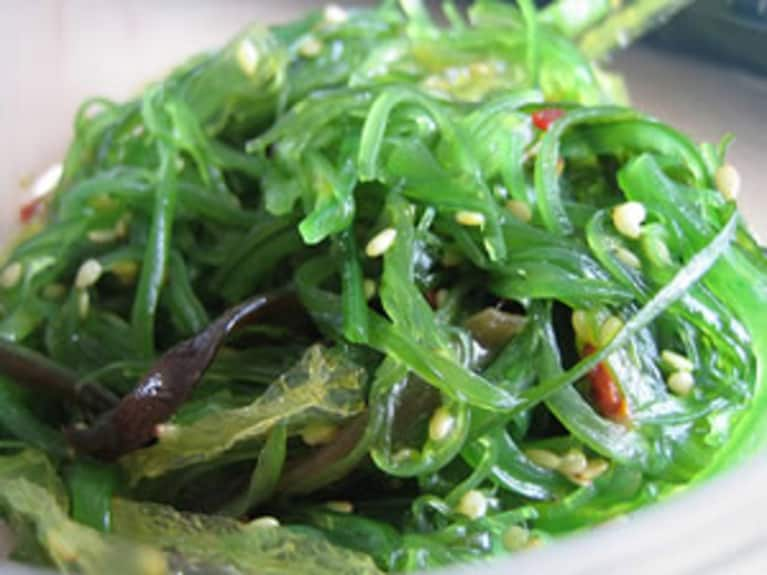 All the information in the world is of little value if we are not able to implement it in to our everyday lives. This is particularly true with the onslaught of dietary and nutrition information with which we are so intrigued. And, it has been brought to my attention that some of the most beneficial foods are a little less than mainstream and finding simple ways in which to implement "super-foods" may prove frustrating. That being said, one of the foods with which I am extremely smitten, seaweed, can be quite intimidating for those uninitiated to its benefit and discouraging for those unaccustomed to cooking with more exotic foods. So, here are a few great ways to integrate seaweed into your diet and receive the wealth of nutritional benefits that sea vegetables hold. Now is the best time to get creative in the kitchen and empower yourself to create lasting change!
First things first, kombu dashi (stock) is a great base for soups, steps and pretty much anything that needs to be cooked in liquid. It's super simple and is quite possibly the easiest way to step up your seaweed game.
Kombu Dashi
Ingredients
Two 6 in. strips dried kombu
6 cups water
Combine kombu and water in large saucepan and let soak for approximately 15 minutes.
Bring stock to simmer over medium heat and let cook for 3 to 5 minutes. Remove kombu and discard or save for later use.
Enjoy or store in airtight container for up to 5 days in fridge!
Kombu is also a great tool to use when cooking dried beans, as its natural enzymes help soften the beans and make the more easily digestible. Simply add one strip to your soaked bean and cook.
Now that we've got this great base, why not use it to make some killer miso? Keep in mind that this is just a "foundation" recipe and it can and should be customized to the season and your taste. Different mushrooms and miso will provide very different tastes, all of which are begging to be experimented with and add in's are always welcome.
Matthew's Magical Miso
Ingredients
½ Tbsp. coconut oil
½ medium yellow onion, cut into crescents
3 cloves garlic, minced
1 cup mushrooms (I prefer shiitake), sliced
2 strips dried wakame, shredded, or ¼ cup dried wakame flakes
2 cups kombu dashi
3 cups water, divided
2 Tbsp. miso
Warm coconut oil in a good sized pot over medium heat.
Add onion and cook until translucent. Approximately 5 minutes.
Add garlic, mushrooms, and wakame and cook for an additional 2-3 minutes making sure garlic doesn't burn.
Add dashi and 2 cups water.  Bring to boil then reduce heat to low and simmer for roughly 20 minutes.
While soup is simmering, dissolve miso in remaining cup of water and return to fridge until soup is done.
When soup is finished, remove from heat and stir in diluted miso.
Enjoy!
What goes better with a steaming bowl of miso than a big plate of rice and veggies? I will leave the veggies up to you, but I have found that simply steaming seasonal veg and laying it on top of this dulse rice is a simple, nutritious and well balanced meal that can keep me going through even the longest of days.
Dulse Rice
Ingredients
1 cup brown or wild rice, rinsed
¼ - ½ cup dried dulse, shredded
2 cups water
Cook rice in the traditional method. Bring water to boil, stir in rice, and cover.
With 5 to 10 minutes of cooking time remaining, stir in dulse and re-cover to allow rice to finish cooking. Total cooking time will range between 25 and 35 minutes.
Remove from heat, stir and re-cover to let rice absorb any remaining water.
Enjoy!
These are just a few simple suggestions for ways in which you can unlock the nutrient dense deliciousness of seaweed. Any way you choose, seaweed is brimming with nutrients and should be considered a valuable addition to any healthy diet.