Delicious Vegan Carrot Ginger Soup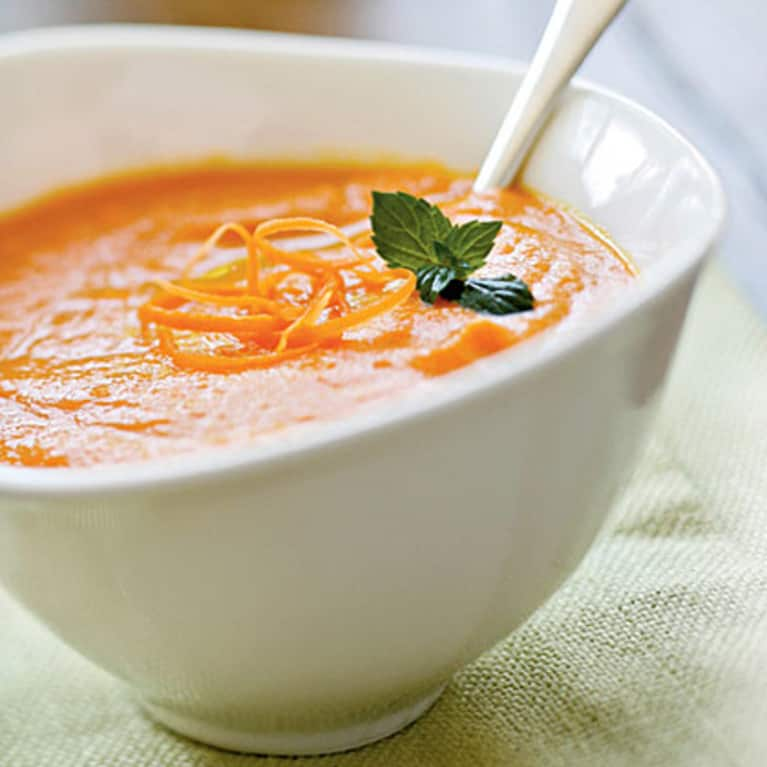 Who doesn't love a delicious, simple, and healthy soup? I've been making this soup for the last couple of years, and my friends keep coming back for it. The ginger takes this soup to a whole new level so don't be afraid to use lots of it.
Ingredients - serves 4:
12 carrots
2 Onions
3 garlic cloves
3-4 Tbsp chopped fresh ginger (or more if you love ginger like I do!)
3 vegetable stock cubes
about 6 cups/50 oz water/vegetable stock if you don't use cubes
2 tbsp oil
Slice the carrots and onions into pieces and chop the garlic and the ginger.
(The size doesn't really matter as it will be pureed at the end)
Heat the oil in a pot, and sautee the carrots, onions and the garlic a couple of minutes before you add the ginger. Sautee for another couple of minutes.
Add the water and vegetable stock.
Cover the pot with a lid and let simmer for about 20 – 30 minutes (until the carrots are soft).
Almost done, but first:
Puree the soup! If you have a hand blender, puree it directly in the pot, if not you can use a blender or a food processor. (Don`t put too much in the blender/processor at the time, it'll splash out!).
When the soup is pureed, add salt and pepper to taste, and if you need more ginger you can still add some more and puree it!
That's it! I love this soup plain, served with some fresh bread on the side. But use your imagination! You can top the soup with bread crumbs, or fresh herbs like cilantro or basil.
Serve in a bowl and enjoy it with friends, family, loved ones or your loving self!
image via myrecipes