Macalicious Mint Chip Smoothie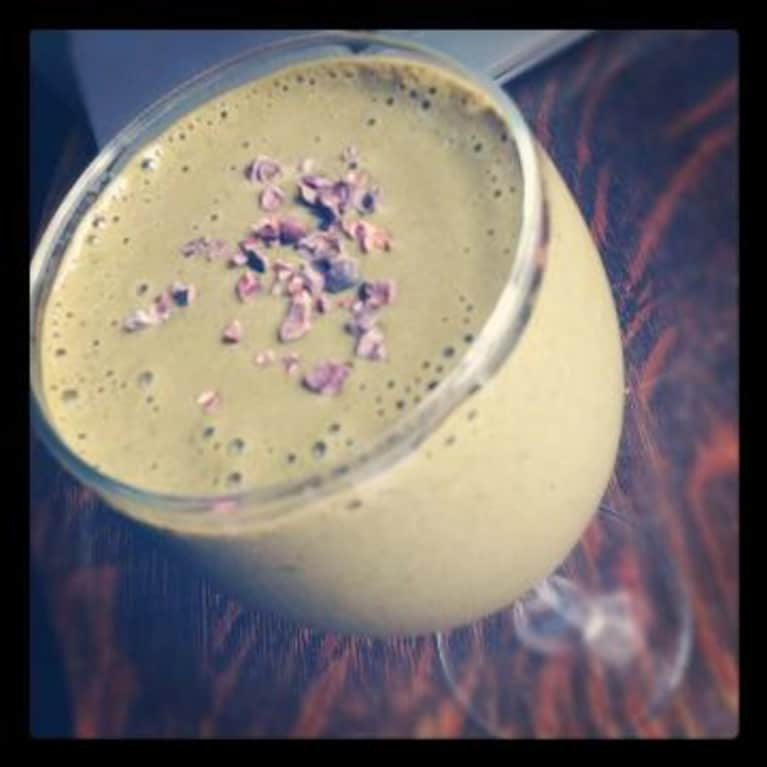 It seems that I am forever searching for that perfectly satisfying delicious afternoon pick me up. As an avid smoothie lover, I often find myself blending up all sorts of concoctions come 3:30pm.
I blended this up the other day and was in smoothie heaven. The taste of rich cacao, the velvety texture of the blended banana, the crunch of the nibs and the zing of the mint was like a taste explosion too good to be true! Not only does this smoothie taste like nectar from the Gods, but it is loaded with antioxidants and powerful nutrients to give you that super boost of energy. Yum yuuum.
What makes this smoothie so divine?
Firstly, the maca powder is a magic Peruvian superfood. It contains 60 micronutrients, 18 amino acids, 20 fatty acids and is high in iron, potassium, magnesium and b vitamins.
Cacao, also known as theobroma cacao, which literally translates to "food of the gods", is a heavenly source of goodness. Cacao is one of the highest forms of Vitamin C as well as one of the highest antioxidant foods in the world. It is the highest natural source of magnesium, chromium, iron and manganese. Additionally, cacao releases the brain chemical, anandamide, which gives a bliss like effect. No wonder this smoothie is so enjoyable! Mint has a very soothing effect on the mind and body. Its medicinal properties help to relieve headaches and nausea and give an overall relaxing effect.
The macalicious mint chip smoothie is a tantalizingly tasty culinary masterpiece of powerful super foods and rich vitamins and minerals. After one glass of this smoothie you will be feeling faster, stronger and better than the goddess Nike. Just do it.
Servings: Approx. 8oz of delicious nutrient packed goodness.
Ingredients:
*organic when possible
1 cup almond milk
1 banana (frozen for creamy texture)
2 tbs. cacao powder
11/2 tbs. cacao nibs
1 tsp. maca powder
approx 10 mint leaves, or more if you like it super minty.
3-4 ice cubes
Directions:
1. Add ice cubes to blender first, followed by the rest of the ingredients.
2. Blend for approximately 60 seconds depending on the power of your blender. It shouldn't completely blend the cacao nibs you want to keep a bit of a crunch.
3. Pour into cup
4. Garnish on top with 1/2tbsp of cacao nibs for extra crunch and 2 mint leaves.
5. Sit. Relax. Enjoy.
image via veganstastebetter.net