Caramelized Walnut & Goat Cheese Salad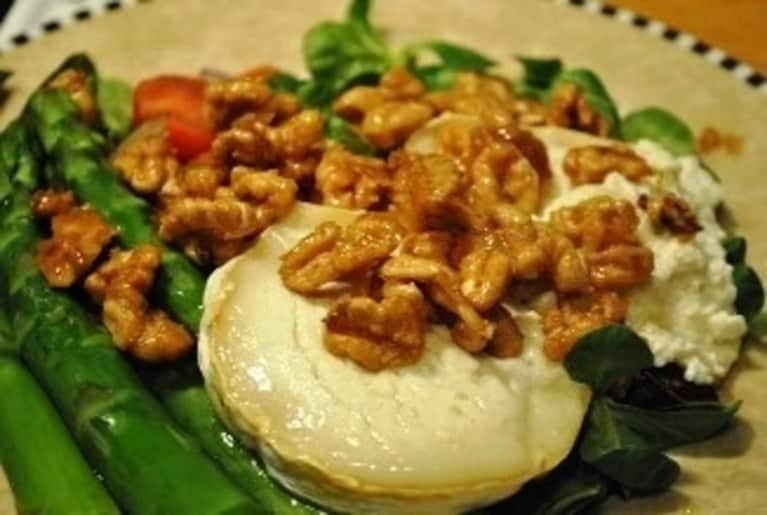 This is one of my favorite salads. It's really simple and feel free to experiment with any vegetables or leafy greens that you have readily available.
For the caramelized walnuts:
3 tbsp Honey
2 tbsp Brown Sugar
200g (7oz) Walnuts
Lettuce
Cherry Tomatoes
Avocado
Asparagus
Red onion
Goat cheese
Directions:
Start with the walnuts. Preheat the oven to 200°C/390°F. Mix the brown sugar and the honey in a bowl, and stir in the walnuts. Make sure all the walnuts get covered. Put them on a baking sheet (separate, so they wont stick together!) and bake for about 4 minutes in the oven until caramelized and golden (not brown/dark). You can do this first – as the walnuts still will be delicious when they're cold.
Prepare the lettuce, tomatoes, red onion and the avocado on the (4) plates. (Or as many as you need). Boil water and cook the asparagus until just soft – about 3-4 minutes depending on how thick they are. At the same time put the chevre on a baking sheet, and bake them in the oven for about the same time – 4 minutes (it should not start to "float" on the baking sheet).
Put the goat cheese on the salad and finally the walnuts on top.
You can use a delicious extra virgin olive oil for this salad, or you can make a simple dressing with:
Freshly squeezed lemon (about 1 tbsp)
Honey – 1 tsp
2 tbsp extra virgin olive oil
salt and pepper to taste
Just mix and add more of honey or lemon – depending if it`s too sour or too sweet. Serve immediately when the chevre is still warm, and ENJOY!