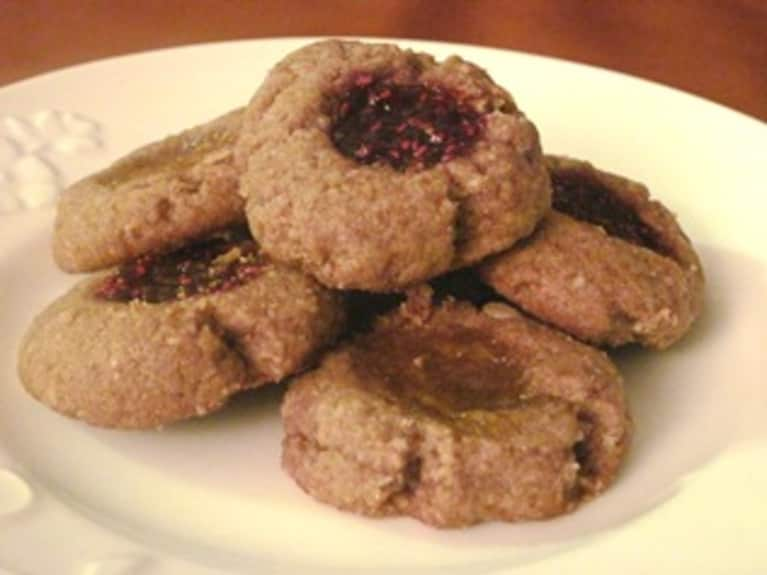 These lovely little gems are super easy to make and are great with tea and dare I say, "nutritionally dense." But don't be alarmed, I brought these over to my home away from home, the lovely Laughing Lotus Yoga Center, this weekend and they disappeared.
You can use a neutral tasting oil but I highly encourage you to splurge on Coconut oil which is rich in lauric acid and is known to be antiviral, antibacterial and antifungal. The flaxseed meal in this recipe also adds fiber.  It is possible to have a great tasting cooking that happens to be "good" for you...enjoy!
Ingredients:
1 cup almonds or pecans
1 cup rolled oats
1 cup whole wheat pastry flour
3 tablespoons golden flaxseed meal
½ cup coconut oil
½ cup maple syrup or brown rice syrup
1 teaspoon ground cinnamon
Zest of one lemon (optional but it really does make a difference)
¼ teaspoon salt
Your favorite jam
Instructions:  
Preheat oven to 350 degrees Fahrenheit. Place almonds or pecans and oats into a food processor and pulse until coarsely ground.  Transfer to a large bowl and add flour, flaxseed meal, coconut oil, syrup, ground cinnamon, zest (if using) and salt.  Fold ingredients with a rubber spatula to combine well.  Using a tablespoon measuring spoon, scoop dough into your hand and form a ball and place on a cookie sheet approximately 2 inches apart.  Gently press your thumb down into the center of each cookie to make an indentation.  Spoon a teaspoon of your favorite jam into each dimple.
Bake cookies until nice and golden, approximately 15 – 18 minutes. Enjoy!
Yield: 2 dozen cookies