Vegan Sweet Potato Cornbread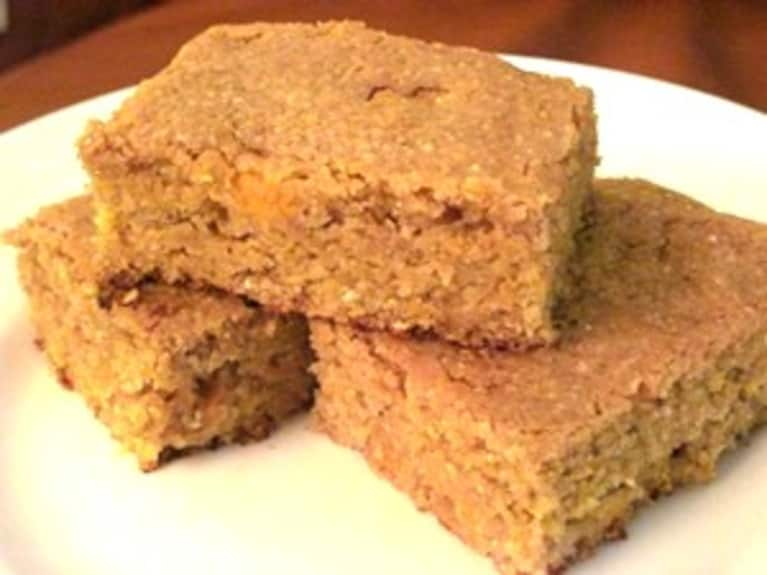 With a chill in the air, I think of comfort foods... and this lovely corn bread came to mind immediately. It is super yummy for breakfast, snack...with a soup or a salad. The addition of the sweet potato makes this recipe extra sweet, moist and heartier than your usual cornbread. Enjoy!
Ingredients:
2 tablespoons ground flax seeds
¼ cup water
1 cup whole wheat pastry flour
1 cup cornmeal
1 medium sweet potato cut in a small dice
¼ cup turbinado sugar
4 teaspoons baking powder
1 teaspoon sea salt
1 cup almond milk or your favorite non-dairy milk
1/4 cup olive oil
¼ cup maple syrup
Instructions: 
Preheat oven to 425°F Spray 8-inch-square baking dish with nonstick cooking spray.  Bring the quarter cup of water to a boil in a small saucepan. Add the ground flax seed, and simmer until thickened for about 2 minutes. Set aside.
Place a steamer basket with water into a pan and bring to a boil. Add diced sweet potato and steam until tender, approximately 15 minutes, remove sweet potato from pan and mash, set aside.
In a medium bowl, whisk together the flour, cornmeal, sugar, baking powder, and salt until well-combined. In a separate bowl, mix the wet ingredients: almond milk, ground flax seed mixture, olive oil and maple syrup. Fold the wet ingredients into dry ingredients and gently fold in the mashed sweet potato.
Put the batter into prepared baking pan and bake for 20 to 25 minutes, or until a toothpick inserted in the middle comes out clean. Cool on a wire rack for 10 minutes.
Serves 8
Teachers Note: By cutting the sweet potato in a small dice it steams faster.  Boiling root vegetables is not suggested as it strips the natural flavor and sweetness from the vegetable, for an added dimension of flavor you can roast and then mash the vegetable.  You can also try this recipe by mashing steamed/roasted carrots or a butternut /acorn/delicate squash; just have the mash be equivalent to ¾ cup.