The Key Ingredient For A Hormone-Balancing Salad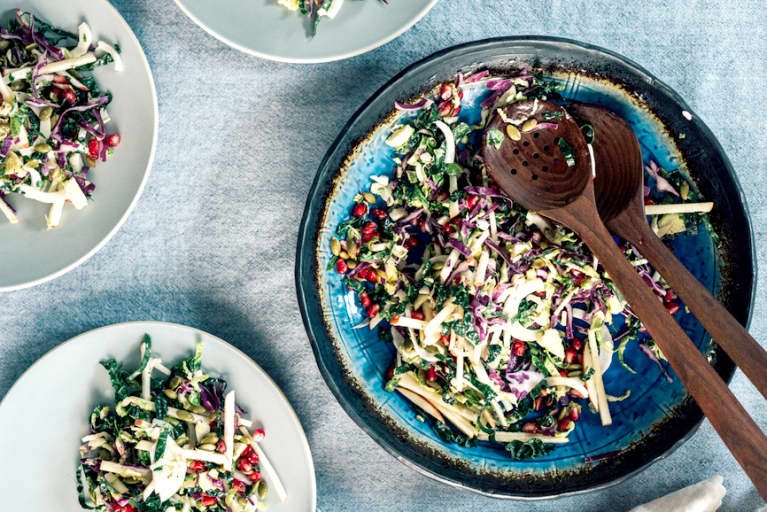 Since I was diagnosed with PCOS (polycystic ovary syndrome) a few years ago, I've started focusing on adding good fats and more anti-inflammatory ingredients to all of my meals. One thing that I never realized with hormone imbalances and PCOS is how important it is to eat good, healthy fats such as avocado, extra-virgin olive oil, coconut oil, avocado oil, nuts/seeds (except peanuts), and organic eggs.
Since I started adding more fats, I've seen the texture of my skin and hair improve tremendously, and I've noticed my hormones have started to balance out. Balanced hormones can mean less painful periods and fewer PMS symptoms. And who doesn't want less PMS?
Here's a simple recipe with healthy fats to fuel your hormones. Remember, your hormones NEED fat to work properly. Let go of that "fat-free" mentality from the 1980s and fuel your body with the real fats it needs to get your body working for you, not against you!
Massaged Kale Salad with Lemon Tahini Dressing
2 bunches dinosaur (flat) kale, finely chopped and ends trimmed
1 tablespoons extra-virgin olive oil
Sea salt and pepper, to taste
2 stalks celery, thinly sliced
1 cup grape tomatoes, halved
1 cup chopped purple cabbage
⅓ cup hummus
2 tablespoons tahini
Juice of 1 large lemon
4 tablespoons warm water, plus more if needed
2 tablespoons raw pecans, chopped
1 tablespoon dried cherries
1 tablespoon finely chopped fresh parsley
1 teaspoon sesame seeds
Method
1. In a large bowl, massage the kale and oil until the kale becomes a dark green and is soft to touch, about 2 minutes. Add salt and pepper to taste and let sit for 5 minutes. Then add the tomatoes, cabbage, and hummus.
2. In a small bowl, whisk (or mix well) the tahini, lemon juice, and warm water; season to taste with salt and pepper. Add more water to thin out the dressing if needed. Drizzle over the salad and top with the pecans, cherries, parsley, and sesame seeds. Toss to combine and serve immediately.