Is This The Ultimate Anti-Inflammatory Bowl?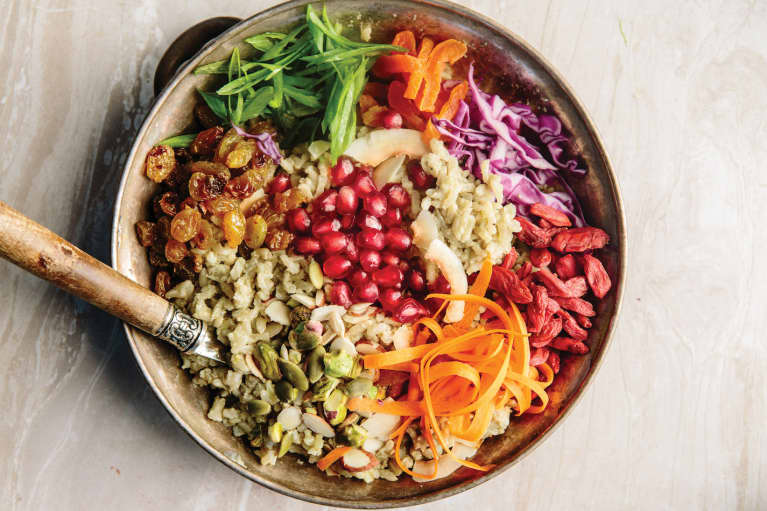 Our editors have independently chosen the products listed on this page. If you purchase something mentioned in this article, we may
earn a small commission
.
The beautiful rainbow vibe of this salad, from the new cookbook The Modern Salad by Elizabeth Howes, is a testament to its antioxidant and anti-inflammatory properties—after all, colorful whole foods = vital phytonutrients and antioxidants. Between pomegranates, red cabbage, carrots, and pistachios, this salad has cardiovascular, anti-cancer, brain health, and liver-supportive benefits. Riffing on the ultra-healthful tea-leaf-in-salad concept, this bowl's base is matcha coconut rice, which combines the potent anti-inflammatory tea with creamy healthy fats and fragrant rice.
Iranian jeweled rice is traditionally created in Persian kitchens for weddings and other special occasions, fulfilling much the same role as tea-leaf salad does in Myanmar. The original version is pigmented with saffron and is ultra-decadent, with copious amounts of butter and spices. Infused with coconut milk and antioxidant-rich matcha green tea, this lightened-up version requires some advanced preparation but is a stunning addition to any celebration—or just your weekly meal-prep rotation.
Coconut-Matcha Jeweled Rice Salad
2 cups brown basmati rice, soaked in filtered water overnight
2 tablespoons grapeseed oil, divided
1 cup finely diced shallot (about 3 medium shallots)
1 clove garlic, finely diced
3 whole cloves
3-inch piece of Ceylon cinnamon stick
2 cups coconut milk
3 cups filtered water
1½ teaspoons matcha powder
1½ cups dried fruit (diced mango, apricots, cranberries, and goji berries are good choices)
1 cup golden raisins
½ teaspoon ground coriander
1 cup roughly chopped raw pistachios
½ cup raw slivered almonds
¼ cup raw seeds (pumpkin, sunflower, and hemp are good choices)
2 cups finely shredded purple cabbage (about 1 small head)
2 cups finely shredded carrots (about 3 large carrots)
1 cup pomegranate seeds (you can substitute strawberries if in season)
1 cup unsweetened coconut flakes
¼ cup finely chopped scallion
1 tablespoon orange zest (optional)
¼ cup good-quality extra-virgin olive oil
sea salt and freshly cracked black pepper, plus Maldon sea salt for finishing
Method
1. Drain and rinse the rice, shaking the strainer to remove any excess water. Add 1 tablespoon of the grapeseed oil to a large saucepan or Dutch oven over medium heat. Cook the shallot, garlic, cloves, and cinnamon stick for 1 to 2 minutes, stirring occasionally, until fragrant. Add the rice, and stir to combine. Add the coconut milk, filtered water, and matcha powder. Stir to combine, and bring to a boil. Once boiling, reduce the heat to low, and simmer, covered but slightly cracked open, for 40 to 45 minutes. If the rice is fully cooked but hasn't absorbed all the liquid, it's perfectly fine to drain. Remove the cloves and cinnamon stick, and allow to cool uncovered. Fluff the rice with a fork, and season with salt and pepper.
2. While the rice is cooking, in a medium skillet over medium heat, add the remaining 1 tablespoon of grapeseed oil. Add the dried fruit, raisins, and coriander. Stir occasionally until the fruit begins to soften, about 3 to 4 minutes. Season with salt and pepper, and transfer to a plate to cool. In the same skillet, toast the pistachios, almonds, and seeds over medium heat for about 2 to 4 minutes, and transfer to another plate to cool.
3. Arrange the rice, fruit mixture, nuts and seeds, cabbage, carrots, pomegranate seeds, coconut flakes, scallion, and orange zest, if using, on a large serving platter or on individual plates. Drizzle with the best-quality extra-virgin olive oil you can find, and sprinkle with finishing salt and freshly cracked black pepper, if desired. Toss thoroughly at tableside to combine.