I'm A Thyroid Expert. Here's What I Eat In A Day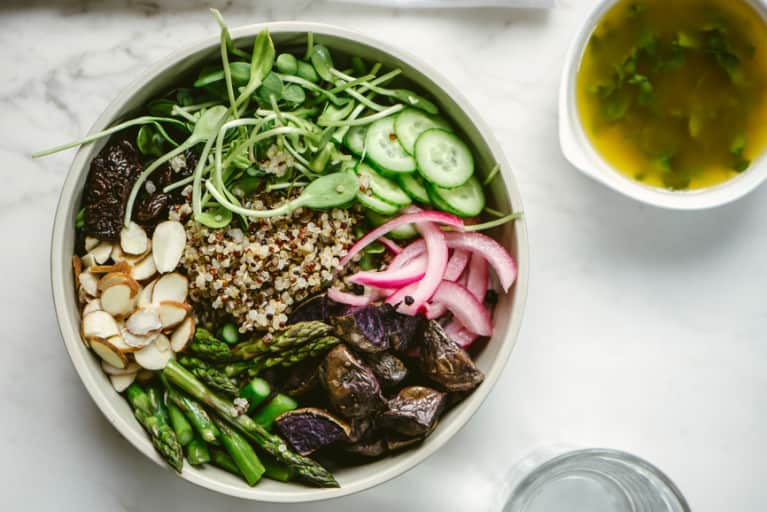 Our editors have independently chosen the products listed on this page. If you purchase something mentioned in this article, we may
earn a small commission
.
Fern Olivia is the founder of Thyroid Yoga, and an instructor here at mbg of a class by the same name. Years ago, she was diagnosed with a Hashimoto's Hypothyroid condition that left her sluggish, fatigued, and in chronic pain. After completely revamping her lifestyle, she's now thriving, running a successful business and enjoying her Los Angeles-based life. Here's exactly what she eats in a day.
I start every day with the juice of a whole lemon in a glass of warm alkaline water. My friend and super-informed, super-nutritionist Dana James stresses the importance of using a whole lemon, not just a squeeze.
Lemon water starts the detoxification process—it starts the body releasing bile, which enables the body to remove toxins and emulsify fats. I also add a pinch of Immunity Probiotic into my herbal tea to balance my gut microflora. Then, I begin my morning meditation and Kundalini sadhana (daily spiritual) practice with breath work and a metabolism-boosting Thyroid Yoga sequence. When I'm home in LA, I run on the beach and plunge myself into the cold Pacific Ocean in front of my abode. It's seriously better than coffee and is a thyroid beauty ritual I swear by.
Pre-Workout: Matcha Protein Shake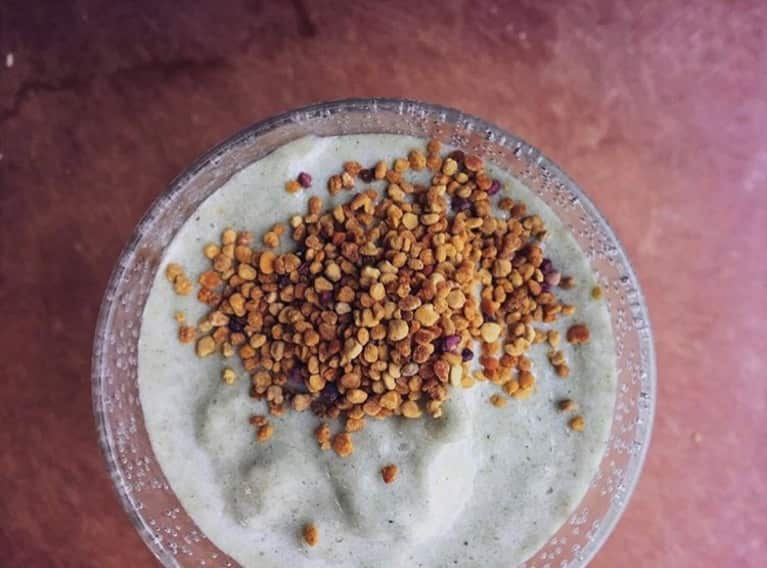 This matcha protein shake is my "power-ade" of sorts. It's just what I need before I get my sweat on with T-Mac's 20-minute power workouts or The Class by Taryn Toomey!
My signature smoothie blends collagen peptides, paleo protein powder, matcha, hemp seeds, probiotics, and Vitamineral Greens powder for the ultimate alkalizing, anti-inflammatory, sugar-free, and sustaining, creamy smoothie.
It's loaded with protein, which is essential pre-workout to build muscle, strengthen tissues, and repair cells and also keeps me sustained and balanced throughout the whole thing so I can give it my all. It also includes my beloved matcha—which revs up my metabolism for the day, provides an amazing amount of antioxidants, which buffer any damage to the cells from free-radicals, and includes l-theanine, a calming amino acid to counterbalance any stress-induced cortisol production that heavy exercise can produce.
It's just what I need to keep me running smoothly, yet being liquid means it's light and easy to digest pre-workout.
Post-workout: Scrambled Eggs with Coconut Milk, Nutritional Yeast & Microgreens
I love eggs. They work for me, and they work for my thyroid. I like the energy they provide. and when I nourish my body and feel better, I have more energy and nourishment to give back to my clients, my loved ones, myself, and life.
Organic free-range eggs provide a concentrated source of thyroid-supporting building blocks like protein, cholesterol, and vitamin D. As well as minerals essential for thyroid health including iodine, selenium, and zinc. Eggs helped me get my period back—period. The cholesterol in eggs supports the synthesis of balanced sex hormones, therefore aiding thyroid and reproductive health—but also much more than that, it aided my divine feminine health.
The farmhouse scramble out of my recipe book, You Nourish You, is a quick mix in a hot skillet of eggs, seasoning, coconut milk, and nutritional yeast. I also serve this with a phytonutrient-rich microgreen salad, leafy greens, and a side of avocado for extra thyroid-loving healthy fats. Its super-quick, super-easy, and I always have a stash of soft-boiled eggs on hand for post-workout nourishment.
Lunch: Salad with Probiotics, Chicken & Turmeric-Tahini Dressing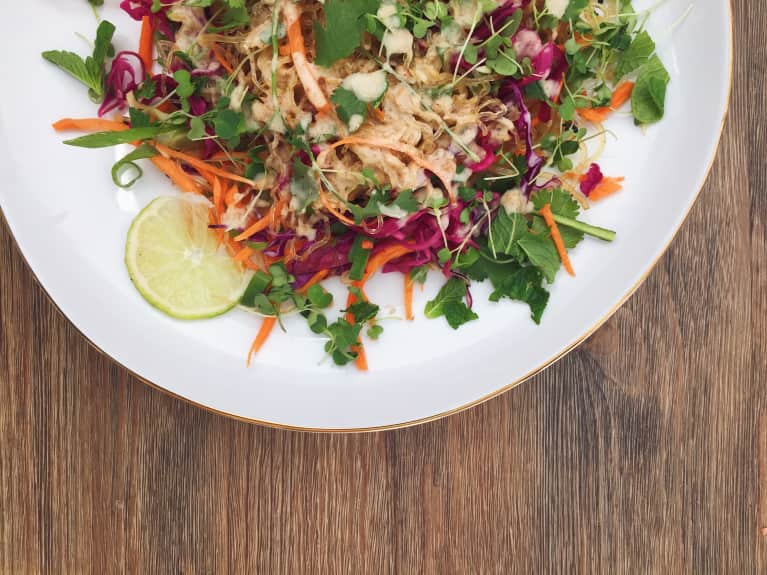 Since I tend to enjoy a late post-workout meal, my biggest meal of the day is around 2 or 3 p.m. I live by the rule of eating only when hungry, and I eat intuitively, listening to when my body needs nourishment and giving it what it needs for clarity, focus, and energy.
I have to admit, living around the corner from one of the coolest and most cutting-edge hot spots in LA means that I most often visit there daily. It also happens to be a grocery store, co-working hub, meeting space, and place to run into handsome, health-conscious men. Yes, one of my meals—and favorite parts of my day—is usually an endeavor to the salad bar at Erewhon Market. It is all organic and has a great selection of different both vegan and non-vegan protein options, salads, greens, condiments, and gluten-free creamy dressings. I think most can agree that the turmeric-tahini dressing is the bomb! I also know that they use the best-quality oils, seasonings, and salt—it really is a lifesaver for busy days!
I usually load my box up with a colorful palette of probiotic kimchee, heirloom tomatoes, organic chicken or salmon, roasted sweet potatoes, cucumbers, and sunflower sprouts, crammed in with organic mixed greens and drizzled with dressing.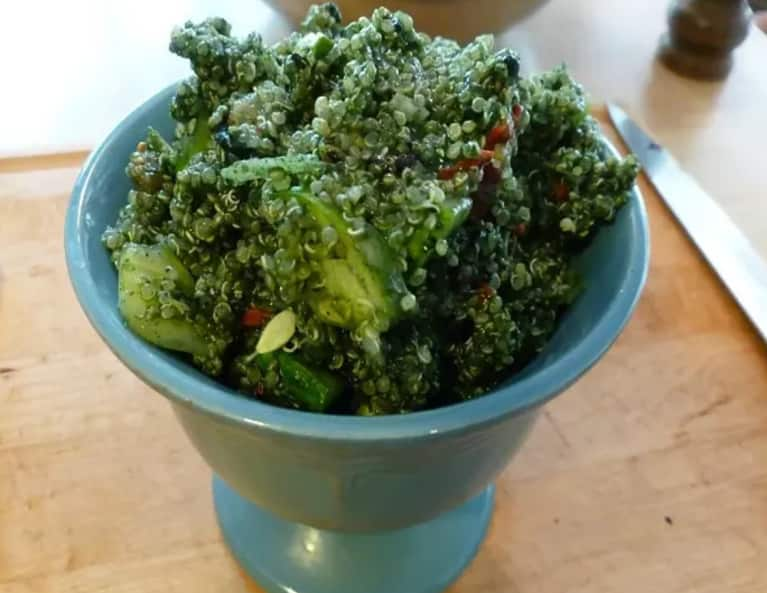 I like to have a light dinner and eat no later than 7:30 p.m. so my body has plenty of time to digest overnight. I make a big batch of spirulina quinoa to have for several servings throughout the week, which is excellent for on-the-go types like me.
One serving of my spirulina quinoa packs in vitamin C, iron, magnesium, protein, vitamin E, B-complex vitamins, and soluble and insoluble dietary fiber. Fennel supports healthy digestion, cucumber provides hydration, coconut is an anti-inflammatory and antifungal, and the goji berries are packed with iron and vitamin C.
I often top off my bowl with organic grilled chicken for extra protein on the days my body is asking for it.
Before bed: Golden Mylk Adaptogenic Tonic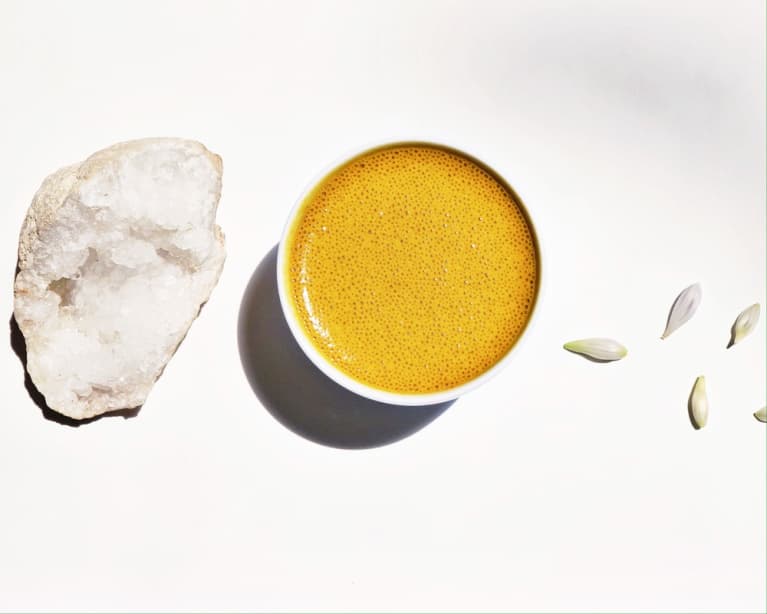 In the evening, if I'm home, I usually do a few more hours of email work. To prevent me from being wired-yet-tired and buzzed up before bed, I love to make a creamy turmeric golden mylk adaptogenic tonic. I bring organic hemp milk (organic hemp seeds and water, blended) to a simmer in a small saucepan over medium-low heat. Then, I whisk in cinnamon, turmeric, ashwagandha, chaga powder, schisandra berry powder, cardamom, ginger, black pepper, and nutmeg, with a dash of lucuma root powder for sweetness. I add a little coconut oil or ghee, then pour into a mug, sip warm, and climb right into bed.
The adaptogens help your body to do exactly that: adapt! They harmonize the body with its environment by adapting it to stress and change.
The hemp seeds in it add an incredible creaminess and nearly always find their way into my blender. Hemp seeds are one of the highest natural sources of gamma linoleic acid (GLA), a type of super omega-6 fatty acid that has strong anti-inflammatory properties and helps maintain hormonal balance.
I love having an adaptogenic mylk before bedtime—it soothes as I sip to prepare me for slumber and keeps my blood sugars stable so I don't wait up in the middle of the night with a hypoglycemic crash.
If I'm craving a little bit more sweetness, I indulge in a delicious chocolate probiotic from Sakara Life. I've found it to be the biggest challenge—and lesson in not giving in to my previous pattern of binge eating—to not unconsciously devour the entire jar in one sitting!