Exactly How To Get All The Protein You Need On A Plant-Based Diet
Our editors have independently chosen the products listed on this page. If you purchase something mentioned in this article, we may
earn a small commission
.
With all the nutrition information being thrown at us these days, it's easy to agree on one thing: We should all be eating lots of plants. And with Earth Day approaching and concerns about the health of our planet on the rise, shifting toward a "reducetarian" lifestyle—one that incorporates fewer meaty meals—makes a lot of sense right about now.
Eating more plants can improve our health and protect the livelihood of our land and animals, yes, but a lot of people are concerned that it doesn't do enough in the protein department. Of course, protein is essential to our health, and it does a lot more than just help us build muscle. But how much protein do we really need?
According to the American Dietetic Association, the average adult needs only 0.8g of protein per kg of body weight. Let's break that down. Under these rules, a 130-lb person would want to aim for roughly 47g of protein a day—less than you might think. Here are some delicious plant-based sources that will help you reach your daily requirement and keep you feeling nourished and satiated.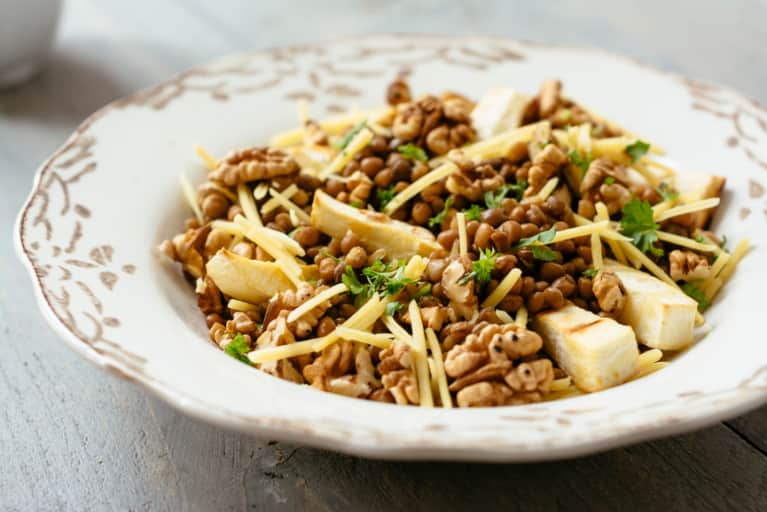 18g/cup
Great in everything from chili to curry, lentils are a versatile ingredient to keep in your pantry. Not only do they provide you with ample protein, they are also packed with fiber to keep your heart and digestive tract happy. Bonus: You can get a pound for as cheap as $1.50.
23g/cup (uncooked)
Buckwheat (a seed, surprisingly enough) packs 12 essential amino acids, B vitamins, magnesium, and zinc into an easily digestible package. It also has properties that could help lower bad cholesterol. Plus it's not associated with wheat, barley, or rye, so it can be used as a gluten-free alternative in everything from breads to pancakes.
16g per serving
Originally from Indonesia, this hearty protein source has been making more of an appearance around the world in recent years. Even though "fermented soybean" may not sound so appealing, it's actually a super-delicious alternative to meat. Pro tip: Steaming tempeh before marinating or seasoning allows flavors to really sink in.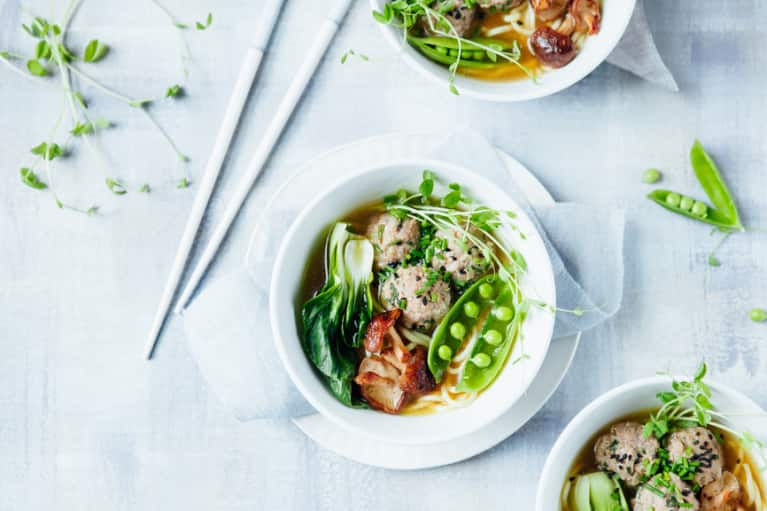 8g/cup
Peas are packed with protein, fiber, and other essential nutrients like vitamin K. Just like lentils, they can be thrown into salads, cooked into curries, or blended into soups. As an added bonus, peas are great for the environment as they work with bacteria to increase nitrogen availability in our soil without the addition of fertilizer.
10g/3 Tbsp
There's a reason a number of protein powders are starting to include hemp seeds. These tiny powerhouses are rich in anti-inflammatory omega-3 fatty acids and minerals such as calcium and iron. Sprinkle some on salads, throw them in your oatmeal, or use them to top off your smoothie!
8g/3 Tbsp
When the fall season hits and pumpkin mania begins to take over again, don't forget the seeds! Nuts and seeds pack tons of protein and healthy fats into a small serving size. Along with protein, pumpkin seeds are great sources of magnesium and zinc—nutrients that support the heart and immune system.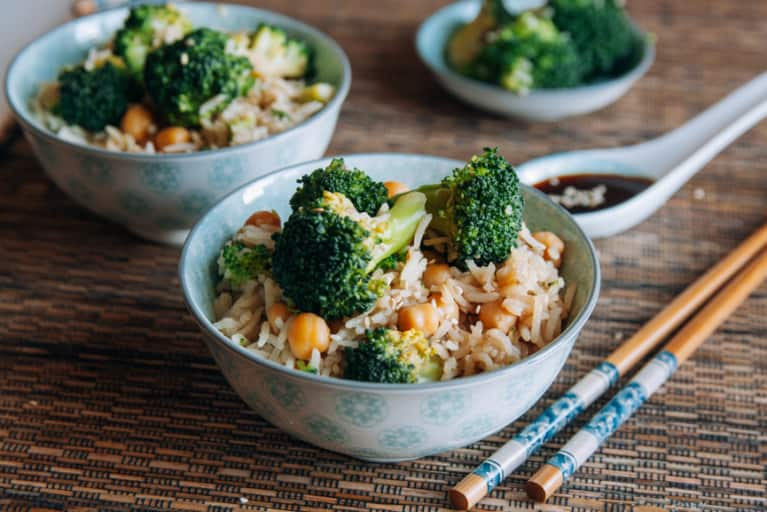 3g/cup
Protein from vegetables? Absolutely! In fact, many vegetables, including Brussels sprouts and spinach, provide you with several grams of protein. Broccoli also is a great source of dietary fiber and vitamins like C and K.
5g/2 Tbsp.
If you haven't tried tahini, wait for the obsession to start after your first bite. This paste of ground sesame seeds is commonly found in Middle Eastern or Mediterranean dishes like hummus, but it can be used as everything from a nut butter alternative to a salad dressing.
20g/half cup (dry)
Chickpeas are another versatile, quality protein to keep stocked in the pantry at all times. The naturally gluten-free staples are even better when you buy them dry and soak them overnight to make them more digestible.