This 3-Day Cleanse Resets Your Mind, Body & Spirit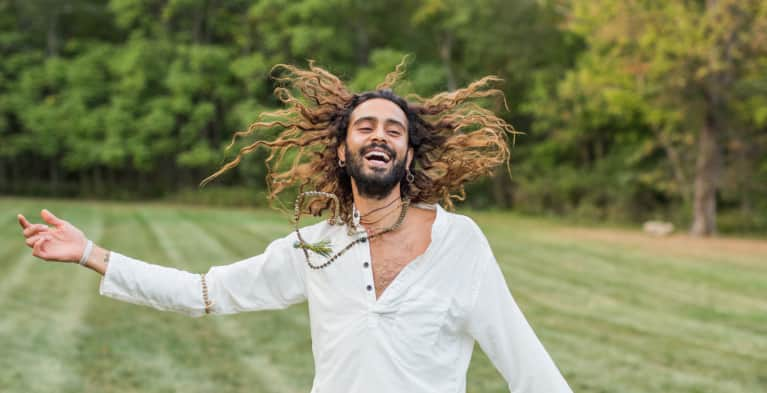 A cleanse isn't meant to be a deprivation diet; it's a way of clean eating, and in this three-day mind and body cleanse, I have put as much emphasis on mental health as we always put on physical health. To strengthen your mental and physical health, I invite you to come with a beginner's mind, as we will be journaling, meditating, doing breathwork, and of course a meal plan that will help increase your energy, improve your digestion, and sustain mental clarity. The clean meal plan is a healthy reset; with whole ingredients, all recipes are simple.
Here's how the mornings will go for the next three days, I encourage you to wake up 30 minutes earlier so you can get the full scope of the mind and body cleanse. Dedicate 15 minutes to journaling, then follow with a breath awareness meditation for 10 minutes, fixing your attention on the part of the body where you feel your breath most vividly. Then right away head over to your closest mirror and gaze at your left eye and say: "YOU ARE AMAZING. YOU ARE AN INSPIRATION TO THE WORLD." You might be asking why the left eye, because the left eye connects with the right side of the brain, which is creative, intuitive, musical, and poetic. Now you're ready for the day!
In the evenings, about an hour after dinner, sit down on a cushion or chair for five minutes of alternative nostril breathing (Nadi Shodhan), which clears out blocked energy channels in the body, in turn calming the mind, releasing the accumulated stress of the day. Follow that with another 10-minute breath awareness meditation, and close by journaling five things you are grateful for.
Hopefully after the cleanse you will have mastered some new healthy habits; something new clicks every time you do a cleanse. This cleanse opens up internal space and helps you focus on what you desire to bring into the world, creating more congruence with your intention, speech, and actions, living in total alignment.
Start by setting the timer for 15 minutes and free write without stopping, beginning with the prompt "Right now…"
Don't stop to reflect, edit, or try to make sense.
Simply finish the sentence and keep going until you run out of things to say, then write the prompt again and finish the sentence, and so on, until the timer goes off, without pausing to think. Be willing to let the words surprise you; there is no way to do it wrong. The point here is to start to unravel the mind and make a deeper connection with the heart.
How to Do Alternate-Nostril Breathing (Nadi Shodhan Pranayama)
Sit comfortably with your spine erect and shoulders relaxed.
Place your left hand on the left knee.
Place the tip of the index finger and middle finger of the right hand in between the eyebrows, the ring finger and little finger on the left nostril, and the thumb on the right nostril. We will use the ring finger and little finger to open or close the left nostril and thumb for the right nostril.
Press your thumb down on the right nostril and breathe out gently through the left nostril.
Now breathe in from the left nostril and then press the left nostril gently with the ring finger and little finger. Removing the right thumb from the right nostril, breathe out from the right.
Breathe in from the right nostril and exhale from the left. You have now completed one round of Nadi Shodhan pranayama. Continue inhaling and exhaling from alternate nostrils.
After every exhalation, remember to breathe in from the same nostril from which you exhaled. Keep your eyes closed throughout and continue taking long, deep, smooth breaths.
Breakfast: Turmeric Chai Chia Pudding, recipe by The Blenderist
1½ cups cashew milk or other nut milk
⅓ cup chia seeds
2 tbsp. maple syrup
1 tsp. ground turmeric
½ tsp. cinnamon
⅛ tsp. ground cardamom
⅛ tsp. ground cloves
1 cup of fresh fruit
Mix all the ingredients together in a bowl (except for fruit).
Pour into individual bowls or jars.
Let set overnight.
Top with fresh strawberries, blueberries, or sliced banana.
Lunch: The Ultimate Detox Salad, recipe by the Roasted Root
Ingredients
For the dressing
⅓ cup grapeseed oil or avocado oil
½ cup lemon juice, fresh
1 tablespoon fresh ginger, peeled and grated
2 teaspoons whole-grain mustard
¼ teaspoon salt
2 cups dinosaur kale, tightly packed and thinly sliced
2 cups red cabbage, thinly sliced
2 cups broccoli florets
2 large carrots, peeled and grated
1 red bell pepper, sliced into matchsticks
2 avocados, peeled and diced
½ cup fresh parsley, chopped
1 cup walnuts
1 tablespoon sesame seeds
Whisk together all ingredients for the dressing (or put everything in a small blender and blend) and set aside until ready to use.
Add the kale, cabbage, broccoli, bell pepper, and carrots to a large serving bowl.
Pour desired amount of dressing over the salad and toss until everything is coated.
Add the parsley, diced avocado, sesame seeds, and walnuts and toss again.
Serve as an entrée salad or as a side salad to your favorite meal.
1 green apple
½ pineapple, cored and skinned
3 dinosaur kale leaves
1 lemon
1 small knob of ginger
Directions
Process all ingredients through a juicer and take the suggested probiotic serving.
Dinner: Beet Noodles with Greens and Cilantro Tahini, recipe by Gourmande
Ingredients
Cilantro Tahini Sauce
½ bunch cilantro
1 tablespoon/15mL freshly squeezed lemon juice
1 tablespoon/15g tahini paste
2 tablespoons/30mL extra-virgin olive oil
¼ teaspoon sea salt
1 small garlic clove, finely minced
½ to 1 small fresh chili pepper, seeds removed (depending on how hot you want it)
2 tablespoons/30mL filtered water
For the Golden Beet Pasta
1 bunch small to medium-size golden beets with beet leaves attached
1 tablespoon/15mL extra-virgin olive oil
1 small clove of garlic, finely minced
Pinch of sea salt
¼ cup filtered water (plus more if needed)
Instructions
Make the Cilantro Tahini Sauce:
Combine all ingredients in a high-speed blender and pulse until smooth adding more water as necessary to thin if necessary. Set aside.
Make the Golden Beet Pasta:
Cut tops from beets and trim stems. Coarsely chop beet greens; and rinse in cold water until clean and water is clear. Drain; set aside.
Peel beets and make into thin noodles using a spiralizer.
In a medium sauté pan heat oil and garlic over medium-low heat until garlic is fragrant but not browned. Add beet greens (still wet) and salt and toss with the oil and garlic using tongs. Cook tossing constantly with the tongs for 1 to 2 minutes until just wilted.
Add spiralized beet noodles and the water. Toss to combine and cover and cook another 2 to 3 minutes until the beet noodles are softened but still holding their shape and mixture is heated through.
Remove pan from heat and add Cilantro Tahini Sauce. Toss to combine and serve immediately.
Breakfast: Chocolate Banana Protein Shake, recipe by Detoxionista
1 banana*
3 tablespoons hemp hearts
½ cup water
1½ tablespoons raw cacao powder
½ teaspoon vanilla extract (alcohol-free, if desired)
¼ teaspoon ground cinnamon
3 to 4 ice cubes (optional)
2 handfuls fresh spinach (optional)
Directions
Combine all of the ingredients in a high-speed blender, and blend until thick and smooth. Adjust any flavors to taste, as desired, and serve immediately!
Lunch: Sunbutter Detox Salad, recipe by Fed + Fit
3 large beets, peeled and shredded (makes 2 to 3 cups)
½ head green cabbage, finely chopped (makes about 2 cups)
1 bunch dinosaur kale, de-stemmed and shredded (makes about 2 cups)
½ cup fresh cilantro, finely chopped
zest of 1 lemon (~1 tbsp.)
2 lemons, juiced (~4 tbsp.)
⅓ cup sunbutter (directions below)
1 tbsp. fresh ginger, grated
1 green apple
½ pineapple, cored and skinned
3 dinosaur kale leaves
1 lemon
1 small knob of ginger
Directions
Process all ingredients through a juicer and take the suggested probiotic serving.
Dinner Zucchini Noodles with Basil-Pumpkin Seed Pesto, recipe by Cookie + Kate
Ingredients
Basil-pumpkin seed pesto
½ small yellow onion, roughly chopped*
1 garlic clove, roughly chopped
2 cups packed fresh basil leaves (arugula works, too)
½ cup pepitas (green pumpkin seeds), toasted**
⅓ cup olive oil
2 teaspoons red wine vinegar, to taste (or lemon juice)
Pinch of red pepper flakes
Salt, to taste
3 large zucchini
Salt
1 pint cherry tomatoes (Heather served her tomatoes whole; I halved mine vertically)
Fresh basil leaves, for garnishing
To prepare the pesto: In a food processor, combine the onion (if using; see notes), garlic, basil, toasted pepitas, olive oil, vinegar, and red pepper flakes. Blend until smooth and season with salt, to taste (I added about ½ teaspoon—if the mixture tastes overwhelmingly oniony, don't worry; it will mellow in a few minutes. I added another teaspoon of vinegar to help balance the flavors).
To prepare the noodles: Spiralize the zucchini with a spiralizer (here's how), or turn the zucchini into noodles with a julienne peeler, or grate the zucchini the long way on a large box grater. Toss the zucchini with pesto until well-coated, and season with salt (I added another ¼ teaspoon).
Transfer the pesto noodles to a large platter and sprinkle with the cherry tomatoes. Tuck the fresh basil into the corners to garnish.
Breakfast Detox Smoothie recipe by The Nutty Scoop
Place all the ingredients in your blender and blend until smooth.
Serve with some fresh mint, chia seeds, and hemp hearts, if desired.
Lunch Winter Chopped Salad with Kale + Fruit by With Food + Love
10 stalks Tuscan kale
1 tablespoon extra-virgin olive oil
1 tablespoon fresh lemon juice
½ teaspoon sea salt
1 cup shredded green cabbage
½ cup shredded raw beets
¼ cup chopped green scallion
¼ cup fresh parsley, chopped
1 orange, peeled and cut into segments
½ cup pomegranate arils
juice and zest from 1 lemon
2 tablespoons of extra-virgin olive oil
1 tablespoon apple cider vinegar
½ teaspoon sea salt
¼ teaspoon black pepper
Directions
Whisk all of the ingredients together in a bowl; pour it over the salad and toss.
Afternoon Detox Juice + Probiotic Supplement
1 green apple
½ pineapple, cored and skinned
3 dinosaur kale leaves
1 lemon
1 small knob of ginger
Directions
Process all ingredients through a juicer and take the suggested probiotic serving.
Dinner Eat Your Greens Detox Soup, recipe by Oh She Glows
1½ teaspoons (7 mL) coconut oil or olive oil
1 sweet onion, diced
3 cloves garlic, minced
3 cups (750 mL) sliced cremini or white button mushrooms (about 8 ounces)
1 cup (250 mL) chopped carrots
2 cups (500 mL) chopped broccoli florets
Fine-grain sea salt and freshly ground black pepper, to taste
1½ to 3 teaspoons (7 to 15 mL) grated peeled fresh ginger
½ teaspoon (2 mL) ground turmeric
2 teaspoons (10 mL) ground cumin
⅛ teaspoon (½ mL) ground cinnamon
5 cups (1¼ L) vegetable broth
2 large nori seaweed sheets, cut into 1-inch (2½-cm) strips (optional)
2 cups (500 mL) torn kale leaves
Fresh lemon juice, for serving (optional)
In a large saucepan, heat the oil over medium heat. Add the onion and garlic and sauté for about 5 minutes, until the onion is soft and translucent.
Add the mushrooms, carrots, and broccoli, and stir to combine. Season generously with salt and pepper and sauté for 5 minutes more.
Stir in the ginger, turmeric, cumin, and cinnamon, and sauté for 1 to 2 minutes, until fragrant.
Add the broth and stir to combine. Bring the mixture to a boil and then reduce the heat to medium-low and simmer until the vegetables are tender, 10 to 20 minutes.
Just before serving, stir in the nori (if using) and kale and cook until wilted. Season with salt and pepper and a squeeze of fresh lemon juice, if desired.