Lucuma Ice Cream Cupcakes
Our editors have independently chosen the products listed on this page. If you purchase something mentioned in this article, we may
earn a small commission
.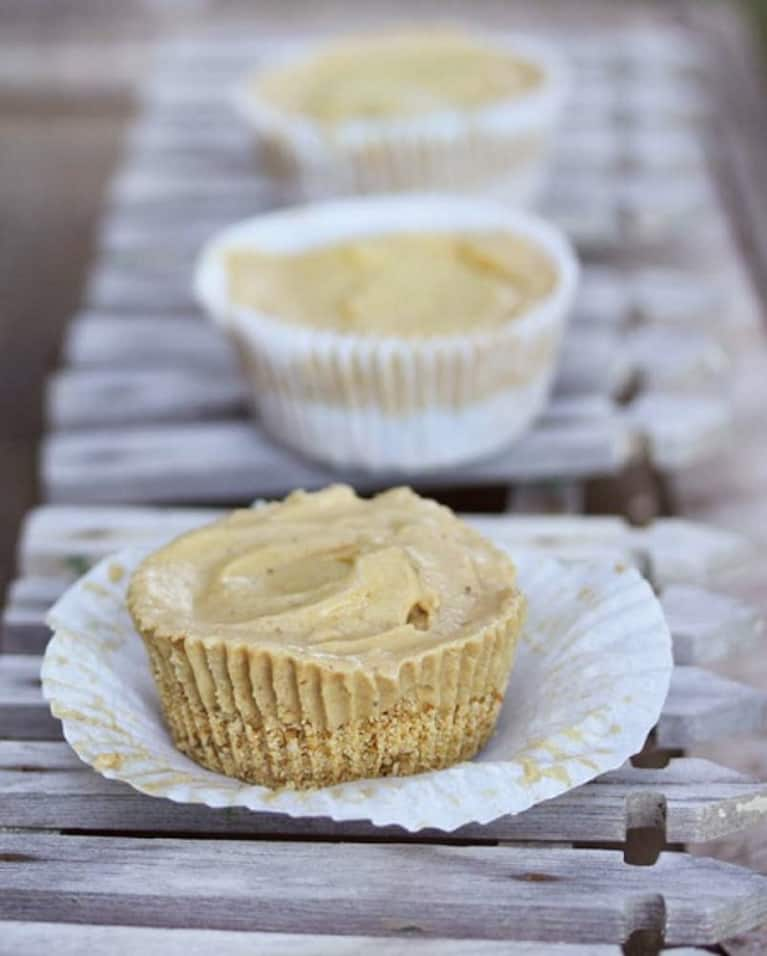 Lucuma is a sweet fruit native to South America, and most often sold as an easy-to-use dried powder form in North America. Filled with naturally-occurring beta-carotene, niacin, and iron, lucuma powder is a prime antidote to "empty calorie" sweeteners. Its toffee-like flavor is absolutely transcendent in ice creams (lucuma ice cream is even more popular than vanilla or chocolate flavors in some parts of the world!). Also in this recipe, the use of antioxidant-rich dried mulberries in the bottom cookie-dough-like layer offers a flavor reminiscent of Angel food cake. As much as I love this recipe, the ice cream itself is so delicious that sometimes I make it à la carte and just call it a day.
Ingredients (Makes 12 single-serving ice cream cupcakes)
2/3 cup coconut flour
1 cup (packed) soft Medjool dates (about 10 or 11), pits removed
pinch sea salt
2 tablespoons coconut oil
1 teaspoon vanilla extract
1 cup dried mulberries
Lucuma Ice Cream (recipe follows)
In a food processor, mix the coconut flour, dates, and salt together until a coarse powder has formed. With the machine running, add the oil and vanilla extract. Stop the machine and test the dough's consistency: it should appear dry and crumbly, but stick together easily when pressed. If it's too dry, add water – a teaspoon at a time. Once the desired consistency is achieved, add the mulberries, using the pulse button on the food processor to transform the whole berries into small bits, while leaving a few larger pieces in for texture.
To assemble, line a 12-tray muffin tin with muffin cups. Add a heaping 2 tablespoons of the mulberry mixture inside each cup, and use the back of a spoon to press down into a firm solid layer. Dispense the Lucuma Ice Cream evenly among the cups on top of the base, cover with plastic wrap, and place in the freezer. Chill the cookie cups until ice cream is frozen through, about 2-3 hours. When ready to serve, defrost for 2-3 minutes to soften.
Lucuma Ice Cream
2 cups light coconut milk
1 cup (packed) soft Medjool dates (about 10 or 11), pits removed
2 frozen bananas, sliced
1/2 cup lucuma powder
2 tablespoons palm sugar
Blend all ingredients until smooth. Keep at room temperature while prepping the recipe above, or if enjoying à la carte, place in the freezer until frozen through. (An ice cream maker can also be used if available.) Defrost for 2-3 minutes before serving. Makes 1 pint. 
Recipe and photo via Superfood Cuisine: Cooking with Nature's Most Amazing Foods, by Julie Morris. Available at JulieMorris.net (signed copy), and Amazon.com