Korean Summer Noodles With Spicy, Sweet & Vinegary Sauce (Bibim Guksu)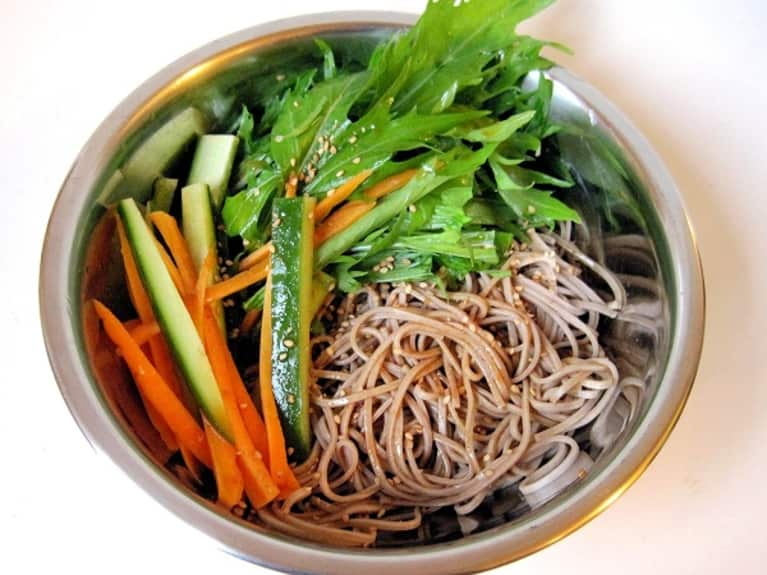 My mom and aunts make phenomenal Korean food. No matter how wretched my day might have been, I take one bite of their therapeutic food and I instantly feel like everything's just fine. In the last few years, I've been trying to learn their magical soup concoctions and hearty dishes to preserve their food tradition, but when I try to recreate the dishes in my own kitchen, the flavor profiles are always just a bit off. Actually, sometimes way off. I suppose it doesn't help that the women in my family never use recipes or measurements -- everything for them is natural and fluid - whereas for a novice like me, I need all the help I can get. But there is one dish even someone like me can't mess up - the bibim guksu.
Bibim guksu is a popular Korean summer dish composed of cold noodles, raw vegetables, and a sweet, spicy, and tangy sauce medley. The sauce is what makes or breaks this dish so it's something you may need to experiment with a few times before finding the one that suits your palette. Gochujang, one of the most important ingredients for many Korean dishes, is a Korean chili pepper paste used to make the sauce. You can find several gochujang brands at Asian markets, but there are some you can find at natural food markets like Annie Chun's, which I've been using lately. It's not necessarily a traditional gochujang flavor that someone like my mom would care for, but I like that it's not too spicy and incorporates some sweetness into the paste.
Everyone has their own interpretation of bibim guksu, so here I offer to you my version where instead of lettuce I use mizuna, a member of the mustard family typically used in more Japanese than Korean dishes. But at $2 for a fresh extra-large bundle from our local farmers, I can't resist them. Bibim guksu is especially wonderful to make when you have a bunch of leftover vegetables you don't want to waste -- carrots, cucumbers, radishes, red cabbage, other greens -- but have no idea what to do with them. Simply toss them all up with the noodles and sauce and you have yourself a vibrant summer meal. It's also extremely easy to make (definitely one of the easiest Korean dishes), and takes no more than 15 minutes to prepare. This dish will invigorate your taste buds while keeping you cool on a humid day.
Ingredients (2 servings):
2 bundles (7 ounces) low sodium soba noodles (buckwheat noodles)
1/2 bunch mizuna (or lettuce, chopped)
1/2 cucumber, julienned
1 small carrot, julienned
1 tablespoon toasted sesame oil
Toasted sesame seeds to top (optional)
2 tablespoons rice vinegar
1 tablespoon gochugang sauce
1 tablespoon low sodium soy sauce
1 tablespoon honey
Prepare sauce. Taste and adjust as needed (add more vinegar for a more tangy taste, more gochujang to make it spicier, more honey to make it sweeter). Refrigerate sauce while you prepare rest of dish.
Wash and cut vegetables, set aside.
Boil water and cook noodles according to package directions (usually 3 minutes). Do not overcook noodles -- they should be a bit chewy.
Drain noodles, rinse them in cold water, then drain again.
Place the noodles in a bowl and toss with sauce and vegetables.
Right before serving, toss with sesame oil and top with sesame seeds.