A Turmeric Hot Toddy To Shrug Off The Winter Chill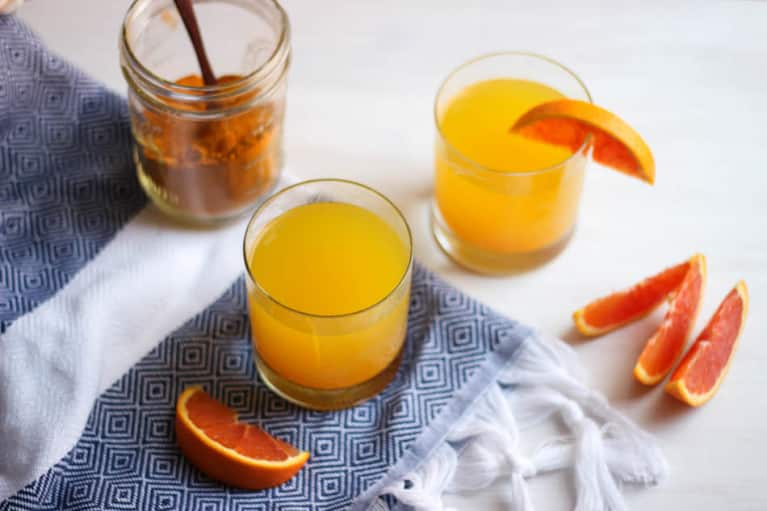 Winter in the Northern Hemisphere is pretty harsh right now. We just want to cozy up hygge-style and hibernate until spring. But for those days when you've braved the cold for a few minutes too long, we suggest a hot toddy.
A hot toddy may be an old wives' tale in terms of its healing abilities, but with its warm water, lemon, honey, and a dram of whiskey, it can actually be incredibly comforting.
Lemon is packed with vitamin C and alkalizing properties, great for keeping your system in check and able to fend off sickness. Honey's antibacterial profile can help soothe a sore throat or bad cough and stop a nasty cold from getting worse. We decided to spice up our hot toddy with turmeric, too, to add another anti-inflammatory immunity booster to the equation. The bourbon is actually something of an antiseptic—plus it adds a warming element and rich flavor to your toddy.
Feel free to make this toddy sans alcohol for a warm drink you can sip throughout the day.
And if you happen to spill turmeric on a white surface (this stuff can stain like nobody's business), try putting it out in the sun after washing it with warm water or using a little lemon and vinegar as a mild bleach.
1 to 1½ cups warm water
¼ teaspoon turmeric
1 teaspoon honey
Juice of ½ a lemon (about 2 tablespoons)
1 to 2 tablespoons bourbon
Preparation
1. Pour warm water into a heatproof mug or glass. Add turmeric and stir well to make sure it's dissolved into the liquid.
2. Stir in honey, followed by lemon juice and bourbon and a splash of cool water (if needed to bring the temperature down a little). Sip while wearing your coziest of sweaters.