I Haven't Consumed Sugar In 6 Years. Here's What I Eat In A Day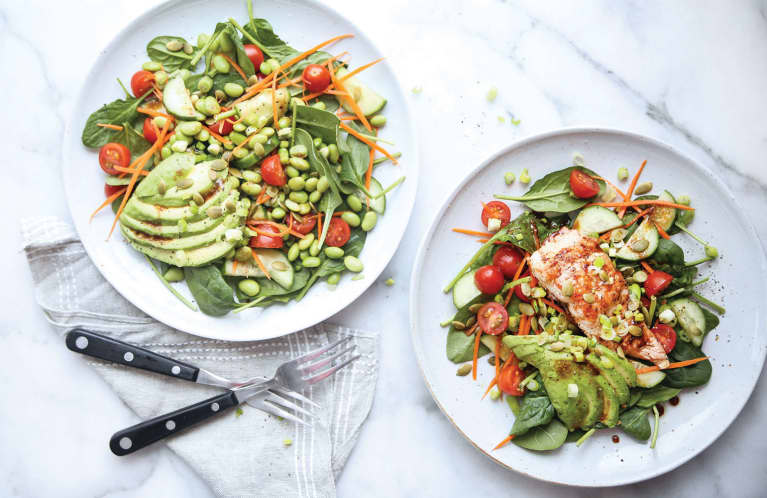 Our editors have independently chosen the products listed on this page. If you purchase something mentioned in this article, we may
earn a small commission
.
I used to be a sugar junkie and relied on it to keep my energy up—but I had it all wrong. It's the sugar spikes and crashes that deprive you of energy, not to mention mess with your focus, mental clarity, and overall health. Now, my approach is all about adopting healthy sugar habits that nourish your body and keep your blood sugar in balance.
Now, I only eat unrefined sugar, preferably low-glycemic, and sugar found naturally in fruit and grains. All carbohydrates are essentially sugar because they convert to glucose in your body, so I also watch how I combine my total carb intake during a meal (if, for example, I'm having a big bowl of pasta, I'll hold off on that granola bar).
Here's what I eat in a typical day.
7 a.m.: Superfood breakfast bowl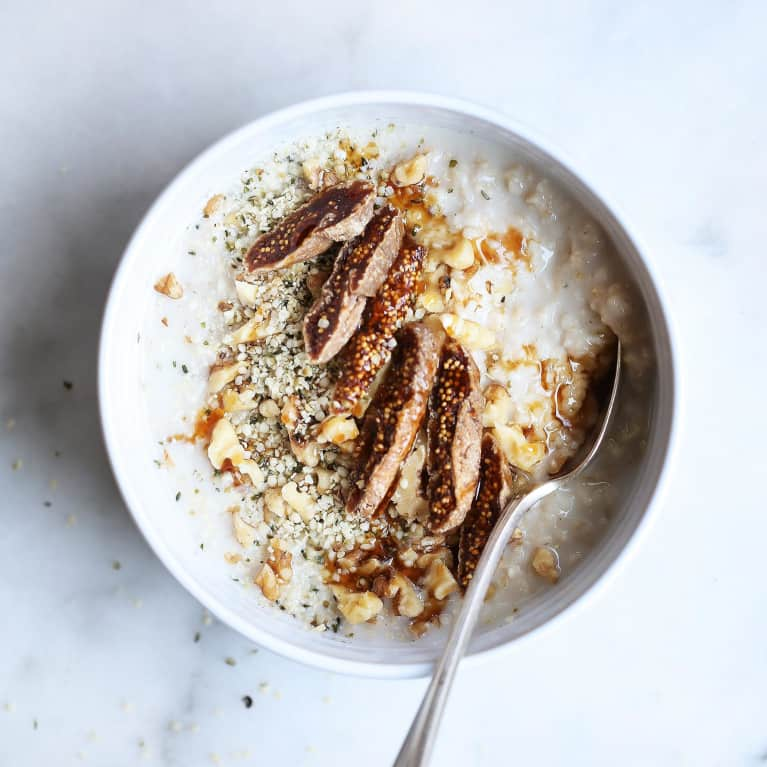 When I wake up, I give myself some time to breathe in the new day, be mindful, and set positive intentions for a great day ahead. While this seems like it has nothing to do with food, I think of food as nourishment and this is a kind of mental nourishment that will set the tone for how I will respect my body during the day ahead.
I drink water first thing (usually warm water with freshly squeezed lemon juice to kick-start my digestive tract into working mode). Then, about an hour later, I have breakfast. My typical breakfast during the weekdays is a bowl of satisfying oatmeal. I cook the oats with water and once cooked, I stir in a tablespoon of coconut oil and let that melt in completely. I top this with unsweetened almond milk (or another plant milk I have on hand) and hemp seeds, walnuts and any other seeds I have around.
Very occasionally, I add fresh fruit (I prefer that later as a snack), and rarely, I add dried fruit—today I went all out because I was craving dried fig, and I don't like to deprive myself of small treats. I do, however, try to keep my breakfasts as low sugar as possible because it's the taste of something sweet on your tongue that sets your brain into an addictive motion. I'll often eat a savory breakfast, like a tofu scramble or avocado toast on home-baked sourdough.
After breakfast, I send the kids off and go for a walk or run with my dog around 9:30 a.m. When I come back I make myself a nice cup of green tea—unsweetened, of course—or a protein smoothie if I go for a strenuous short run. I rarely drink coffee because just like sugar, it's another stimulant that's best to consume in moderation.
10:30 a.m.: Fruit and yogurt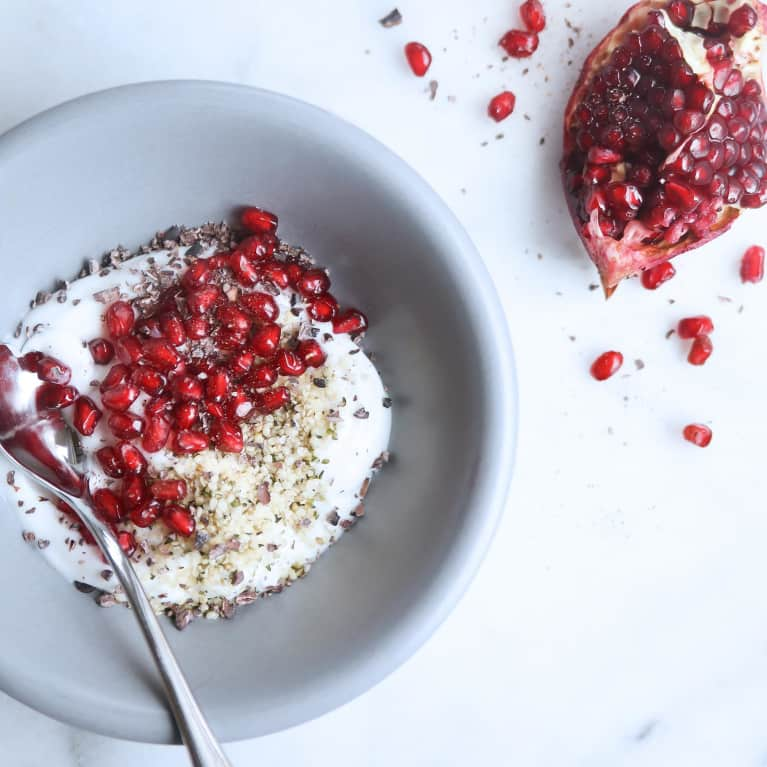 It's time for my midmorning snack, and this is when I reach for fresh fruit, always! On busy days, a banana or apple will do., but when I have more time and happen to have these staple ingredients around, I make these dairy-free yogurt bowls. It's a serving of unsweetened coconut yogurt with fruit and some delicious toppings. Today, I enjoyed it topped with pomegranate arils, hemp seeds, and raw cacao nibs. This is a delicious low-sugar snack that picks up my energy and keeps it stable up until lunch.
A healthy midmorning snack (even just a fruit serving) is so important so that you keep your blood sugar balanced until lunch. If you run too low on energy, which is a result of your blood sugar dropping, chances are you'll get bad cravings at lunch and could end up eating too much too fast—all terrible things for your digestion.
Also it's worth mentioning that I eat fruit in between meals and not as part of my main meals. This has been a life-changing food rule I now swear by. If you eat it this way, your fruit will be digested better, and you'll avoid bloating and other digestive issues.
12:30 p.m.: Wild rice with vegetables and smoked salmon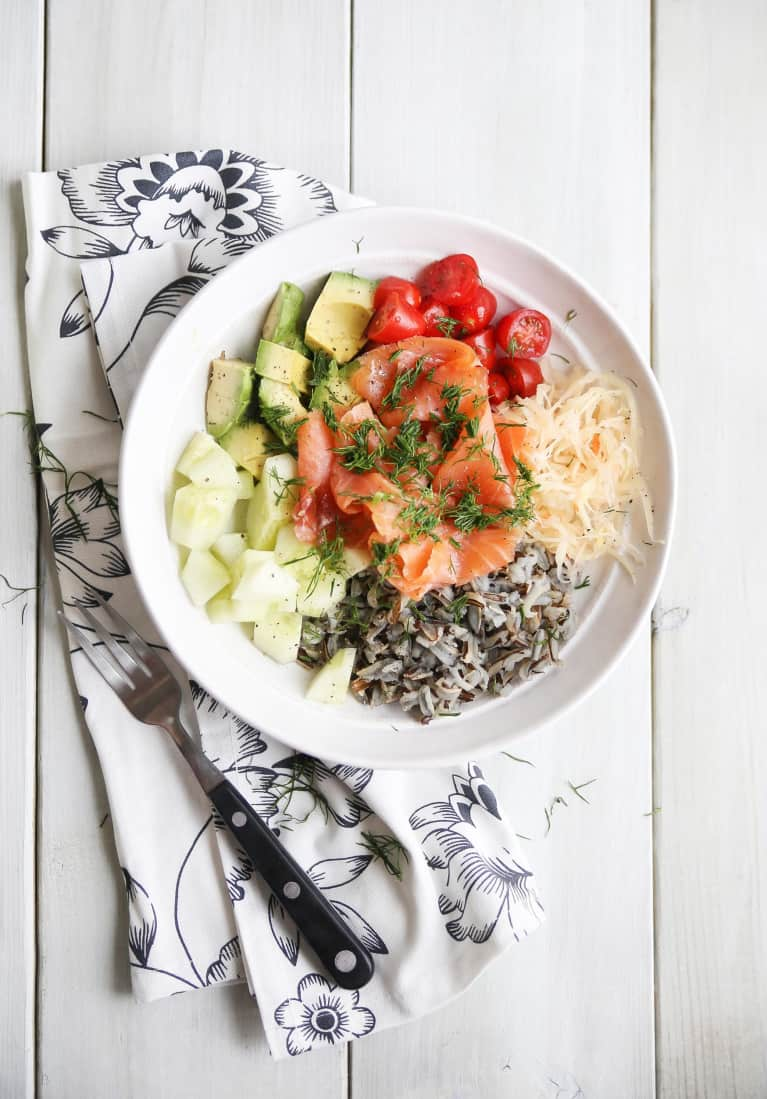 When it comes to lunchtime, I usually incorporate some type of healthy carb with lots of vibrant veggies that make my plate come alive! Today, I had leftover wild rice with cucumbers, cherry tomatoes, avocado, and sauerkraut with smoked salmon on top. I topped this with a drizzle of organic EVOO and a squeeze of lemon juice, freshly ground pepper and Himalayan pink salt, and some fresh dill.
I try to fill ¾ of the plate with veggies, and ¼ with carbs. Incorporating protein and fats is also very important and crucial in helping absorb nutrients from the vegetables and making you feel fuller.
3:30 p.m.: Homemade sugar-free trail mix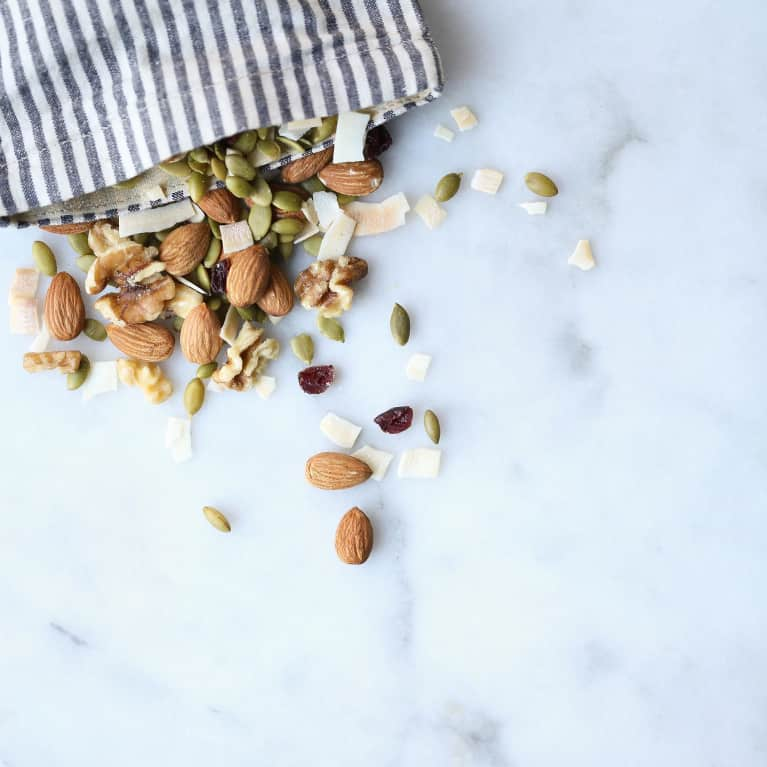 I always look forward to my afternoon snacks. This is a time I usually make myself another cup of tea and reach for either some nice homemade snacks like my Superfood Chocolate Protein Bars or I make my own trail mix, which is super easy, simple to customize, and—most importantly—healthy! Today, I had a mix of almonds, pumpkin seeds, walnuts, coconut chips, and—for an added little natural sweetness—dried cranberries (or a few squares of dark chocolate would hit the spot too). Sometimes, if I'm busy, just a handful of almonds will do. All the magnesium, protein, and healthy fats in the nuts and seeds satisfy not just your sugar cravings but also gives you a boost of essential minerals your body and brain need to function well. It's really the simplest way to snack in a healthy and happy way!
Between 3 and 4 p.m. is usually the time people struggle the hardest with cravings! Especially if you're working and the day just doesn't seem to end…and sometimes your cravings can really be triggered by emotional stress or even boredom…. (Seriously, I've been there!) That's why it's important to have some kind of healthy snack within reach so that when you need a little pick-me-up you're not tempted by those nasty vending machine snacks.
I also make a nice rooibos or chai tea sometimes to give me that coffee-like indulgence, and the spices keep me warm and happy because they also have a natural sweet taste, especially cinnamon.
7 p.m.: Lentil burgers with tamari ketchup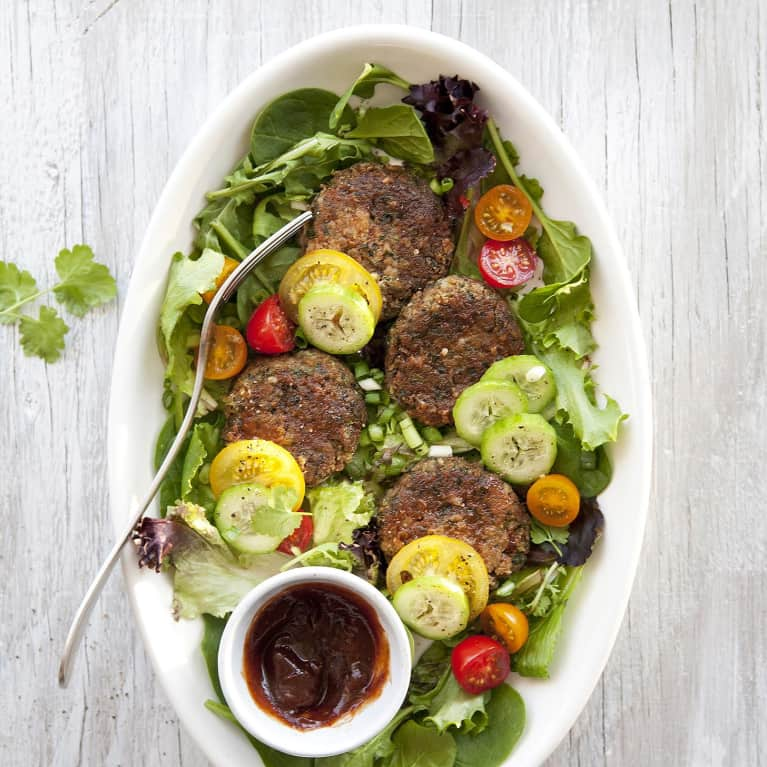 For dinner, I love comfort food at its finest but prefer a light meal that's definitely low on carbs.
I just can't get enough of veggie burgers, and lately, I'm back to enjoying these Lentil Burgers with a Tamari Ketchup from my book—they are so good, plus they contain a good portion of protein to keep me full yet are nice and light.
When I eat veggie burgers I hardly ever have them with a bun, instead eating them with a salad or a side of quinoa or buckwheat. I try to avoid simple carbs, which are perceived by the body as sugar. When we finish dinner, we usually leave room for a some DANCING!
It's the best habit to get into, to just have fun and dance in the living room or kitchen! Seriously, not only are you having fun and feeling happy—but you're also lowering your blood sugar and keeping your heart healthy and happy! A walk outside after dinner is also a great way to end the day.
10 p.m.: Rice cakes with peanut butter and flaked coconut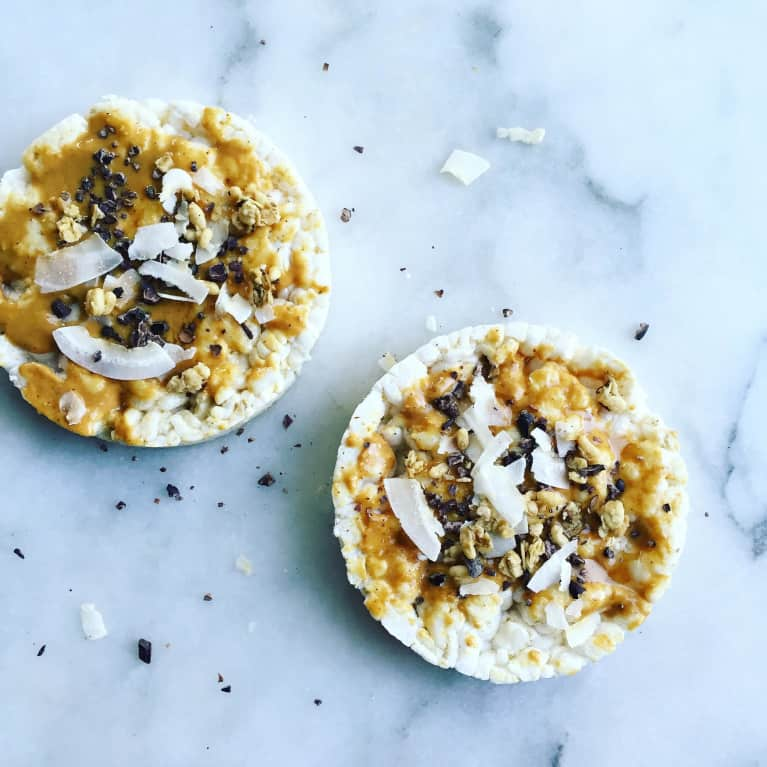 Depending on how late I go to bed, I sometimes get a bit hungry late in the evening. That's when I usually reach for a couple of rice cakes (they're so light, it's like eating air). I top them with a bit of peanut butter or coconut oil, coconut flakes, raw cacao nibs, and a few other toppings I have on hand. I add a little drizzle of honey for just a bit of sweetness.
What you will never see me eat in the late evening: ice cream (unless it's stevia or monk fruit sweetened) or other overly sweet dessert as well as bread, fries, or other heavy carbs. I also wouldn't eat fruit or drink juice. I find all this sugar interferes not only with my blood sugar but also sleep. For the most part, I skip the late-night snacks and have a nice herbal caffeine-free tea instead—unsweetened, of course.
Want to turn your passion for wellbeing into a fulfilling career? Become a Certified Health Coach! Learn more here.